Save 2% On Your Home Purchase
With a Buyer Agent Commission Rebate
Hauseit® Buyer Closing Credit Why Buy With Us
Advice and guidance throughout the process, plus 2/3 of the buyer broker commission back at closing. It's free to work with us. No exclusivity required.
How it Works
Work with an experienced, full-service buyer's agent throughout the home buying process for free, then receive a rebate of up to 2% or more of the purchase price. All property types qualify, including houses, condos, co-ops, townhouses and new developments. Available in NYC, Long Island, Hudson Valley and South Florida.
How We Compare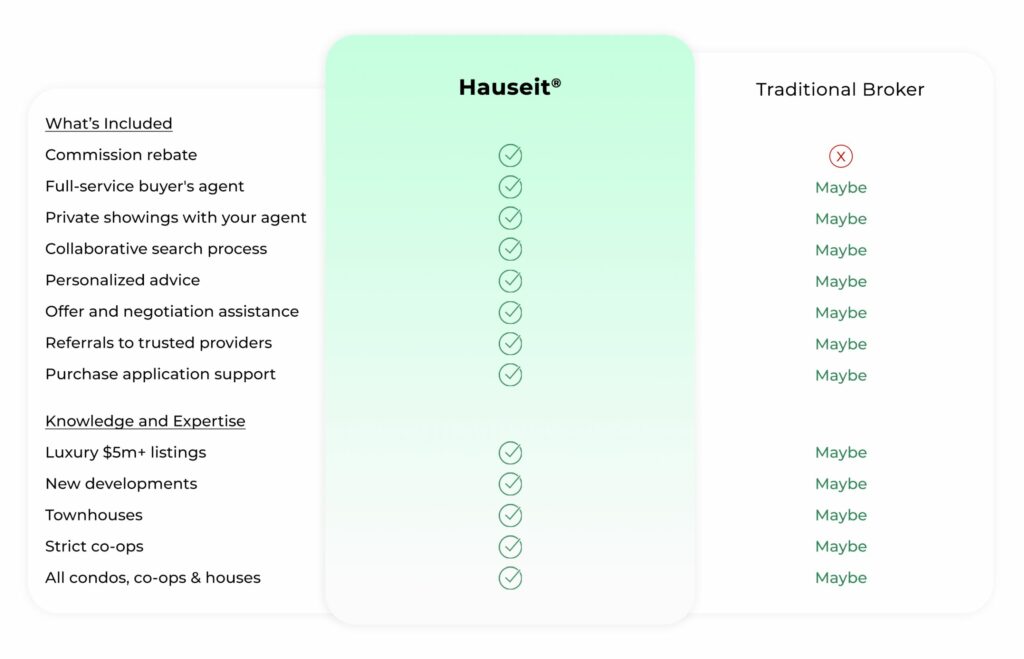 What Do We Mean?
Personal advice throughout the process. Scheduling and coordination. Offer strategy and negotiation. Board package review. Everything you'd expect from a traditional full-service buyer's agent, plus up to 2% back.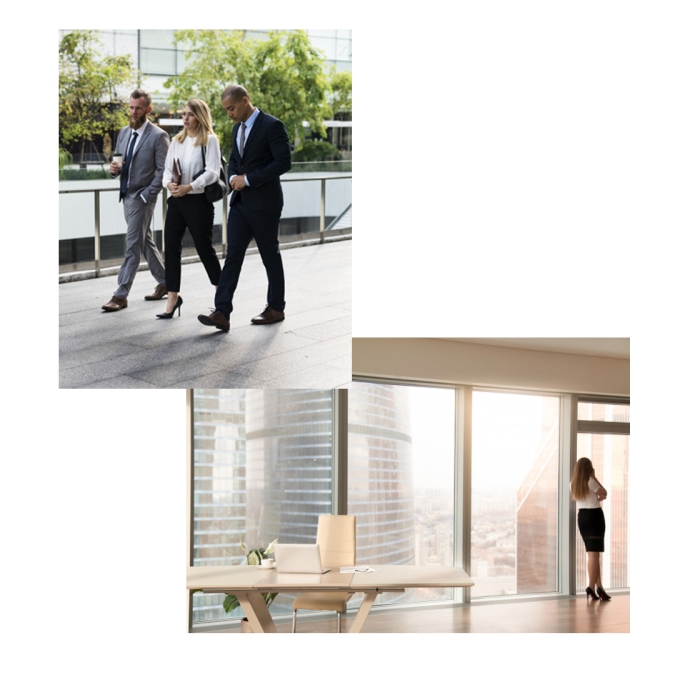 Calculate Your Savings
Purchase Price:
The typical
buyer agent
commission is 3%
Buyer Agent Commission: %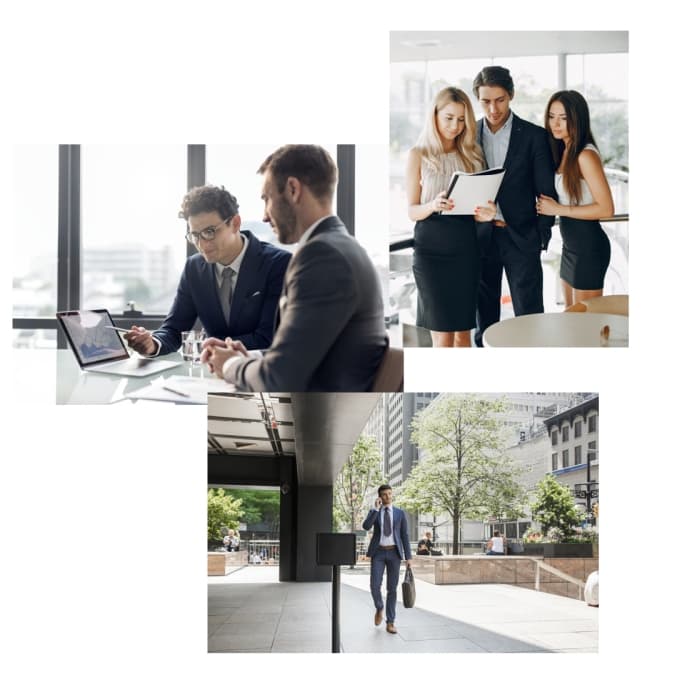 Sincere Advice, Real Savings
Reduce your closing costs

No contracts or exclusivity

Purchase application assistance

Experienced, full-service brokers

Private showings on your schedule

It's free to work with a buyer's agent

Advice and guidance throughout the process
As Seen In:










New York & Florida's Most Trusted Real Estate Service
Ahsan A.
Bought Bay Ridge Co-op
Ahsan purchased a co-op apartment in Bay Ridge through Hauseit. Ahsan works in the publishing industry in New York City.
John Moss
Real Estate Attorney in NYC
John Moss, a Partner at Moss & Moss LLP, has worked with Hauseit's partner brokers and buyer and seller clients since 2014.
David J.
Bought Crown Heights Condo
David bought a condo in Crown Heights, Brooklyn through Hauseit. David is a Software Engineer in New York City.
Jason W.
Bought E. Northport House
Jason purchased a home in East Northport, Suffolk County Long Island through Hauseit. Jason is a physician by trade.
Frequently Asked Questions (FAQ)
How much can I save with a Hauseit® Buyer Closing Credit?
You receive 2/3 (two-thirds) of the buyer agent commission, subject to the terms of your agreement. Buyer agent commissions are 3% on average, but may vary depending on the listing. For example, new construction condos in Miami can offer up to 7% in commission, meaning the size of your rebate could significantly exceed 2% of the purchase price.
What properties qualify for getting a rebate?
You can receive a Hauseit Buyer Closing Credit on all

types of apartments

and houses, including

new construction

buildings, condos, co-ops, condops, brownstones, multi-family houses, single-family homes or any other building or land that is listed for sale.
It's important to clarify that our brokers can offer you this incentive on any listing in New York or Florida, even if it is listed by another broker. Many buyers think that this sort of incentive could only be offered on a broker's own listings but that is simply not the case.
Does Hauseit have experience with luxury listings above $5 million?
We regularly represent discerning buyers with budgets of $5 million or more. In addition to traditional apartment resales, our experience and expertise in the luxury segment extends to high value new development condos, townhouses as well as prestigious (and strict) New York City co-op buildings.
Is Hauseit experienced with new developments?
Yes. All our brokers have extensive track records representing buyers on new construction projects. Our partner brokers are intimately familiar with the additional nuances of negotiating the purchase of a new construction home in addition to the special risks and procedural aspects of buying into a new development compared to a traditional purchase.
In some markets like New York, new development buyer closing costs are considerably higher than for a traditional resale, but many of the additional buyer closing costs, such as NYC & NYS Transfer Taxes and sponsor attorney fees, can be adeptly negotiated by working with an experienced buyer's broker.
Additional closing costs which may negotiable in the case of a new development purchase include the Mansion Tax, the Mortgage Recording Tax, common charge and/or property tax credits, parking, storage, unit improvements, residential manager apartment contribution or even gym memberships!
Can Hauseit assist with townhouses?
Yes. All our brokers have extensive track records representing buyers on townhouses throughout NYC, including both single-family and multi-family homes. Our partner brokers are intimately familiar with the additional nuances of buying a townhouse including the potential renegotiation of deal terms based on the findings of a pre-contract home inspection.
How long has Hauseit been around?
We've helped thousands of customers save millions on their home sales and purchases since we first opened our doors in New York in 2014. Since then we've established a number of traditional brokerage brands in select markets like New York to work with buyers and sellers who sign up for our full-service product.
While we started with New York City, we quickly expanded service to cover Long Island and the Hudson Valley. As members of the Long Island Board of Realtors with access to the OneKey MLS, we've been providing our services to buyers and sellers in Nassau, Suffolk, Westchester, Rockland, Putnam, Orange, Dutchess, Ulster and Sullivan Counties.
In 2021, we opened up for business in Florida with a focus on the southeastern Florida counties of Miami-Dade, Broward, Palm Beach, Martin and Saint Lucie. Our business is headquartered today in Miami, Florida.
Is it legal to receive part of the commission?
Yes, closing credits and incentives to buyers are legal in 40 states including New York and Florida. It's legal for a buyer's agent to offer a portion of their commission as an incentive, and it's legal for buyers to receive such an incentive. In fact, former New York State Attorney General Eric T. Schneiderman released an open letter to the real estate community on April 20th, 2015 urging all parties to take advantage of such home buyer closing credit programs and incentives.
In addition to the letter referenced above, The New York Department of State, Division of Licensing Services also speaks to the legality of rebates on this page, a excerpt of which is reproduced below:
Can brokers pay rebates to customers and offer other incentives?
The payment of cash or offering an incentive to encourage a consumer to do business with a broker is permitted.  The Real Property Law prohibits brokers from sharing commissions with unlicensed individuals.  It is often misinterpreted as prohibiting the payment of cash or offering another business generating incentive to a consumer. This law prohibits a broker from sharing a commission as compensation for activity that would require a real estate license.
Ten states currently ban commission incentives offered by the buyer's agent. Nine of these states have a full ban in effect due to strong real estate broker lobbying efforts: Alabama, Alaska, Kansas, Louisiana, Mississippi, Missouri, Oklahoma, Oregon, and Tennessee. The tenth state, Iowa, prohibits any such incentives when there are two or more real estate brokers on a transaction.
Will my buyer closing credit be taxed as income?
The IRS has issued an opinion letter stating that closing credits and commission incentives provided by real estate brokers are generally not taxable. As a result, you should not expect a 1099 to be issued to you as your closing gift will generally be treated as a concession on price, and thus a reduction of your cost basis. Please consult your tax adviser for more information. You can also view the specific IRS rule we referenced

here

.
Who will be my agent?
After your introductory call with our team, we will assign you an agent who will be your main point of contact throughout the process. We assign agents based on best fit and proximity to where you're likely to transact.
We are confident that you will be happy with the agent we assign; however, if for whatever reason you wish to be assigned a different agent, please contact us right away so we can assign you another agent.
In select markets like New York, we may assign you to one of our partner brokers operating under a different brand. In all other markets, you will be assigned an agent working under the Hauseit® brand.
Will I have a full-service buyer's agent?
Yes. Our experienced brokers will be there for you throughout your search, offer, contract and closing process. If you're busy, our partner brokers can search for listings and schedule viewings on behalf, and even put together showing tours for you when you're free for a day.
Do I need to sign an agreement?
In markets like New York and Florida, buyers are not typically expected to sign an exclusivity agreement. As a result, you can expect only a simple agreement to be sent to you for e-signature detailing the terms of your commission rebate. This agreement is non-exclusive in nature, and serves to protect you by clarifying the terms of your payment.
Brokers are also required to send you various state mandated disclosure forms such as the

NY Agency Disclosure Form

, the NY Fair Housing Disclosure Form and the Lead-Based Paint Disclosure Form. These government mandated disclosure forms are not contracts and you are not required to sign many of them.
In a similar vein, brokers may also send you other disclosure forms related to current events such as the COVID-19 Disclosure Form which you are similarly not required to sign.
Are there any hidden fees?
No. You don't owe us or our partner brokers anything because buyers' agents get paid from a split of the built in listing commission. As a result, it is the seller who pays the agents on both sides. If you don't take advantage of your right to buyer representation, then the listing agent keeps both sides of the commission.
Can I sign up if I already have a buyer's agent?
Yes. As long as you haven't signed an

Exclusive Right to Represent Agreement

, you're free to switch representation at any time. In fact, if you're ever asked to sign an exclusivity agreement, you should run! It's very rare for anyone but the occasional foreign buyer who is heavily dependent on their local representative to have an

exclusive buyer's agent

.
What if I've already contacted the listing agent?
No problem. You have the right to choose to work with the agent of your choice at any time. However, it's important to loop in your buyer's agent prior to making an offer, and certainly before you have an accepted offer. If you decide to enlist a buyer's agent after you already have an accepted offer, then it's usually too late for your buyer's agent to be the procuring cause of the transaction and eligible for commission.
To get started, simply copy your buyer's agent on an email to the listing agent explaining that you've decided to enlist the services of a buyer's agent for your purchase. You can explain that you've done a lot of research and realized that you needed someone to guide you through the process who only works for you.
What if I've already submitted an offer?
It depends. If you've already submitted an offer directly with the listing agent or through another buyer's agent, then it may be too late. It will be hard for our partner broker to be the procuring cause of the sale, and thus eligible for commission, if your offer has already been accepted.
However, it's not too late if your offer was rejected or if you plan on making a new offer with different terms, whether it be on the same property or a different property.
If you're intent on purchasing a specific property that you've already submitted an offer on, sometimes the best bet is to not counter back or withdraw, and come back some time later with your buyer's agent to submit a new offer.
Can I still search on my own?
Yes. Customers who prefer to be more independent are free to continue searching for listings online and attending open houses on their own. In fact, we encourage this for buyers who are earlier in their search.
Please list your buyer agent's contact information on open house sign-in sheets so listing agents know you're represented. A further benefit of doing so is you won't be added to newsletters and mailing lists.
Once you've found a few places you're serious about, please let your buyer's agent know so they can schedule any follow-up showings and submit any offers on your behalf.
Does Hauseit collect referral fees from its partner brokers?
No, there are no referral fees between external parties to worry about because Hauseit and the partner brokerages we work with are under common ownership.