The residential real estate industry was heavily impacted by the outbreak of COVID-19. While the industry was deemed 'essential' during the crisis and permitted to continue in-person operations in many jurisdictions, the disease itself has ushered in a new wave of potential liability claims for agents and brokers who may inadvertently transmit or facilitate the transmission of the disease through in-person activities such as private showings or future open houses.
In response, the New York State Association of Realtors (NYSAR) created an optional 'COVID-19 Disclosure Form' for its members to disseminate to buyers and sellers.
The document outlines to prospective buyers or sellers the risks of possible exposure to COVID-19 through real estate activities and provides for the assumption of exposure and all consequences and/or injury which may result from such exposure by permitting access to or accessing a property.
NYSAR recently issued a 'Phase Two' COVID-19 Disclosure Form which is also available for download below.
The text of the NYSAR COVID-19 real estate disclosure form is as follows:
A Full Service Listing for 1%
Sell your home with a traditional full service listing for just one percent commission.
The COVID-19 disclosure form is intended to educate a buyer and/seller about the risk of exposure to COVID-19 and associated injury/harm as a result of accessing or permitting access to a property.
Consequently, a broker who is named in a lawsuit alleging exposure to Coronavirus could utilize the disclosure form to demonstrate that the buyer or seller was aware of the risks and assumed such risks prior to engaging in said real estate activity.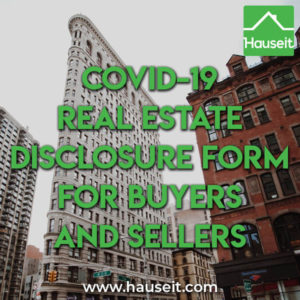 It's important to keep in mind that there is no guarantee that the use of this disclosure form will indemnify a broker or agent who facilitates the transmission of COVID-19 from legal exposure and liability.
No. Use of the COVID-19 real estate disclosure form by a licensee is completely optional. Nor is a buyer and/or seller required to sign the disclosure form prior to accessing or permitting access to a property.
You can download a brand agnostic, PDF version of the COVID-19 Real Estate Disclosure Form for New York here. The buyer and the seller should ideally sign it, or otherwise at least be presented the form over email.
Save 2% On Your Home Purchase
Save thousands on your home purchase with a buyer agent commission rebate from Hauseit
Last Updated: 4/27/2020
Disclosure: Hauseit® and its affiliates do not provide tax, legal, financial or accounting advice. This material has been prepared for informational purposes only, and is not intended to provide, and should not be relied on for, tax, legal, financial or accounting advice. No representation, guarantee or warranty of any kind is made regarding the completeness or accuracy of information provided.