Interest Only Mortgage Calculator
Loan Amount
Interest Rate (%)
Term (Years)
Extra Monthly Payment
Interest Only Period (Years)
$500
Interest only payment
$668.85
Principal & interest payment
$226,601.83
Total payments
$126,601.83
Total interest
Show Amortization Schedule
Glossary
Mansion Tax
The Mansion Tax in NYC is a progressive buyer closing cost which ranges from 1% to 3.9% of the purchase price on sales of $1 million or more. The NYC Mansion Tax consists of 8 individual tax brackets. The lowest rate of 1% applies to purchases at or above $1 million and less than $2 million. The highest Mansion Tax rate of 3.9% applies to purchases of residential property valued at $25 million or more. Prior to the 2019 update, the Mansion Tax was a fixed rate of 1% for all purchases of $1 million or more.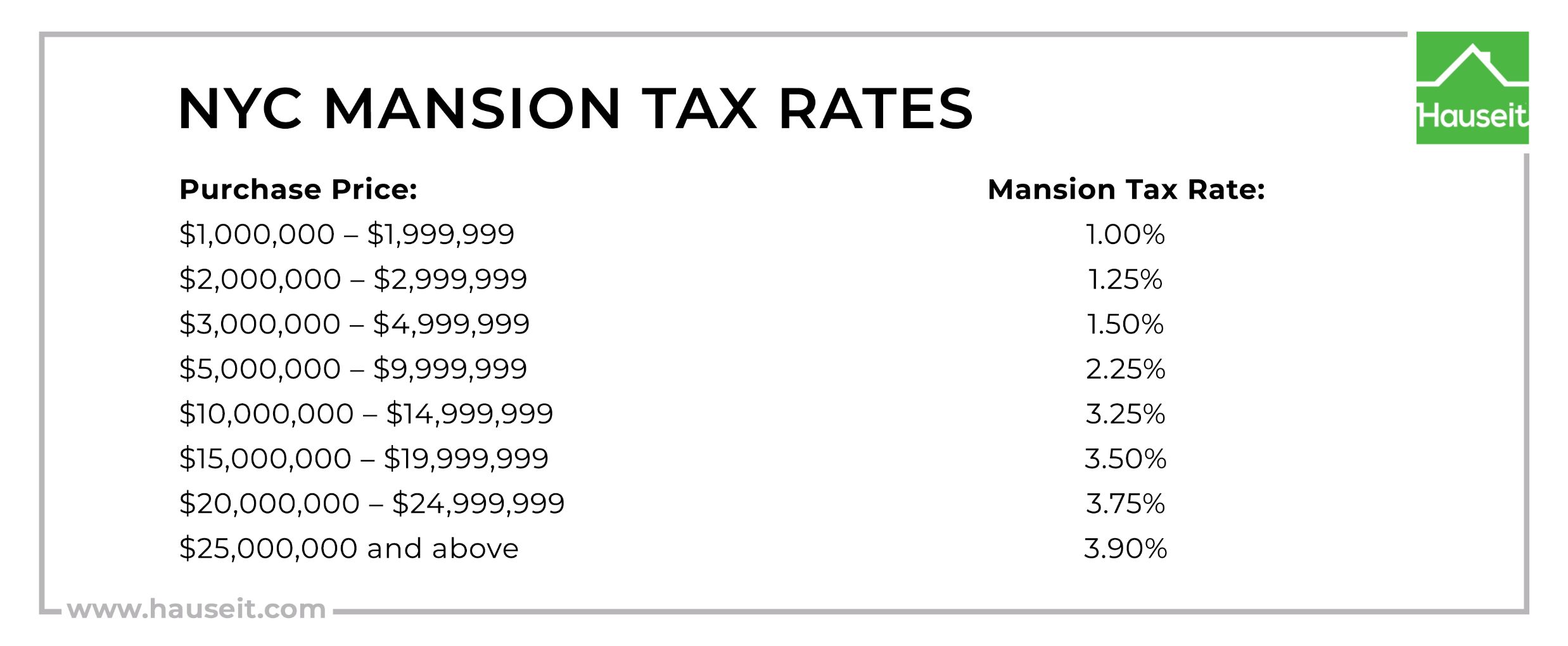 Title Insurance
Title insurance is an insurance policy against any defects or future claims against the title for issues which were unknown at the time of purchase when the original title search was conducted. This means you'll be protected if a previous owner comes out of the woodwork ten years after your purchase, and claims that there was a mistake in the chain of title and that he never sold the property to the seller of your property, which means the seller of your property didn't have a right to sell it to you.
Title insurance comes in the form of an owner's policy (which protects your home equity based on the purchase price) and a lender's policy which insures your mortgage lender from any title-related losses on your loan's principal balance. You can also purchase an additional insurance policy called a 'Market Value Rider' which will automatically step-up the amount of your Title Insurance policy coverage to match appreciation in the market value over time.
Attorney Fees
The average fee for a real estate attorney on purchase transaction in NYC is $2,000 to $3,000. The flat fee rates you are quoted will vary based on the complexity of your real estate transaction. Lawyer fees can be as high as $5,000 for a more complex transaction and for new developments. Real estate attorney fees are typically taken at closing and will be part of the closing costs mentioned in your lawyer's closing statement. Some lawyers may negotiate for half or some other portion of the fee to be paid upfront, with the remainder to be paid at closing.
If you're buying a sponsor unit (new construction), it's customary for the buyer to also cover the seller's attorney fees in addition to the NYC and NYS Transfer Taxes. This is the reverse of a traditional private resale where sellers pay the Transfer Taxes and cover their own attorney fees. Keep in mind that sponsor closing costs are negotiable.
Move-In Deposit & Fees
Most condos and co-ops in NYC charge buyers a refundable move-in deposit in addition to a non-refundable move-in fee. Exact fees vary by building, and they are usually listed in the resale application (also know as board application). Keep in mind that these fees are usually non-negotiable, as they are contractual based on the underlying management agreement in place between a condo or co-op building and the managing agent.
Board Application Fees
Most condos and co-ops in NYC charge buyers a non-refundable board application fee. The fee is customarily collected upon submission of your board application along with move-in fees & deposits from the buyer and move-out fees & deposits from the seller. Always check your specific coop purchase application to see what forms of payment are accepted. Even if personal checks are permitted, we always suggest sending certified checks because it will eliminate the processing time associated with waiting for your checks to clear the bank. Keep in mind that this fee is non-refundable, meaning you won't receive any money back if you're unfortunate enough to be

rejected by the co-op board

.
Mortgage Recording Tax
The NYC Mortgage Recording Tax is a buyer closing cost which is 1.8% for loans below $500k and 1.925% for loans of $500k or more. The amount of the Mortgage Recording Tax is based on the amount of new loan being underwritten. This means your MRT bill will continue to go down as you increase the size of your down payment. You can reduce the amount of the Mortgage Recording Tax by negotiating a

Purchase CEMA

with the seller.
NYC Mortgage Recording Tax rates are as follows:
Mortgage Related Fees
The typical mortgage application fee in NYC is $500 to $1000. Some banks will waive this fee for their preferred clients who have above $100k to $250k on deposit with the bank. The average appraisal fee is ~$750. Banks usually will not offer to cover this, as they have to hire and pay a 3rd party appraiser. Other mortgage-related expenses include a Mortgage Recording Fee of ~$200.
FAQ
How much are buyer closing costs in NYC?
Buyer closing costs in NYC are approximately 4% for condos and houses, 2% for co-ops and 6% or more for new developments, assuming you are financing. Closing costs may be lower for an all-cash purchase. You can reduce your closing costs and save up to 2% on your purchase by requesting a Hauseit Buyer Closing Credit, also known as a buyer agent commission rebate.
Is it possible to reduce my buyer closing costs in NYC?
Yes. You can reduce your buyer closing costs and save up to 2% on your purchase by requesting a buyer agent commission rebate through Hauseit. Rebates are a legal and non-taxable way to reduce your buyer closing costs while receiving traditional, full-service representation from a seasoned buyer's agent throughout the purchase process.
How much can I save with a commission rebate?
At Hauseit, we offer buyers the ability to save up to 2 percent and reduce buyer closing costs through the largest broker commission rebate in NYC. The buyer of a $2 million property in NYC can save $40,000, assuming that the buyer agent commission being offered is 3 percent.
How do buyer agent commission rebates work?
We pair you with an experienced, local partner buyer's agent who will not only serve the role as a traditional, full-service buyer's broker but who has already agreed to discreetly write you a check for up to 2 percent of the purchase price at closing, which comes out of the commission paid by the seller. Hauseit's partner brokers are traditional brokerage firms and agents based locally in NYC who never openly discount or offer rebates online.
Are broker commission rebates taxable?
The IRS has issued an opinion letter stating that closing credits and commission incentives provided by real estate brokers are generally not taxable. As a result, you should not expect to receive a 1099 as your closing gift will generally be treated as a concession on price, and thus a reduction of your cost basis. Please consult your tax adviser for more information.
Published: 5/8/20 | Last Updated: May 8th, 2020
Disclosure: Hauseit® and its affiliates do not provide tax, legal, financial or accounting advice. This material has been prepared for informational purposes only, and is not intended to provide, and should not be relied on for, tax, legal, financial or accounting advice. No representation, guarantee or warranty of any kind is made regarding the completeness or accuracy of information provided.