Knowing how to make an offer on a condo in NYC is something you should learn well in advance of finding your dream apartment. Preparing your condo offer documents at the beginning of the search can put you in an advantageous position when it comes time to submit an offer.
New York City's fierce buyer competition and limited inventory means that desirable apartments sell quickly. Knowing how the offer process works and having your offer documents ready will afford you with first mover advantage and give you a leg up against other, less prepared buyers. In this article, we explain how to make an offer on a condo in NYC.
Finding apartment in Manhattan whose monthly mortgage payment is less than the monthly rent is the equivalent of finding a needle in a haystack. In a best case and highly fortunate scenario, your total monthly payment will be approximately equal to the rent you can earn on the apartment.
Offer Terms
Your condo offer terms will consist of the following elements: offer price, percentage down, contingencies as well as your desired closing date. Buyers in NYC typically leave some room for improvement on their initial offers.
As a general rule of thumb, sellers typically expect buyers to negotiate up to the midpoint between the initial offer and asking price. If this midpoint is too low for the seller, then the seller will usually not offer any improvement and simply repeat the original asking price as the counter.
A contingency is a term in the contract which gives a buyer the right to cancel the deal and recoup his or her contract deposit under certain conditions. The most common NYC real estate contingency is a mortgage contingency.
If you have a mortgage contingency and the bank is unable to offer you the loan size you anticipated, you would have the ability to walk away from the deal and recoup your full deposit. A less common contingency is the

Hubbard Contingency

. This gives a buyer who needs to sell his or her current home the option to back out of the purchase if his or her sale property is not in contract within a certain period of time.
From a seller's perspective, contingencies make an offer less attractive. This is because contingencies give a buyer an easy 'out' from a deal, meaning the seller has less contractual assurance that the sale will go through. Because 'all cash' and/or 'non-contingent' offers have a higher chance of actually closing, sellers will typically show more flexibility on price when negotiating with an all-cash or non-contingent buyer.
Pre-Approval Letter 
If you are financing the purchase, virtually all listing agents will request a up-to-date pre-approval letter. While it may be tempting to submit a basic pre-qualification letter to avoid a hard credit pool, doing this will not maximize your chances of negotiating a low purchase price.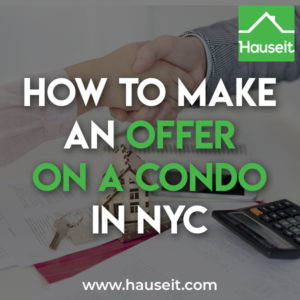 This is because a pre-approval letter signifies that the bank has done a more thorough vetting of your financials compared to a basic prequal. A seller will likely be less flexible on price if they see a prequal letter instead of a full-blown pre-approval letter.
Submitting a prequal and waiting to see if the listing agent asks for a pre-approval letter is also a bad idea. This is because the lack of a proper pre-approval letter will diminish the overall strength of your initial offer. It may also be a warning sign to the listing agent and seller that you are lazy and/or slow.
Submit Offer Form
The exact submit offer form varies by listing agent, however the actual fields on most of these submit offer forms it the same. A typical submit offer form asks for the following items: job and salary information, assets, liabilities and your offer terms.
The submit offer form is most commonly used for co-op apartments. This is because the financial information it requests is especially helpful to a listing agent and seller in determining whether you'd be able to obtain co-op board approval. Co-ops have rigid financial requirements which are stricter than what banks require. For example, a bank will usually lend at a 43% debt-to-income ratio, but most co-ops require a ratio between 25% to 30%.
Since condo buildings cannot reject a buyer without having the condo building buy the apartment at the same price, the pre-approval letter typically signifies that a buyer is financially qualified. Therefore, there is arguably no real need to see the financial statement of the buyer since the bank has already reviewed this information.
However, there are some instances where it's helpful for a condo listing agent to see a buyer's financials. If you are putting down less than 20% or the condo building has litigation or other challenges which make it harder for banks to lend in the building, the listing agent will want to be extra sure that you'd be able to withstand any hiccups in the financing process.
Real Estate Attorney
The city's most experienced buyer's agents always have their buyers include real estate attorney contact information along with the initial offer. Including your attorney information in the offer signals to the seller and listing agent that you are a well-prepared, serious and fast-moving buyer. As a result, listing agents will typically treat your offer much more seriously if you include your lawyer's information.
Including your real estate attorney information also gives the listing agent the assurance that there won't be any delays between the time of an accepted offer to when a deal sheet is circulated (as you search for a lawyer to hire). You can learn more about typical real estate lawyer fees in NYC here.
Proof of Funds
Including proof of funds along with your other offer documentation is another easy way to strengthen the credibility of your overall offer. Proof of funds can consist of a bank/brokerage statement or even an online banking screenshot which shows that you have at least 10% of your offer price in liquid funds.
Why the 10%? In NYC, it's customary to make a 10% deposit at the time you sign a contract. Contracts are usually signed within 1-2 weeks of the time of an accepted offer. By showing a listing agent that you have the cash available, they won't have to worry about you delaying the contract signing process as you liquidate assets and transfer money between accounts.
REBNY Financial Statement
The REBNY Financial Statement is most commonly used when making an offer on a co-op apartment. Since a buyer's financials are less important for a condo purchase, it doesn't make a lot of sense for a listing agent to ask buyers to complete a REBNY Financial Statement. Furthermore, the standard Submit Offer form already includes an abbreviated financial statement which asks for much of the same information.
While asking for both items may be excessive, the reality is that listing agents call the shot when it comes to the offer submission process. You must follow the documentation guidelines set forth by the listing agent, as the listing agent is your window to the seller. Offending the listing agent or submitting incomplete documentation may result in the listing agent talking negatively about your offer to the seller.
The standard procedure for condo offer submission in NYC is for your buyer's agent to email your offer documents to the listing agent along with your offer terms. Once the offer has been relayed, a seasoned buyer's agent will call the listing agent in order confirm receipt of the offer and try to obtain preliminary feedback on the offer itself.
Once an offer is submitted, it usually takes a day or two to hear back from the listing agent. Bear in mind that the post offer submission process can vary greatly based on the personality/approach of the listing agent, how long the listing has been on the market, and how much competition you are facing from other buyers.
If there are no other offers, the listing agent and seller will likely respond to you in an expedient manner. If you are in a multiple offer situation, it may take days to hear back as the seller waits to receive more offers.
A seller can either negotiate bilaterally with you or simply ask you to submit your best and final offer. A best and final offer process is most common in a bidding war situation.
Once your attorney receives a draft of the condo contract, he or she will begin negotiating it with the seller's attorney. During this time, your lawyer will also complete due diligence on the apartment and condo building.
Once the contract is finalized and due diligence is complete, your lawyer will contact you to go over everything. Assuming everything is in good shape, you'll be asked to sign the contract and make a customary 10% earnest money deposit.
You can begin working on your mortgage application once the seller countersigns the sale contract. It typically takes around 2 months to close on a condo apartment from the time you are in contract.
Disclosure: Hauseit and its affiliates do not provide tax, legal, financial or accounting advice. This material has been prepared for informational purposes only, and is not intended to provide, and should not be relied on for, tax, legal, financial or accounting advice. You should consult your own tax, legal, financial and accounting advisors before engaging in any transaction. The services marketed on Hauseit.com are provided by licensed real estate brokers and other third party professional service providers. Hauseit LLC is not a licensed real estate broker nor a member of any multiple listing service (MLS).