No, there is not a specific penalty for a seller for not closing on time. In all likelihood, assuming that all parties still want to close, the buyer will grant the seller an extension on the closing date which is the path of least resistance.
However, in the event that the seller is playing games and no longer wishes to sell, the buyer can put the seller in default for not abiding by the contract and get his or her earnest money check back, plus sue for specific performance or damages.
A Full Service Listing for 1%
Sell your home with a traditional full service listing for just one percent commission.
Granting an extension usually makes sense if all parties are making a bona fide effort to close in a timely fashion, and the seller simply needs a few more days to get his or her affairs in order.
In this situation, it doesn't make sense for the buyer to force the seller into a technical default by not granting an extension if the buyer still wishes to buy the property, and the seller is making best efforts to close.
Remember that many standard Realtor contracts will stipulate that in the event of a default by the seller, the buyer can either sue for specific performance or sue for damages, but not both.
Here's what a Florida closing attorney had to say about the matter:
Unfortunately, the options are limited. If the Seller fails to close by the extended closing date, the Seller will be in default of the contract. The contract provides a right to sue for specific performance or to receive the return of your deposit with the ability to sue for damages. You cannot sue for specific performance and damages.  In generally, it's difficult to sue for damages.
The Seller is not obligated to compensate you even if they are in the wrong, and their failure to close creates expenses for you which you would not have incurred if the Seller closed per the terms of the contract. Any compensation would have to be negotiated as part of reaching an agreement to extend the closing date.
I know you have a lease expiration issue. A possible solution would be a pre-occupancy agreement, but it would be hard to get done without a firm understanding of where the Seller is in clearing the lien we talked about from his property.

Of course, there's no reason you can't try to negotiate a concession in exchange for extending the closing date, such as a per diem for alternative accommodations.
For example, you could argue that since you won't have a place to stay because the seller isn't ready to close, he or she should reimburse you $250 a day for each day the closing is delayed. Or you could simply ask for a specific dollar amount in exchange for extending the closing date a certain number of days.
Be prepared for the seller to call your bluff if he or she believes you're getting a good deal, and that you won't be walking away from the transaction. If that happens, you'll end up effectively having to extend the closing date anyway as there's no point in suing the seller for specific performance if he or she is already making a bona fide effort to close.
Pro Tip: Take a look at comparable properties before you make a decision to back out. Is there similar inventory that you could credibly purchase in lieu of this one, at a similar price point? If the answer is yes, then you have much more power to demand a concession in exchange for an extension of the closing date.
The most important question you should be asking yourself when a seller isn't ready to close is whether he or she still wants to sell, and whether he or she is able to sell.
For example, let's say you got a really good deal on your contract because the seller panicked, and now the market has gone up dramatically. As a result, it's reasonable that the seller might have some seller's remorse, and wishes to back out of the contract so he or she can re-sell it higher.
If this is the case, then the seller may be playing games in the hopes that you give up and decide to buy something else, with minimal litigation for damages.
This is more likely to happen if the property is rented out as an investment property, or if the seller is currently occupying the property.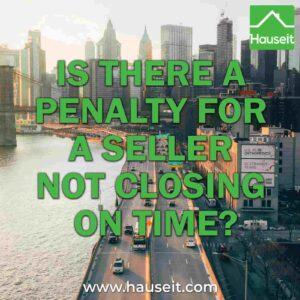 In these situations, the seller isn't feeling financial pain from continuing to hold onto the property, and as a result, won't be as pressured to sell.
However, the situation might be different if the property is vacant, or currently uninhabitable because it doesn't have flooring (i.e. currently concrete, "developer ready" condition). In that case the seller might be highly incentivized to close because of high monthly running costs, especially in high property tax states like New York or Florida.
Is the seller able to sell?
You also have to ask yourself whether all interested parties necessary to get the deal done are also interested in doing so. For example, in the case of a short sale where the seller is short on cash and wants to assign his existing mortgage to another unencumbered property he owns, the lender will have to sign off on such a substitution of collateral.
In this example, the seller's existing mortgage lender is a gatekeeper, and doesn't have to agree to the collateral substitution and subsequent lien release on the property being sold. You'll have to analyze whether the seller's lender thinks it's worthwhile and in their best interests to agree to the loan modification.
Pro Tip: If you really want to buy a piece of property, then there's not much you can do unless you're willing to walk away and sue for damages. But since you can't sue for damages and still compel the seller the go through with the contract, you don't have many options if you actually want the property.
If the seller is indeed playing games and trying to stall because he or she simply doesn't want to sell any longer, then you might have to notify them of their default and sue them for specific performance.
Specific performance is a unique concept in real estate litigation where the buyer, but rarely the seller, can sue his or her counter-party to go through with the transaction per the contract.
This concept of specific performance is seen in real estate because often times the amount of damages from a breach of contract by the seller is not quantifiable.
In contrast, a breach of contract by the buyer is easy to resolve because of the specific amount of the buyer's contract deposit that is being held hostage in escrow.
For example, a seller who defaults on a contract may force a buyer to have to scramble to find alternative pricing at potentially much higher prices.
Furthermore, if the buyer secured a great deal for a very specific, unique piece of property, the buyer may not be able to find a similar replacement even if money wasn't an issue.
As a result, buyers have the rather unique ability to sue for "specific performance" in real estate transactions where the seller defaults and refuses to sell.
Pro Tip: You should have a rough idea of what closing costs for buyers in Florida are well before your attorney sends you your closing statement, or if financing, your lender sends you your Closing Disclosure.
Save 2% On Your Home Purchase
Our partner brokers are some of the most experienced and reputable in the industry.
The other alternative in the case of a seller default is for the buyer to get his or her contract deposit back, while retaining the ability to sue for damages.
Per the standard Florida Realtor contract:
Seller Default: If for any reason other than failure of Seller to make Seller's title marketable after reasonable diligent effort, Seller fails, neglects or refuses to perform Seller's obligations under this Contract, Buyer may elect to receive return of Buyer's Deposit without thereby waiving any action for damages resulting from Seller's breach, and, pursuant to Paragraph 16, may seek to recover such damages or seek specific performance.
This of course is a more aggressive route, and only makes sense if you are no longer interested in buying the property, either because you found a replacement property or because the markets have dramatically softened in the interim.
If you go this route, you can either walk away with your deposit or walk away with your deposit and sue the seller for damages. It's up to you on what you wish to do, though certain damages are very reasonable to go after the seller for.
For example, what if you had already made a non-refundable deposit to secure the floor tiles for what you thought was your new home? The seller should certainly reimburse you for these damages in the event that the seller won't be able to close.
Keep in mind that the seller believing you will go through with this is the only credible threat you have when asking for a concession.
One should not forget however that in the event of a seller's default, there often is mandatory arbitration written into standard Realtor contracts:
Dispute Resolution: Unresolved controversies, claims and other matters in question between Buyer and Seller arising out of, or relating to, this Contract or its breach, enforcement or interpretation ("Dispute") will be settled as follows:
(a) Buyer and Seller will have 10 days after the date conflicting demands for the Deposit are made to attempt to resolve such Dispute, failing which, Buyer and Seller shall submit such Dispute to mediation under Paragraph 16(b).
(b) Buyer and Seller shall attempt to settle Disputes in an amicable manner through mediation pursuant to Florida Rules for Certified and Court-Appointed Mediators and Chapter 44, F.S., as amended (the "Mediation Rules"). The mediator must be certified or must have experience in the real estate industry. Injunctive relief may be sought without first complying with this Paragraph 16(b). Disputes not settled pursuant to this Paragraph 16 may be resolved by instituting action in the appropriate court having jurisdiction of the matter. This Paragraph 16 shall survive Closing or termination of this Contract.
Pro Tip: If you haven't gotten a clear to close from your bank yet, don't assume your commitment letter is air-tight. There is the risk that you'll be in a situation where your loan falls through the day before closing.
Our Discretion, Your Advantage
Our traditional partner brokers never openly discount which means less disruption and better execution for you.
Disclosure: Hauseit® and its affiliates do not provide tax, legal, financial or accounting advice. This material has been prepared for informational purposes only, and is not intended to provide, and should not be relied on for, tax, legal, financial or accounting advice. No representation, guarantee or warranty of any kind is made regarding the completeness or accuracy of information provided. Hauseit LLC is a Licensed Real Estate Broker, licensed to do business in New York under license number 10991232340. Principal Office: 244 Fifth Avenue, Suite 2950, New York, NY 10001.