What's the benefit of buying a walk up apartment vs elevator building apartment? We'll explain everything that you need to know including some considerations to buying a walk up unit.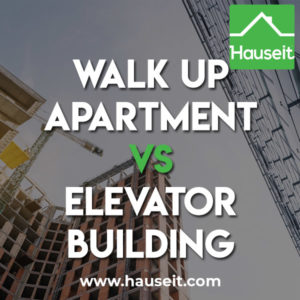 What is a Walk Up Apartment?
A walk up apartment is an apartment located in a building without an elevator, hence the need to literally walk up to your home.
Walk up apartments are quite common in New York City, especially in low rise neighborhoods such as the West Village or SoHo. Walk ups will also be common anywhere you see townhouses or brownstones that have been converted to multi-family properties. Rarely will you see an elevator installed in your typical townhouse in NYC.
What is an Elevator Building?
An elevator building is a building that has at least one elevator available for use by the residents. A larger elevator building may have more than one public elevator, in which case the elevators almost always open up to public hallways.
Some smaller elevator buildings where each owner has an entire floor may have the building's sole elevator open up directly into their apartment. This amenity is called having private keyed elevator access.
Most apartment buildings with more than roughly 20 or 30 units will almost always have at least one elevator. It's typically the smaller apartment buildings or converted brownstones and townhouses that are walk-ups. Furthermore, a lot of the low rise apartment buildings in historic neighborhoods such as

SoHo

will be walk-ups.
Do Walk Up Apartments Cost Less?
The primary benefit of buying or renting a walk-up apartment is the reduced cost vs a comparable apartment in an elevator building. While there isn't a standard haircut in value that real estate professionals will agree on, there is no doubt that walk up apartments will be worth less.
The reduced valuation of walk up apartments is due to the very real fact that many buyers will ignore walk up apartment listings entirely. Many buyers are physically unable to climb several flights of stairs multiple times a day. Perhaps they have young children and cannot deal with carrying a stroller up the stairs on a daily basis, or perhaps they are a bit older and not as athletically fit as they used to be. Or, people may just not want the inconvenience of having to climb stairs as a daily requirement of getting home.
As a result, the reduced buyer base for a walk-up apartment vs a comparable apartment in an elevator building results in reduced average sale prices for the former. According to a recent Hauseit survey of our partner brokers and other real estate professionals, the average haircut for a walk-up apartment ranges from 5% to 15% on average. The valuation discount doesn't really apply for ground floor or garden apartments for obvious reasons; however, the discount becomes more pronounced for units on the third floor and higher.
Should Parents with Small Children Buy Walk Ups?
Most parents with small children that they still carry or push around on strollers will cringe at the idea of not having an elevator. It can be extremely difficult to get both your toddler and a stroller safely up the stairs. With two people, it may be easier to carry a stroller up multiple flights of stairs. However, you still run the risk of dropping the stroller along with your baby in it unless you have the baby strapped to your chest during this process.
If you're lucky, a walk-up building might have a nook or corner where you can leave your stroller, assuming your building's

house rules

allow it. However, this isn't a perk you should expect to have when buying a walk-up apartment as most walk-up buildings won't have space in the lobby to store strollers. Furthermore, you shouldn't assume your neighbors would be okay with you utilizing common areas like that. There often will be house rules or condo bylaws that prohibit residents from storing personal belongings in common areas like hallways and the lobby.
Considerations to Buying an Elevator Building Apartment
Apartments in elevator buildings will cost you more and not just because it'll be more expensive to purchase. Please keep in mind that a modern elevator is a big, complicated and expensive piece of equipment with a limited lifespan. It can easily cost over $100,000 to replace or refurbish an aging elevator.
As a result, try to find out during the

due diligence

period how old the building's elevator is and when the last repairs were made. If the building' elevator is nearing the end of its useful life and needs to be replaced after you buy it, be prepared to pay a hefty

special assessment

levied by your condo or co-op board to pay for it.
An elevator can be loud, especially if your apartment is located close to the elevator entrance. If there's a lot of traffic in your building and the elevator is getting old, you can experience so much noise that it becomes hard to focus on anything or even sleep. That's why one of the

best apartment viewing tips in NYC

is to ask for a moment of silence so you can ascertain the true level of ambient noise in the apartment.
Lastly, if the apartment you're considering buying has private keyed elevator access, you not enjoy the prospect of being surprised by a stranger when the elevator door opens. Unlike a regular apartment door, you won't be able to see who's on the other side of the elevator door before it opens. Usually this is harmless and you might simply be surprised to see your neighbor and you'll share an elevator ride. However, what if a nefarious burglar managed to get into the elevator? Then whoever opens the elevator might face a more dangerous surprise.
Disclosure: Hauseit and its affiliates do not provide tax, legal, financial or accounting advice. This material has been prepared for informational purposes only, and is not intended to provide, and should not be relied on for, tax, legal, financial or accounting advice. You should consult your own tax, legal, financial and accounting advisors before engaging in any transaction. The services marketed on Hauseit.com are provided by licensed real estate brokers and other third party professional service providers. Hauseit LLC is not a licensed real estate broker nor a member of any multiple listing service (MLS).