Property records in NYC are a matter of public record. They are accessible to the general public online through the Automated City Register Information System, also known as ACRIS. The ACRIS database allows you to search for property records by name, address or through a property's borough, block and lot identifier. ACRIS contains property records from Manhattan, Brooklyn, Queens and Bronx from 1966 go present. The ACRIS system is managed by the New York City Department of Finance, Office of the City Register.
Follow our step-by-step tutorial below to learn how to use ACRIS in NYC.
Click on 'Begin Using ACRIS' as shown below: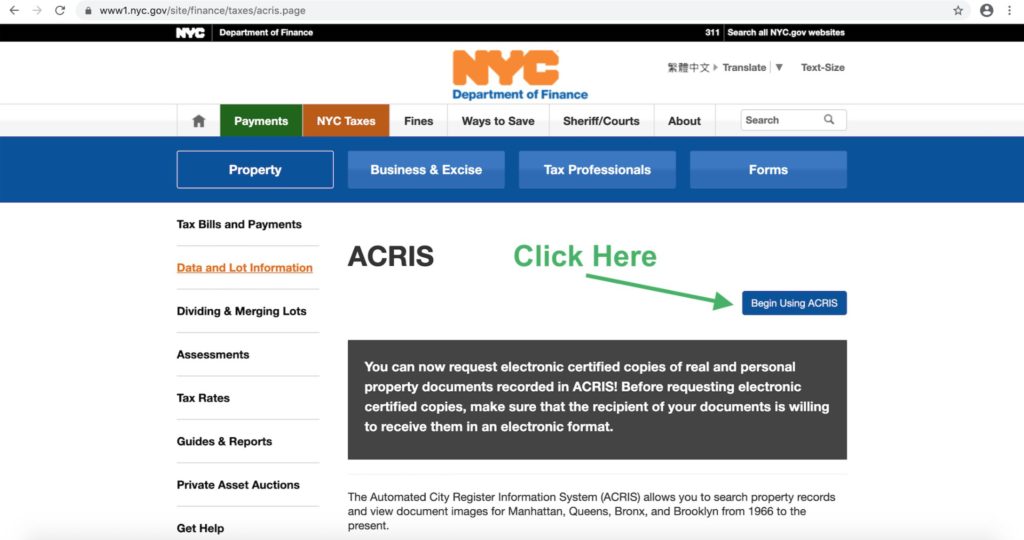 On the next page, you will be prompted to search by Party Name (i.e. buyer or seller), Parcel Identifier (Borough, Block, Lot), Document Type, Document ID, Transaction Number, Reel and Page or the UCC/Federal Lien File Number.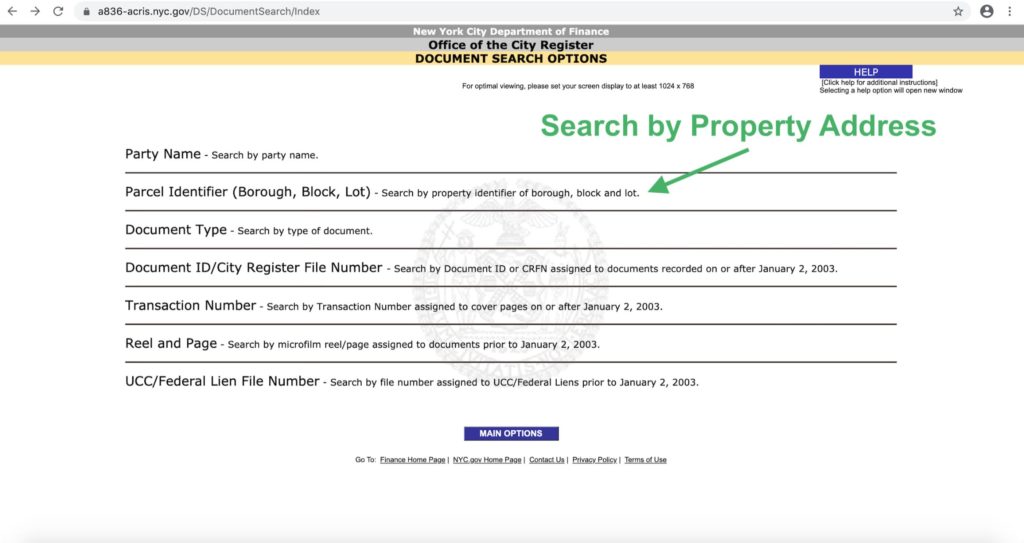 The most useful search options include Party Name as well as Parcel Identifier. The latter is another way for referring to a property's address. We explain how to use both of these search functions in the sections below.
Our Discretion, Your Advantage
Our traditional partner brokers never openly discount which means less disruption and better execution for you.
To search for property records by name, click on 'Party Name' as shown below: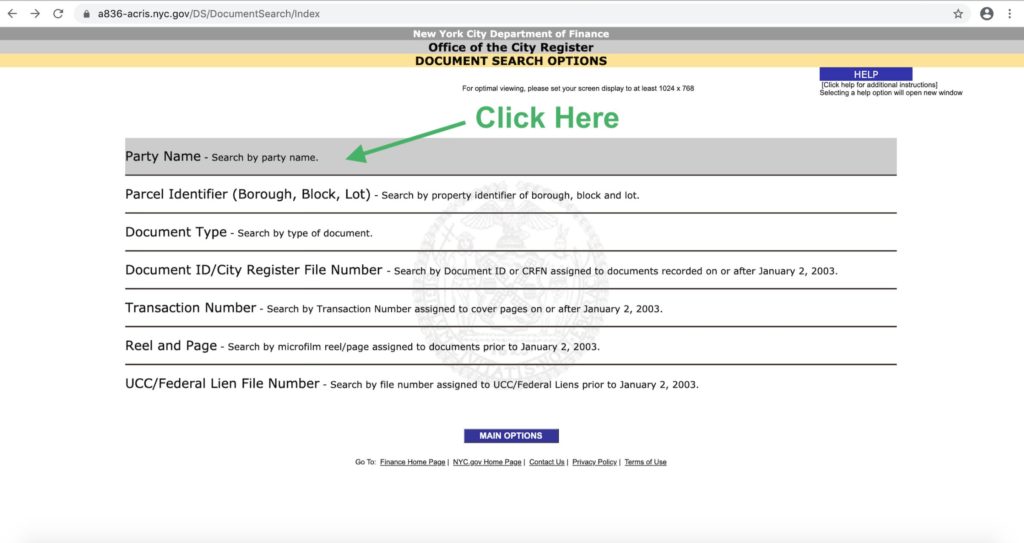 On the next page, input the name of owner you're searching for. If it is an individual, enter last name, first name and middle initial if available.
If the owner is an entity such as an LLC, select the 'Business Name' option and enter the entity's name in the bottom row. 
In the example below, we are searching for property ownership records for 'Daniel Radcliffe':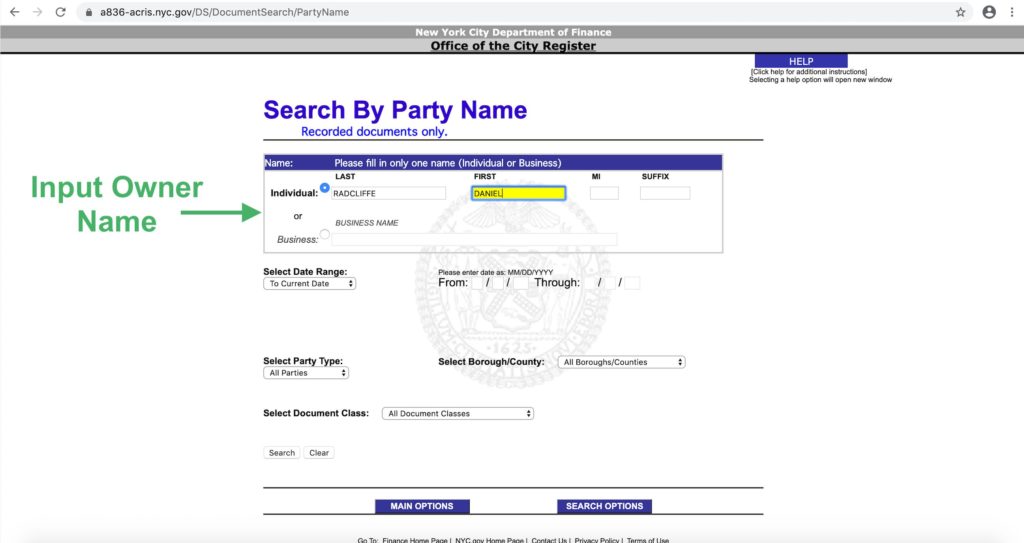 In the result page below, there are three entries all pertaining to the same property, as evidenced by each row having the same 'Block' and 'Lot' identifiers of 602 and 1060, respectively.
The second row is a deed entry, which means it's a recorded sale transaction.
The 'Doc Amount' of $4,900,000 is the purchase/sale price.
Because the Power of Attorney entries were recorded/filed on the same day as the deed, it suggests that this property record is for a condominium. It's customary for the buyer of a condo to sign a Power of Attorney authorizing the Condo Board to act on her or his behalf.
We can learn more by clicking on 'DET' in the second row, which is the deed entry:
The results page below provides additional information including the name of the counterparty as well as the percentage of ownership transferred: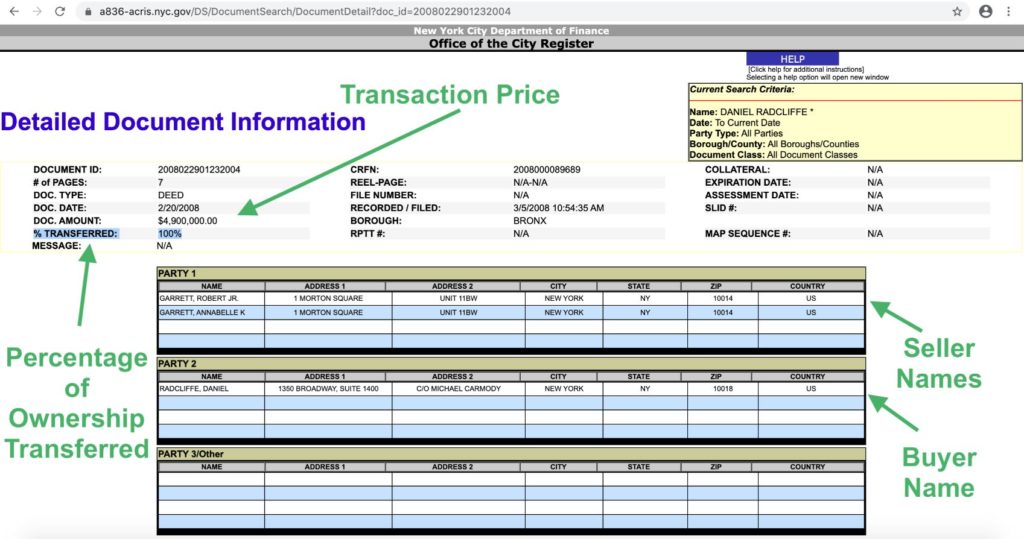 Towards the bottom of the results page, you will see the property address as well as the property type. In this example, the address is 1 Morton Square, Apartment 11BW. This appears to be a single residential condo unit as indicated below: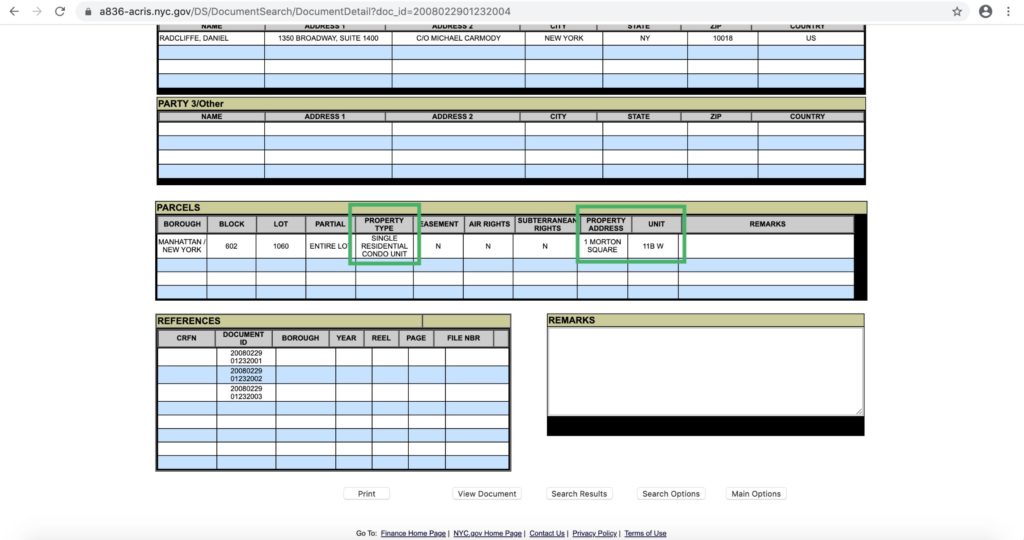 We can view the actual sale deed by clicking 'View Document' as shown below: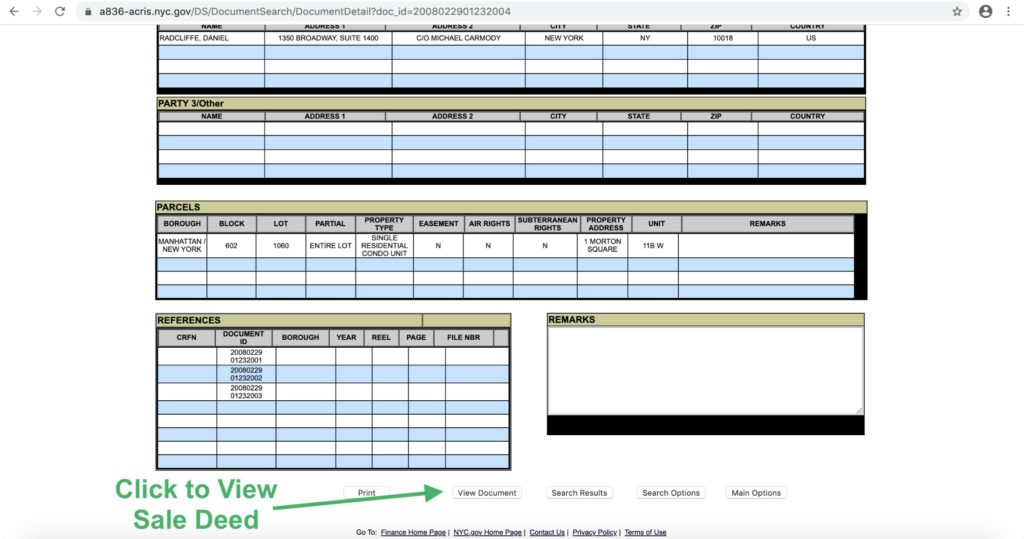 Here is the first page of the sale deed: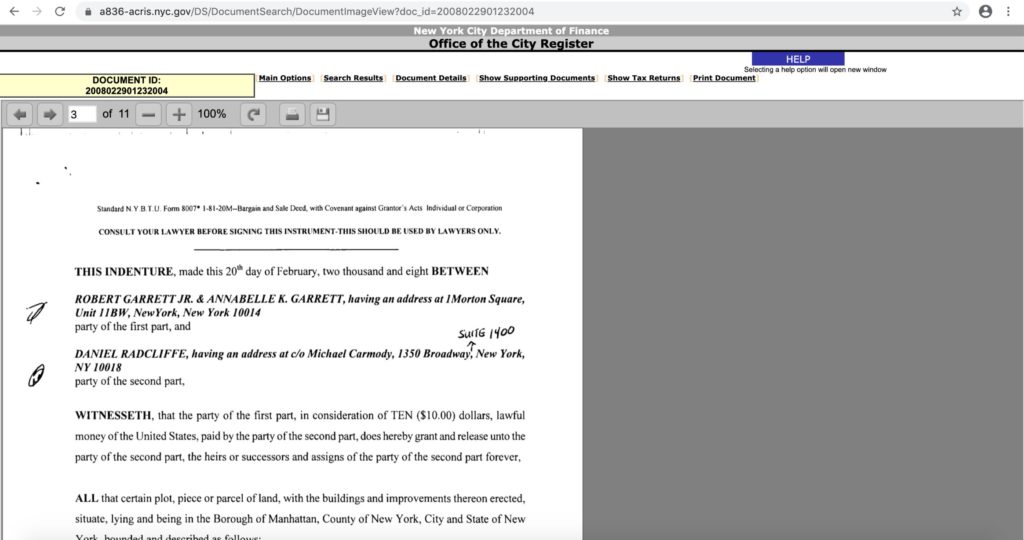 If you scroll through the pages, you will also see the 'Real Property Transfer Report' from the State of New York. You can even see the signature of the purchaser, Daniel Radcliffe, on page 9: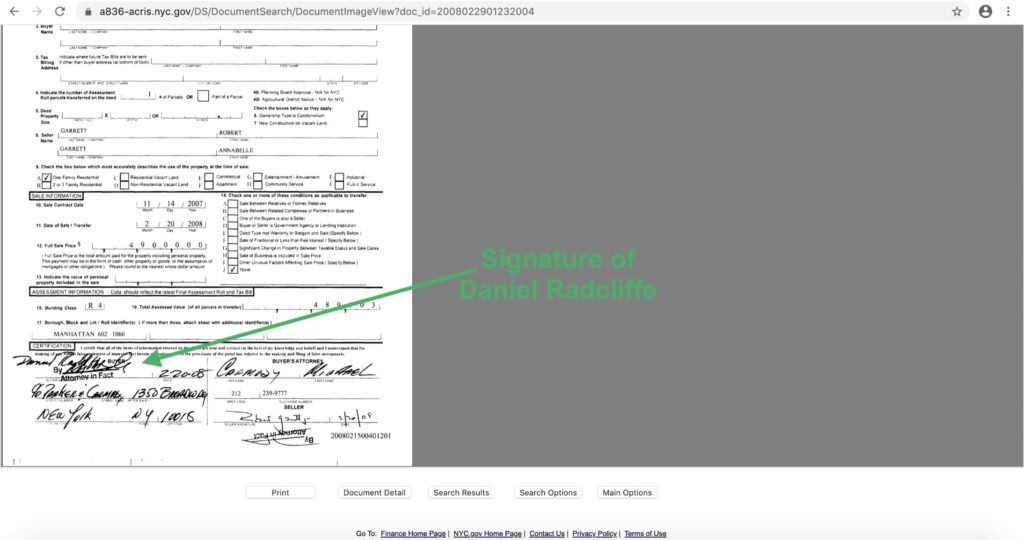 A Full Service Listing for 1%
Sell your home with a traditional full service listing for just one percent commission.
To search NYC property records by address, click on 'Parcel Identifier (Borough, Block, Lot) on the main ACRIS homepage: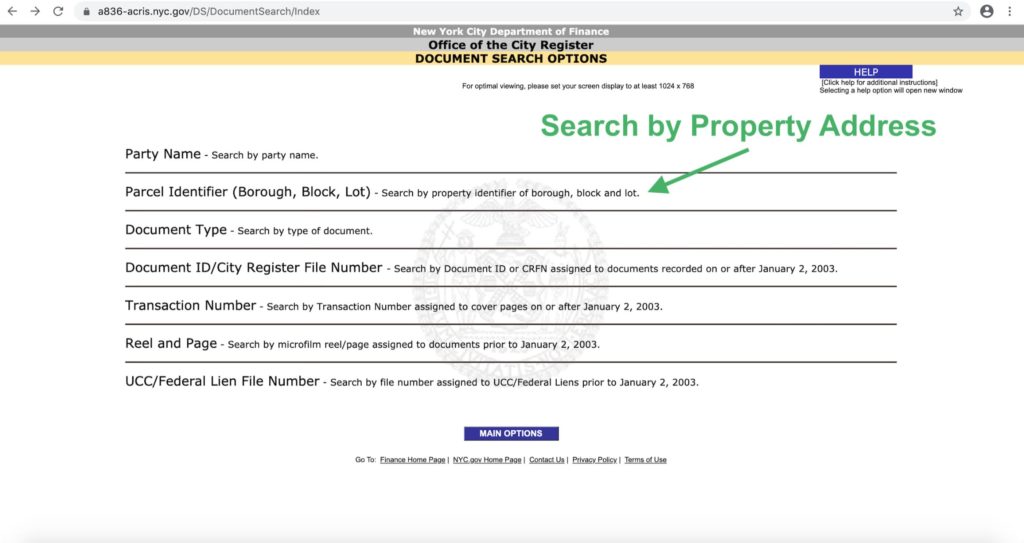 If you don't know the block and lot of the property you're looking for, click on 'Address and Parcel Lookup' as shown below: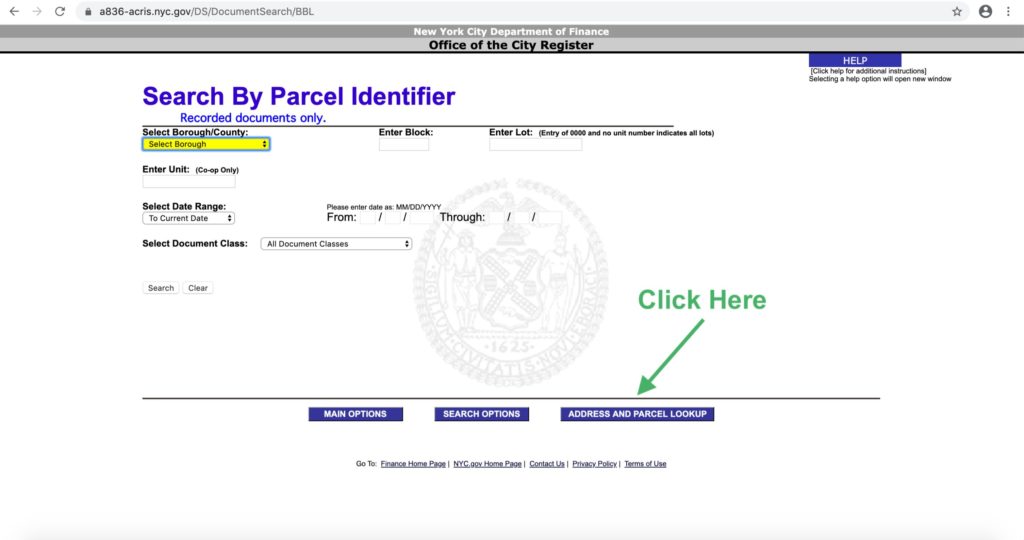 On the next page, input the borough (i.e. Manhattan, Brooklyn, Queens or Bronx), property address and unit number if a condo or co-op.
Click 'Find BBL' as shown below: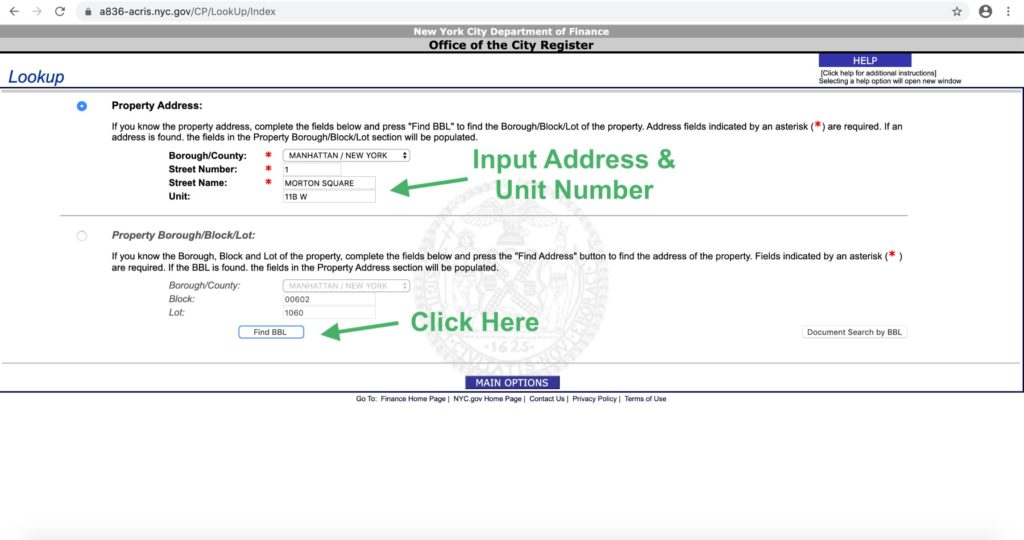 In the example above, note that we are searching for a 'combination' apartment since it has multiple letters. Entering '11BW' in the Unit field yielded no results, so we tried iterations until discovering that '11B W' yielded a result as shown below. 
Once the Block & Lot information appears, click on 'Document Search by BBL' to look-up property records associated with that address (and corresponding block and lot):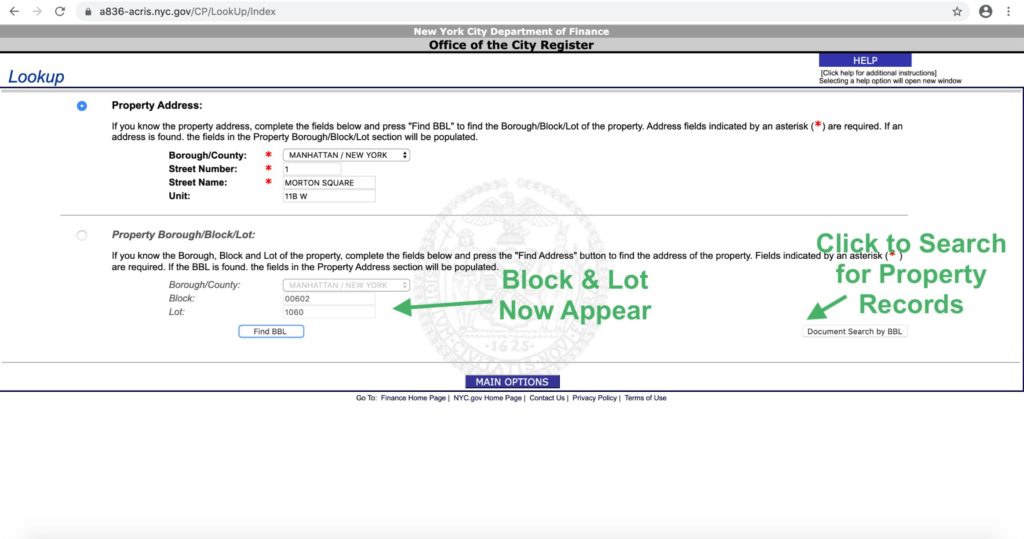 On the next page, you will see that the Block and Lot results you searched for have auto-populated. Click on 'Search' to yield property records associated with this address: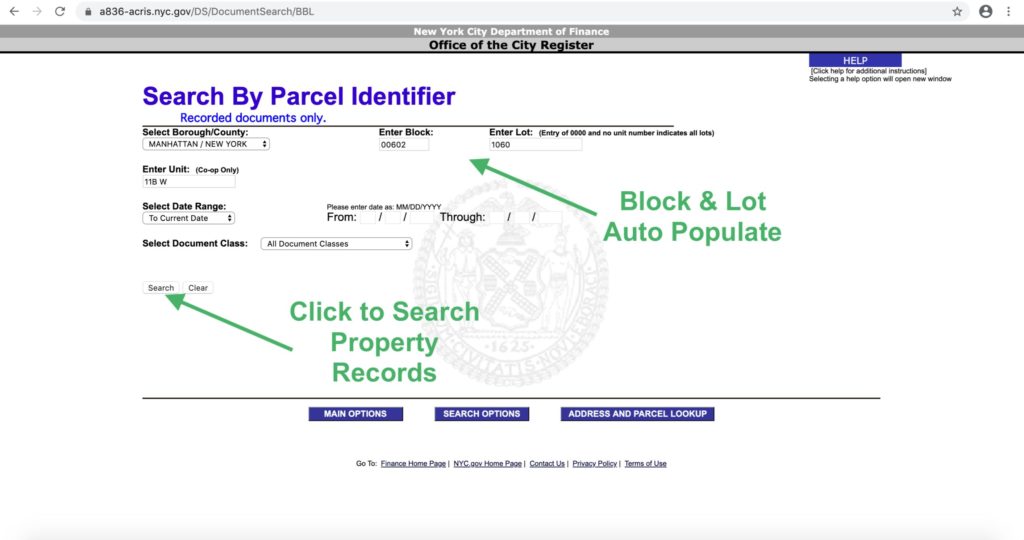 Posted: 01/07/2020
Disclosure: Hauseit® and its affiliates do not provide tax, legal, financial or accounting advice. This material has been prepared for informational purposes only, and is not intended to provide, and should not be relied on for, tax, legal, financial or accounting advice. No representation, guarantee or warranty of any kind is made regarding the completeness or accuracy of information provided.