Buying a former Mitchell-Lama co-op that has since been privatized is typically no harder than buying a normal co-op apartment, with the exception that you should take special care to make sure that any special flip taxes levied against pre-privatization owners who stand to gain massively from the sale won't also be applied to future sales by new owners like yourself.
We'll discuss what Mitchell-Lama housing actually is, how the privatization process works as well as special considerations for buyers of former Mitchell-Lama buildings in the following article.
Mitchell-Lama housing is government subsidized housing for "moderate to middle income" families in New York, with income limits to qualify which vary depending on family size.
You can apply to rent or buy a Mitchell-Lama apartment directly with the managing agent of each building.
However, you can expect to wait years or over a decade before ever getting near the top of the list. Some buildings have so much demand that their wait list is simply closed.
Furthermore, the chance of hitting the lottery and getting one of these apartments is diminished by the fact that residents get first dibs on any new apartments. This means that insiders will get the first look on any larger apartments when they wish to upgrade to a bigger unit.
As a result, you're more likely to get a smaller apartment like a studio or a 1 bedroom vs a 3 bedroom unit as a newcomer.
The following chart from the HPD website illustrates how income limits vary depending on family size and whether you're looking at a federally assisted rental, coop or something non-federally assisted.
Why are Mitchell-Lama coops so attractive?
Getting to the top of the wait list for a Mitchell-Lama co-op is akin to winning the lottery for New Yorkers. Why? Because they'll be able to buy an apartment for well under $100,000, or even just a few tens of thousands of dollars or less.
Furthermore, monthly maintenance will be significantly lower than average due to special property tax abatements, subsidized mortgages and outright government grants.
For example, 353 Beach 57th Street in Far Rockaway, Queens became open for applications recently for two bedroom co-ops which could be purchased for approximately $17,000. Monthly maintenance fees? Around $1,100 a month.
Yes, you heard that right, a 2 bedroom apartment in New York City for under $20,000 to buy, and $1,100 a month to maintain. That's why New Yorkers dream about Mitchell-Lama apartments!
We recently interviewed David Reischer, Esq. at legaladvice.com who had the following to say about the Mitchell-Lama program:
"The Mitchell-Lama program is named after the 2 senators that spearheaded the program and was conceived over 60 years ago so as to offer affordable housing in blighted neighborhoods. The apartments were built for middle income residents.
To buy or rent a Mitchell-Lama apartment a person must pass an income test. The owners of a Mitchell-Llama apartment can't profit when they sell the unit but can pass the unit to a successor if the person has been living in the unit for at least 2 years.
I have been contacted by tenants to circumvent this rule but it is not possible as it is written into the law when Mitchell-Llama apartments were created over 60 years ago.
When a Mitchell-Lama owner sells the property, the property go back to the co-op. The owner gets a small amount of money back in the form of their original purchase price plus some interest expense on any mortgage payments. Most Mitchell-Lama owners covet their properties, especially in NYC where property values have exploded in recent years."
David Reischer, Esq.
NY Attorney & CEO of LegalAdvice.com
A Full Service Listing for 1%
Sell your home with a traditional full service listing for just one percent commission.
After a certain number of years, the owners of a Mitchell-Lama co-op building can vote to privatize their building and exit the Mitchell-Lama program.
Doing so means they'll lose tax abatements related to the program and will face higher interest payments from a non-subsidized mortgage; however, these negative factors are often more than outweighed by the ability to sell their units at market value.
This can result in tremendous capital gains for sellers who usually pay less than $100,000 through the program for their property, and sometimes only a few thousand dollars or a few tens of thousands of dollars. As a result, selling for ten times or more of the purchase price is not unheard of.
As you can imagine, owners who don't wish to stay may vote against privatization which would increase their monthly costs.
Hefty flip taxes may be levied post privatization
Just like in HDFCs and co-ops in general, a flip tax can be levied by the coop board to both raise revenue and to discourage "flipping" or trading by investors.
However, unlike a regular co-op building which may levy a 1% or 2% flip tax on the net sale proceeds, a Mitchell-Lama co-op may decide to levy a much stiffer flip tax in order to offset increased monthly charges by the remaining residents as a result of privatization, and perhaps simply because the co-op board feels like the building is owed some of the outsized gains due to privatization.
The Southbridge Towers complex in the Financial District goes private
The Southbridge Towers is a great example of a Mitchell-Lama limited equity housing cooperative that has voted to privatize in recent years. In late 2014, slightly more than two-thirds of the residents voted to privatize after an often heated, lengthy debate over the merits of doing so.
Given that the owners of the 1,607 unit complex purchased their apartments decades ago for $10,000 or less, the act of privatization is expected to bring enormous increases in the net worth of the residents.
For example, the market rate for a three bedroom co-op apartment in FiDi is well north of $1 million, which means a gain of 100x or more on the initial investment.
Privatization may be a lengthy process
Privatization is not a quick process and can take years of heated debates, studies and even litigation to complete.
For example, the lengthy privatization process at Southbridge Towers took eight years to complete after the initial vote that allowed a feasibility study of the idea in the first place.
Furthermore, even after more than two thirds of the residents voted to go private, there was a 90 day period for folks to opt in to the agreement. This was eventually pushed back several more months to give residents a chance to review the 900 page privatization offering plan.
Buying a Mitchell-Lama coop that has been privatized is no different than buying a regular co-op apartment, with one caveat. Buyers should pay special attention to the flip tax levied by the co-op, and check whether different rates apply to owners who purchased pre or post-privatization.
As we discussed in a previous section, co-op boards may institute significant flip taxes post privatization to alleviate increases in monthly maintenance fees for owners who stay, as a result of losing government grants, tax abatements, and subsidized financing due to going private.
Co-op boards also tend to think it's more fair for sellers reaping such a big profit due to privatization to share some of those gains.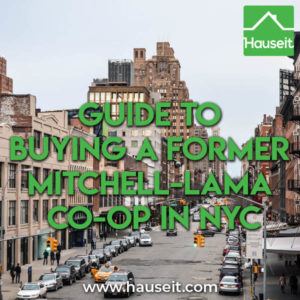 Regardless of building politics around punishing owners who cash out due to privatization, as a new prospective buyer your focus should be on finding out what the flip tax will be going forward for new owners.
Will there be a reasonable, and more normal flip tax in place for new owners post-privatization? For example, will you only have to pay 1-3% of any net sale proceeds in flip tax if you sell?
Or, would you be subject to the same onerous flip tax as the original owners pre-privatization, in which case the purchase becomes much less attractive?
Save 2% On Your Home Purchase
Our partner brokers are some of the most experienced and reputable in the industry.
Disclosure: Hauseit® and its affiliates do not provide tax, legal, financial or accounting advice. This material has been prepared for informational purposes only, and is not intended to provide, and should not be relied on for, tax, legal, financial or accounting advice. No representation, guarantee or warranty of any kind is made regarding the completeness or accuracy of information provided. Hauseit LLC is a Licensed Real Estate Broker, licensed to do business in New York under license number 10991232340. Principal Office: 148 Lafayette Street, New York, NY 10013.