Most co-op buildings in NYC raise their monthly maintenance fees by 3% to 5% per year which is in line with general inflation as well as annual increases in NYC real estate taxes. Unlike for condos, co-op buildings pay real estate taxes directly to NYC on behalf of all owners. If, when, by how much and how frequently a co-op raises its maintenance is at the discretion of the building's Board of Managers, also known as the co-op board.
The decision to raise a co-op building's monthly maintenance is both operational and stylistic in nature. While some buildings are culturally opposed to permanent maintenance increases and prefer to levy special assessments to cover any income shortfall, other buildings may prefer to raise maintenance more frequently and aggressively in order to build cash reserves over time.
The maintenance figure for a specific apartment in a co-op is based on the number of shares assigned to that apartment relative to the total number of shares in the building. When comparing apartments in different co-ops, maintenance figures will vary based on the unique cost structure of each building.
The cost of operating a co-op varies based on a number of factors. These include amenities, service level, type of construction, age of the building, the size and interest rate of any underlying building mortgage, labor and other service contracts, whether or not the building is on a land lease and the presence of retail or other commercial income, among other factors.
As a general rule of thumb, annual increases of 3% to 5% in a co-op's monthly maintenance are fairly typical for New York City. Keep in mind that some buildings will raise the maintenance by a lower percentage and do so more frequently whereas other co-op buildings may refrain from increases for many years and then raise the maintenance considerably.
Each co-op will have its own rules and procedures for handling maintenance increases, and the specifics will be outlined in the bylaws.
Because of the unique nature of the cost structure for each co-op building, it's certainly possible that some co-ops may experience annualized maintenance increases which are below or above the typical 3% to 5% range. However, the largest expense for most co-ops is NYC real estate taxes, and they have been going up considerably over the past few years. It's therefore important to recognize that a considerable percentage of a co-op's annual expenses are largely outside of the building's direct control.
The easiest way to determine whether or not a co-op's history of maintenance increases is reasonable is to analyze the year over year changes in specific line items on the income statement. In the example income statement below, roughly 36% of the co-op's expenses are comprised of real estate taxes which went up over 4% year over year.
All of the other line items appear to have fairly normal variations, and total annual expenses increased by less than 1%, from $977,615 in 2018 to $979,288 in 2018.
Our Discretion, Your Advantage
Our traditional partner brokers never openly discount which means less disruption and better execution for you.
If you see a fairly inexpensive co-op for sale and the maintenance is considerably higher than for other units in the area, it's highly likely that the co-op is on a land lease. This means that the co-op does not own the land on which the building sits. Instead, these co-ops make large 'land rent' payments which are part of long-term leases of 50 to 99 years. The additional cost associated with the land lease is reflected in the higher maintenance payments paid by unit owners.
A co-op may also have higher expenses (and higher maintenance payments) if the building itself has a high 'debt servicing' cost by way of having a large amount of financing, particularly if the interest rates are high.
In other cases, a co-op building may have higher expenses simply by its very nature of being a high-amenity or 'white glove' service level building. The cost of additional staff and maintaining various amenities would give a building an inherently higher cost of operations.
It's also possible for a co-op to experience a temporary spike in operating expenses as a result of large and infrequent capital improvement projects such as a facade repair or a roof or elevator replacement. In these instances, a co-op may levy a one-time special assessment while keeping the underlying monthly maintenance amount the same.
The main benefit of a special assessment vs. a permanent maintenance increase is that a special assessment can be added to the cost basis of the property to help reduce the amount of any capital gains tax due upon a sale. This is not the case for maintenance increases, even if the primary purpose of a maintenance increase is to pay for a specific capital improvement project.
If, for example, a co-op apartment was purchased for $1m and the owner paid $100k in special assessments during the course of ownership, the cost basis would be $1.1m ($1m + $100k).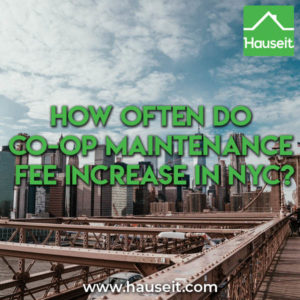 If the property sells for $1.5m, the owner would have a taxable gain of $400,000 ($1.5m – $1.1m) instead of $500k ($1.5m-$1m).
A Full Service Listing for 1%
Sell your home with a traditional full service listing for just one percent commission.
Disclosure: Hauseit® and its affiliates do not provide tax, legal, financial or accounting advice. This material has been prepared for informational purposes only, and is not intended to provide, and should not be relied on for, tax, legal, financial or accounting advice. No representation, guarantee or warranty of any kind is made regarding the completeness or accuracy of information provided. Hauseit LLC is a Licensed Real Estate Broker, licensed to do business in New York under license number 10991232340. Principal Office: 148 Lafayette Street, New York, NY 10013.