The COVID-19 pandemic of 2020-2021 resulted in permanent (and mostly positive) changes to the co-op board approval process in NYC.
The biggest change ushered in by the pandemic was the digitization of the co-op board package submission process itself.
Other changes include broader acceptance of electronic signature, digital submission of board package fees, faster response time from co-op boards and the pivot to virtual co-op board interviews. Collectively, these changes may shorten the typical co-op board approval timeline going forward.
Prior to the pandemic, most co-ops and building managers openly rejected technology and required applicants to physically print and deliver several hard copies of the board application to building management. It was not unheard of for the most conservative Manhattan co-op buildings to require between five and seven hard copies of the board package.
Since a typical board package can run upwards of 500 pages, buyer brokers were therefore required to print out thousands of pages of highly sensitive & confidential financial and other personal information. All the copies put together could literally fill several boxes and weigh over 100 pounds.
After spending hundreds of dollars on printing, a buyer's agent had to hire a messenger to deliver these physical hard copies to the office of the managing agent.
Some brave buyer's brokers chose to personally deliver a large and heavy box (or boxes) containing the copies to management.
Once management received the hard copies, someone at the office would have to coordinate the delivery of the physical copies to every co-op board member.
Sound ridiculous? Well it was. For years and decades, co-op buildings in NYC openly and defiantly rejected the use of email, cloud storage and other more efficient and environmentally friendly ways to accept board packages. At Hauseit, we could never reconcile the environmental damage caused by this archaic process with the fact that the vast majority of co-op board members (and residents) in NYC are highly liberal and very focused on climate change.
Once the pandemic arrived in NYC, the transfer agents at the management companies started working from home.
Therefore and almost immediately, physical submission of board packages completely disappeared.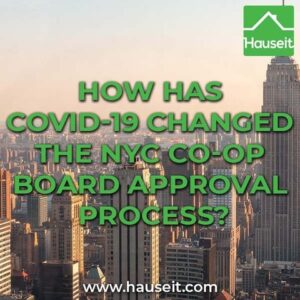 The transfer agents who were working from home had no interest in receiving a delivery of 100lbs of physical documents, and thereafter having to coordinate delivery of these hard copies to individual board members (many of which had left the city during COVID).
Although very few buildings immediately updated the submission instructions in the board package to remove language about physical copies, transfer agents were happy to receive board packages via email or through a cloud storage link (Dropbox, Google Drive, etc.).
In the years following the pandemic, we anticipate that most co-op buildings and managing agents will continue to accept (and perhaps require) digital submissions. We also expect most co-ops to update their board package submission instructions to accept digital submissions.
Aside from catalyzing the pivot towards electronic board package submission, COVID-19 also further legitimized e-signature in the eyes of co-op boards and management companies. Prior to COVID and despite the unquestioned legality of electronic signatures in New York, management companies often demanded original ink signatures for all signature pages in the board application.
This open defiance of technology by managing agents created tremendous logistical headaches for buyers, sellers and brokers who were therefore required to mail each other individual documents to sign prior to submitting the board package. Aside from the hassle, this also meant it took longer than it needed to for a board package to be prepared and submitted.
We anticipate this heightened acceptance of electronic signatures to persist well after the pandemic subsides.
That being said, some managing agents who accept e-signature may still continue to reject or strongly discourage typed/font signatures.
Therefore, we recommend that individuals actually draw their signature when e-signing instead of auto-populating an automatic signature (which is typically the signer's name in block text or basic cursive). In other words, signers should try to make their electronic signatures look as real as possible.
There will also continue to be one exception to the adoption of e-signatures for board application documents, and that exception pertains to Aztech Recognition Agreements. We expect original ink signatures on 'Azechs' to continue to be a requirement for all co-op buildings.
That being said, we anticipate that co-op applicants will be asked to mail Aztechs directly to the co-op attorney, as was the protocol during the pandemic, instead of the pre-COVID custom of mailing them to the management company. During the pandemic, applicants were asked to hold onto Aztechs until receipt of board approval, at which point applicants were instructed to mail the Aztechs directly to the co-op building's attorney.
COVID-19 has also changed the way co-op managing agents accept application fees. Prior to the pandemic, all fees were typically submitted via certified checks which almost always needed to be mailed in or hand delivered to management.
In the wake of COVID-19, most building managers began accepting online payments for application fees via credit card.
For building specific fees (such as a move-in deposit), management began requesting that they be paid via wire transfer.
We expect these changes to remain in place even after the pandemic fully subsides.
One arguably negative change to the co-op board approval process resulting from COVID-19 is that many co-op buildings added new fees for purchase and lease applications, such as a 'COVID-19 Cleaning Fee.'
While we don't question the merits of more diligent cleaning (even in non pandemic times), the reality is that some managing agents used COVID as an excuse to raise fees simply to pocket more money. In one egregious example for a co-op in Midtown West, building management added a $250 'COVID-19 Cleaning Fee' for all move-ins, only to pocket the fee and simply have the super (who is already on the payroll) wipe down the elevator after a move-in.
COVID-19's 'digitization' of the co-op board package submission procedure has indirectly lead to overall faster turnaround times for co-op boards to review purchase applications. This faster review time is a result of the removal of logistical delays associated with sending physical board package copies to board members and the fact that more board members are working from home and traveling less.
While we expect office work and travel to largely return in the coming years, the digitization of board applications (and the acceptance of electronic signatures) should permanently reduce the time it takes to both submit applications and for co-ops to review and respond to applications.
COVID-19 also resulted in the complete acceptance of virtual board interviews. Prior to the pandemic, all interviews were held in-person, and the very idea of a Zoom or Skype interview was a non-starter. In fact, pre-pandemic co-op boards routinely required out-of-town applicants to physically travel to NYC for the board interview.
The pivot towards virtual interviews as a result of COVID-19 dramatically reduced the risk of delays to the overall board approval process.
Before COVID-19, finding a suitable interview time which worked for all board members (and the applicant) was a major logistical headache.
During pre-COVID summer months and holiday periods, the in-person interview requirement literally added weeks to the process because of the fact that many board members would typically be traveling.
While we think that co-op boards will eventually revert to a preference towards in-person interviews, we believe that boards will be less likely to delay interviews in the future if some board members are traveling or otherwise unavailable for an in-person interview. Once the pandemic fully subsides, we anticipate that most co-op boards will be completely fine with a virtual interview if and when an in-person interview cannot be easily arranged.