Deed theft occurs when a scammer takes the title to someone's home without the owner's knowledge or when a scammer obtains title by misleading or coercing an unsuspecting homeowner.
After taking the title, a scammer sells the property and pockets the sale proceeds. In the case of a rental property, a scammer who illegally obtains title may also attempt to collect rent from existing tenants or bring in new tenants.
Deed theft in New York City is a widespread problem, particularly in rapidly gentrifying areas. According to the New York State Office of the Attorney General, NYC received around 600 deed theft complaints per year between 2014 and 2019.
Interestingly, approximately 45% of these complaints came from Brooklyn. Currently, the Office of the Attorney General receives 3 to 4 deed theft complaints per week, predominantly from Brooklyn, Northern Manhattan, Queens and The Bronx.
Deed theft in NYC has been a particular area of focus for the New York State Attorney General.
In January 2020, NYAG Letitia James launched the "Protect Our Homes" initiative which focuses on prevention and enforcement actions to combat deed theft.
The multi-pronged initiative includes community education and outreach, enforcement as well as policy and legislative proposals. 
As part of this initiative, the NY Attorney General's Office formed an interagency taskforce with the New York City District Attorney and the New York City Sheriff's office to coordinate the law enforcement response to deed theft.
According to the NY Attorney General, "deed theft occurs when a scammer takes the title to someone's home without the owner's knowledge or approval."
Deed theft schemes taken on a variety of forms, but they all result in the fraudulent transfer of ownership of a home. One method of deed theft is outright forgery, whereby the scammer impersonates a homeowner's signature on a deed and files it with the county clerk without the homeowner being aware of what's happening.
A homeowner can be tricked or misled into signing over the deed to their home under a false pretense. For example, a homeowner facing foreclosure may be persuaded by a scammer (moonlighting as a mortgage assistance company) to transfer title under the premise that this is necessary in order to facilitate a negotiation with the lender.
Regardless of which form the deed theft takes, the scammer who illegitimately obtains ownership looks to immediately evict the owner and sell the property to a third party, pocketing fraudulent profits.
Scammers often list the illegitimately acquired property for below market value in order to ensure a rapid sale.

Other times, the scammer may start collecting rent from existing tenants and possibly bring in new tenants.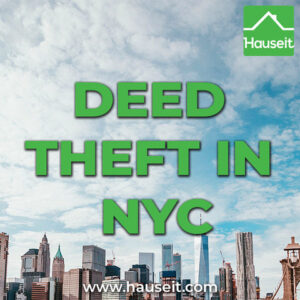 Scammers engaging in deed theft focus their effort on vulnerable homeowners. Targeted groups include the elderly or disabled, homeowners under financial pressure (i.e. facing foreclosure or having a low credit score) as well as those who have liens for unpaid city charges. 
Investment properties are also tempting targets, as homeowners are typically away from the property for extended periods and less likely to notice suspicious activity, such as tenants moving in and out. Owners of multiple investment properties are especially appealing targets, as they may be less observant of any single property which they own.
The most important safeguard against deed theft is remembering that you should never agree to transfer ownership of your property to any mortgage assistance company or anyone else for that matter. No legitimate organization or individual will ever ask you to transfer property rights to them.
Other red flags for possible deed theft specific to loan modification companies include requests for payment of upfront fees or "guarantees" or "promises" that you will receive a loan modification.
Another way to be vigilant against deed theft in NYC is to sign up for automatic alerts via the ACRIS Notice of Recorded Document System.
This free service provides notice to property owners when deeds, mortgages and deed- or mortgage related documents affecting an ownership interest in real property, have been recorded against a single property in the five boroughs of New York City. If you own a co-op, we do not recommend utilizing this alert system.
This is because co-ops do not have unique Borough, Block and Lot identifiers, so if you sign up, you will receive notifications affecting your entire building rather than for your particular unit.
Aside from the automatic alert system, we also recommend checking your property records via ACRIS at least once per year. This will allow you to see if anyone has filed a mortgage or deed on your property.
The New York Attorney General has a dedicated process for reporting deed theft. If you think you're a victim of deed fraud, the first thing to is call the help line at 1 (800) 771-7755, email deedtheft@ag.ny.gov or fill out this complaint form.
The New York City Department of Finance also has a separate deed fraud complaint form which is accessible here.