How long you can delay a closing on a house or apartment depends on the language of your specific purchase contract. In New York, it's fairly standard for contracts to allow either party 30 days leeway on the closing date. In other states like Florida with standardized, Realtor association purchase contracts, it's less common to see much leeway at all on the closing date.
In fact, the standard Florida purchase contract gives few conditions for delaying the closing date, though many buyers and sellers will write in "on or before" a certain date vs just a specific date.
Closing dates in New York purchase contracts always contain "on or about" language, meaning that both parties have leeway of 30 days to adjust the closing date as needed, without the other side issuing a time is of the essence letter demanding to close.
However, in Florida it's more common to see "on or before" language in reference to a contractual closing date. For example, the standard Florida purchase contract states:
Closing Date: Unless modified by other provisions of this Contract, the closing of this transaction shall occur and the closing documents required to be furnished by each party pursuant to this Contract shall be delivered ("Closing") on

or before December 15, 2021

("Closing Date"), at the time established by the Closing Agent.
As you can imagine, "on or before" offers much less flexibility to extend the closing date should the buyer or the seller need more time.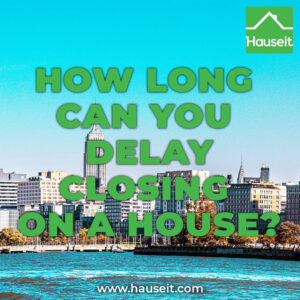 Furthermore, the standard Realtor purchase contract in Florida doesn't give many options for an extension of the closing date:
Extension of Closing Date:
(a) If paragraph 8(b) is checked and Closing funds from Buyer's lender(s) are not available on Closing Date due to Consumer Financial Protection Bureau Closing Disclosure delivery requirements ("CFPB Requirements"), then Closing Date shall be extended for such period necessary to satisfy CFPB Requirements, provided such period should not exceed 10 days.
(b) If an event constituting "Force Majeure" causes services essential for Closing to be unavailable, including the unavailability of utilities or issuance of hazard, wind, floor or homeowner's insurance, Closing Date shall be extended as provided in STANDARD G.
While you shouldn't bet on Force Majeure or an act of God to delay your closing if you need more time, buyers who are getting a mortgage might get some extra time per part (a) of the above clause if the bank is unable to provide them with their closing disclosure within 3 days of closing, as required by the CFPB.
Pro Tip: You should understand what closing costs for buyers in Florida are well in advance of closing so you aren't surprised by the amount of cash you'll need to put up at closing. If you're buying in Miami, check out our interactive Miami Buyer Closing Cost Calculator.
A Full Service Listing for 1%
Sell your home with a traditional full service listing for just one percent commission.
A common reason for closings to be delayed is for a defect in the title to be discovered late in the closing process. Once that happens, the seller will need to cure the defect in order to close. This is no small feat depending on the nature of the defect, on whether the mistake was an honest clerical mistake or not, and on how easy it is to track down the right people to fix such errors.
For example, in a recent Miami condo transaction we've seen, the seller's original deed from the developer contained an honest clerical error for the unit number which did not match up with public records (i.e. 5302 on the deed from the sponsor vs PH5302 in public records).
Per the buyer's attorney, "the recorded Developer Deed list the unit number in the legal description as 5302.  However, the excepts from the Declaration identify this unit as PH5302."
Fortunately the attorney on this transaction doesn't believe it will be an issue that will take too much time to fix:
"The attorney who prepared the developer deed made an honest clerical error in the legal description in the deed.  I'm sure the developer is unaware of the issue.  Its fortunate the deed is from a developer.  It should not be difficult to track down the developer, explain the issue and have them sign a new deed to correct the issue.  This should be done by the closing date.  I don't know if it will be done in time to close before the contract closing date."
Timing is important when it comes to objecting to a title defect. It's important to review and object as soon as possible.
Here's what the standard Florida purchase contract says in regards to the title examination and objection period:
Title Examination: Buyer shall have 5 days after receipt of Title Commitment to examine it and notify Seller in writing specifying defect(s), if any, that render title unmarketable. If Seller provides Title Commitment and it is delivered to Buyer less than 5 days prior to Closing Date, Buyer may extend Closing for up to 5 days after date of receipt to examine same in accordance with this STANDARD A. Seller shall have 30 days ("Cure Period") after receipt of Buyer's notice to take reasonable diligent efforts to remove defects. If Buyer fails to so notify Seller, Buyer shall be deemed to have accepted title as it then is. If Seller cures defects within Cure Period, Seller will deliver written notice to Buyer (with proof of cure acceptable to Buyer and Buyer's attorney) and the parties will close this Contract on Closing Date (or if Closing Date has passed, within 10 days after Buyer's receipt of Seller's notice). If Seller is unable to cure defects within Cure Period, then Buyer may, within 5 days after expiration of Cure Period, deliver written notice to Seller: (a) extending Cure Period for a specified period not to exceed 120 days within which Seller shall continue to use reasonable diligent effort to remove or cure the defects ("Extended Cure Period"); or (b) electing to accept title with existing defects and close this Contract on Closing Date (or if Closing Date has passed, within the earlier of 10 days after end of Extended Cure Period or Buyer's receipt of Seller's notice), or (c) electing to terminate this Contract and receive a refund of the Deposit, thereby releasing Buyer and Seller from all further obligations under this Contract. If after reasonable diligent effort, Seller is unable to timely cure defects, and Buyer does not waive the defects, this Contract shall terminate, and Buyer shall receive a refund of the Deposit, thereby releasing Buyer and Seller from all further obligations under this Contract.
Pro Tip: It's actually unlikely that a seller will play games and try to get out of a contract by not making a good effort to cure a title defect, especially if the buyer extends the cure period for another 120 days. Remember, time is money, especially if a property is vacant. The seller likely doesn't want to continue paying carrying costs while the property is in limbo for another 4 months.
In the event of extreme weather, terrorism or some other act of God, closing may be delayed by up to 30 days according to the standard Florida Realtor purchase contract, after which either party can cancel the contract:
Force Majeure: Buyer or Seller shall not be required to perform any obligation under this Contract or be liable to each other for damages so long as performance or non-performance of the obligation, or the availability of services, insurance or required approvals essential to Closing, is disrupted, delayed, caused or prevented by Force Majeure. "Force Majeure" means: hurricanes, floods, extreme weather, earthquakes, fire, or other acts of God, unusual transportation delays, or wars, insurrections, or acts of terrorism, which, by exercise of reasonable diligent effort, the non-performing party is unable in whole or in part to prevent or overcome. All time periods, including Closing Date, will be extended a reasonable time up to 7 days after the Force Majeure no longer prevents performance under this Contract, provided, however, if such Force Majeure continues to prevent performance under this Contract more than 30 days beyond Closing Date, then either party may terminate this Contract by delivering written notice to the other and the Deposit shall be refunded to Buyer, thereby releasing Buyer and Seller from all further obligations under this Contract.
Considering that hurricanes do occasionally hit South Florida, it's not inconceivable to see the Force Majeure clause being used in a market like Miami.
What if the property itself is damaged?
In the event that the property itself is damaged, the maximum the seller would pay is 1.5% of the purchase price, with the buyer having an option to walk out if damages that happen prior to closing exceed that amount. Per the standard Florida purchase contract:
Risk of Loss: If, after Effective Date, but before Closing, Property is damaged by fire or other casualty ("Casualty Loss") and cost of restoration (which shall include cost of pruning or removing damaged trees) does not exceed 1.5% of Purchase Price, cost of restoration shall be an obligation of Seller and Closing shall proceed pursuant to terms of this Contract. If restoration is not completed as of Closing, a sum equal to 125% of estimated cost to complete restoration (not to exceed 1.5% of Purchase Price) will be escrowed at Closing. If actual cost of restoration exceeds escrowed amount, Seller shall pay such actual costs (but, not in excess of 1.5% of Purchase Price). Any unused portion of escrowed amount shall be returned to Seller. If cost of restoration exceeds 1.5% of Purchase Price, Buyer shall elect to either take Property "as is" together with the 1.5%, or receive a refund of the Deposit thereby releasing Buyer and Seller from all further obligations under this Contract. Seller's sole obligation with respect to tree damage by casualty or other natural occurrence shall be cost of pruning or removal.
Pro Tip: Since 1.5% isn't a lot to work with, any major disaster that causes damage to a property prior to closing will likely cancel a deal, with the buyer walking away with his or her deposit.
Save 2% On Your Home Purchase
Our partner brokers are some of the most experienced and reputable in the industry.
Disclosure: Hauseit® and its affiliates do not provide tax, legal, financial or accounting advice. This material has been prepared for informational purposes only, and is not intended to provide, and should not be relied on for, tax, legal, financial or accounting advice. No representation, guarantee or warranty of any kind is made regarding the completeness or accuracy of information provided.