Selling your home FSBO in Florida doesn't come naturally to many people, especially high-flying luxury home sellers who can't be bothered and think paying 6% in broker commission is a necessary cost in order to sell their home.
However, since you've clearly demonstrated an interest in learning how to sell for sale by owner here in Florida, we'll show you what steps you need to do to not only compete on a level playing field vs traditional for sale by agent listings, but how to one-up them when it comes to enticing buyers.
Take a close look at comparable sales in your building if you're selling a condo, or your neighborhood if you're selling a house. Check out your competition in the form of active listings, and see what's happened recently in the form of pending or in-contract listings.
Generally speaking, buyers and buyers' agents will have the same information that you do, so it's important to acknowledge that pricing should be relatively transparent.
As a result, it never makes sense to try to price it high in the hopes that an oblivious buyer will just accept your overpriced listing price. Sure, one can dream, but even the most nonchalant of buyers will have some sense of what else is available on the market.
Overpricing is more likely to lead to hearing nothing but crickets, assuming you've listed via an Agent Assisted FSBO.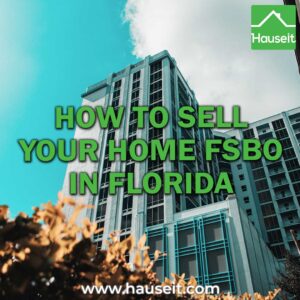 If you were unwise and just listed it by owner the old-fashioned way, on Craigslist or Zillow, then unfortunately you'll be hounded constantly by cold calls from agents trying to solicit you to list with them.
However, you'll still hear only crickets when it comes to real buyers. And be careful about agents pretending to be buyers, or pretending to have a buyer, only to use the showing as an opportunity to corner you in your bedroom and pitch you their sell-side services!
Use your commission savings to undercut your competition
Assuming you've played it smart and decided to list your home on the MLS for a flat fee via an Agent Assisted FSBO, then you already know you'll be saving anywhere from 3-6% in commission depending on whether the buyer is represented. As a result, you should be able to undercut competing listings by reducing your listing price by at least 3% vs theirs for the approximately same net result.
This is a deadly effective strategy because pricing your home correctly and attractively is the single most important thing you can do to attract buyers. Of course, this assumes you've done the other prerequisites to successfully selling your home FSBO in Florida which we'll touch upon later in this article.
After you've done your homework on where to initially price your listing, it's time to schedule a professional photography session. Ideally, your professional photographer will be able to also take a 3D tour and draw a floorplan at the same session.
With Hauseit, our photographers do all of the above in a 1 hour session. Not only will they take stunning photographs with professional equipment, but they'll do a custom 3D tour of your home with the latest Matterport technology.
Even better, our team is able to automatically generate a floorplan these days from the 3D tour, further saving you and our team time.
Forget about DIY photos
Unless you're a professional architectural photographer, don't even think about DIY when it comes to the marketing photos for what may be your most valuable asset. We've seen far too many FSBO sellers ruin their chances of selling their home with grainy, tilted, low-resolution photos taken with poor lighting using their old flip-phone's camera.
Remember, first impressions are critical when buyers have so many potential listings to flip through online, so it's absolutely important that you have stunning, professional, digitally re-touched photos that only a team like ours can do. After all, if a listing's photos depict what the property looks like on its best day (and then some), what on earth should buyers think if they see your grainy cellphone photos that your Grandma took?
Pro Tip: Did you know that studies indicate that 50% of home buyers won't schedule a tour if a listing doesn't have a floorplan? Even if you don't opt for a 3D tour, make sure you at least have a floorplan on your listing so buyers can visualize the space, and understand what they're looking at!
The most important thing FSBO sellers can do in terms of marketing their property is to make sure it's properly listed on the MLS and all relevant 3rd party websites like Zillow, Realtor.com, Homes.com and so on.
A traditional FSBO sale process fails miserably in this regard because only brokers are able to list properties in the MLS, and only a few sites like Zillow allow manual uploads of FSBO listings.
Instead of going down a path that not only takes a tremendous amount of time, but is terribly ineffective and will only result in your property being considered "off-market" because it's essentially invisible to the 75% to 90% of buyers that are represented, you should opt instead to pay a small flat fee to list your home on the MLS via a service like Hauseit's Agent Assisted FSBO.
An Agent Assisted FSBO listing will ensure your property is marketed in the MLS, and all industry-standard 3rd party sites which your listing will automatically be syndicated to.
This simply means that once your flat fee listing broker (i.e. Hauseit LLC or Hauseit Group LLC) lists your home on your local MLS, the MLS will automatically syndicate your listing to all relevant 3rd party sites like Realtor.com, Zillow, Apartments.com, Trulia, Homes.com etc.
While syndication partners vary depending on the MLS, you can expect all the major ones to be covered by your local MLS, meaning neither you nor your listing broker will need to manually upload your listing on every site.
The MLS enables you to contractually offer commission
Listing your home on the MLS is extremely important because it enables you to contractually offer commission (i.e. co-broking) to the tens of thousands of buyer's agents in your metro area who represent over 75% of all home buyers.
How is this possible? Well, whenever a brokerage joins a MLS, they automatically have to sign an "universal" co-brokerage agreement that binds them to every other member brokerage. This contract that every broker has to sign stipulates rules around co-broking, otherwise known as the splitting of commission in plain English.
While co-broking rules vary by MLS, most MLS systems will mandate the listing broker to split the commission paid by the seller at least equally in favor of the buyer's broker. However, there are some MLS systems that are more relaxed in their policies and simply mandate that some form of commission is being offered to buyer's agents.
Why is this important?
The ability to contractually offer commission to essentially all other real estate agents, who are members of the MLS, is a superpower when it comes to selling homes. That's because buyer's agents, who typically don't have exclusivity agreements with their buyer "clients" in hot metro markets, won't be afraid to show your listing because they know they'll be paid if a deal happens.
In fact, many buyer's agents are so comfortable due to the protection offered by co-broking that they often send their buyers unaccompanied to open houses or even private showings if they can get away with it.
While you may initially be indignant that you'll have to pay commission to someone who didn't even accompany their buyer to an appointment, keep in mind how much better it is for you that the buyer actually visited your property vs never knowing about it.
Keep in mind that most buyers do end up deciding to work with a buyer's broker, whose services are pitched as "free" because the brokerage commission is a seller closing cost. As a result, their flow of information comes from the buyer's agent, even if they found your listing online by themselves. Therefore, it doesn't take much for a buyer's agent to direct their buyer away from a listing that doesn't protect them.
Too many FSBO home sellers make the mistake of trying to fit their DIY home sale into their busy schedule vs the other way around. They either outright refuse showing requests if the time is inconvenient for them, or they propose a narrow range of times that work for them.
Taking this approach is a catastrophe if you're seriously trying to sell your home. Given that every potential buyer is potentially the buyer of your home, it's mind-boggling how some FSBO sellers are willing to decline showings left and right because it doesn't perfectly fit their work or social calendar.

If you're going to put your home on the market and start ticking the days on market count for your home, then you might as well make sure you accommodate every single showing opportunity.
Depending on the customs of your locale and whether you have a vacant property or not, you may be able to attach a lockbox to your front door to make showings easier to accommodate. This is often seen with vacant single-family houses where a buyer's Realtor will accompany the buyer. Direct buyers can also be allowed to access your property via lockbox if you're comfortable, or you can be there as well. However, since Realtors are tracked when they request a showing, most sellers are comfortable with buyer's Realtors accessing properties via lockbox by themselves.
If you're selling a condo, you could do something similar with a vacant or sparsely furnished unit. You could simply keep the door unlocked and have buyers' Realtors have the front desk call you when they're there. Then you could allow the front desk to send them up the elevator directly to your unit. You could even say that you're running late and will be on your way in 5 to 10 minutes to show them the amenities etc.
Pro Tip: Even if your condo front desk is able to let buyers up directly to your private elevator foyer, they typically won't be able to access the amenity areas on other floors. Therefore, it's generally better for you to be there in order to be able to show them the amenities if that's a big draw for your building.
Disclosure: Hauseit® and its affiliates do not provide tax, legal, financial or accounting advice. This material has been prepared for informational purposes only, and is not intended to provide, and should not be relied on for, tax, legal, financial or accounting advice. No representation, guarantee or warranty of any kind is made regarding the completeness or accuracy of information provided. Hauseit LLC is a Licensed Real Estate Broker, licensed to do business in New York under license number 10991232340. Principal Office: 244 Fifth Avenue, Suite 2950, New York, NY 10001.