Selling a coop without a broker is not as difficult as agents in the city will have you believe.
Most home owners with the gusto to even try to sell their coop alone usually give up after listing it FSBO on Zillow for a few weeks.
Make sure you have the following handy:
Floor plan
If there's already a floor plan of your unit online, make sure you have permission to use it.  Often times the floor plan for a previous listing of your unit will belong to the listing broker and/or seller.  It's important to have a floor plan for your unit as 50% of buyers will not visit a property unless they've seen a floor plan.
If you feel awkward asking for permission or simply cannot find an existing floor plan for your home, schedule a visit with a draftsman to measure a new one for you right away.
Purchase application
This is the infamous "NYC coop board package purchase application" which all coop buyers will need to complete and submit to the coop board.  Sometimes called an "apartment resale application," this intensive request will typically require multiple copies of the entire board package to be mailed or couriered to the building management company.
The building management company will then submit the board package to the coop board for review and approval.
In coop sales with a traditional broker, the listing agent will typically review the board package before it gets submitted to the building management company.
The purchase application will typically also ask the buyer to submit federal income tax returns, W-2's, multiple reference letters, a copy of the fully executed contract of sale, the mortgage commitment letter if the buyer is financing, copies of recent bank statements and pay stubs and signed copies of various disclosures (i.e. Lead-Based Paint).
House rules
Similar to the bylaws of a condominium, the house rules of a coop govern daily life within the coop. Expect to see rules about roof usage, acceptable noise levels, pet policy and use of common areas.
Coop house rules are generally stricter than the bylaws of a condo given the greater degree of power that a coop board has versus a condo board.
Market your home to all potential buyers
Make sure you're available to show at all times during the week and weekends
Many international buyers who are mostly led around by buyers' agents are only in town for a few days and want to view everything in one day.
Buyers' agents are even more important for luxury properties priced over $2 million.  The market is not as liquid or deep for luxury properties and the fewer buyers are mostly led around by buyers' agents.
As a result, many out of town buyers will not have flexibility on re-scheduling or accommodating your schedule.  Being able to show at all times is one of the primary benefits of having a real estate listing agent in New York City.
Invest in professional photography for your online home listing
Since you'll already have full exposure to all buyers like the 96% of listings which are for sale by agent, what will give your co-op FSBO sale listing a boost?
Consider investing a few hundred dollars in professional photographs which will present your home to buyers online in the best possible light. Great listing photographs will pay you dividends long after you've accepted an offer.
For example, a buyer who has accepted an offer will be more likely to show off the listing to his friends if it has great photos. After who, who wants to be embarrassed when they show their friends the home they're about to buy?
Request permission if necessary from your co-op building management company to hold open houses on upcoming Saturday and/or Sunday afternoons.
Try to take advantage of cross traffic if you see open houses listed by other units in your building. There's no reason not to have your open house at the same time as theirs!

Make sure your building allows open houses. Some co-ops may not allow open houses at all or may only allow "open houses by appointment only."  That simply means buyers and brokers will have to email you for an appointment at a specific time slot during your "open house.
Accept an offer
Congratulations on accepting an offer!  It's important to keep in mind that offers are not binding in real estate until the purchase and sale contract has been fully executed (i.e. signed by first the buyer then the seller as well).
At any point before the buyer first signs the contract, he or she could walk away without penalty. The only damage caused will be some slight embarrassment by the buyer's agent.
Similarly, you as the seller can walk away at any point before you have counter-signed the contract.  This means that you can receive and accept a higher offer even after the buyer has signed the contract! In this circumstance, the only damage done will be some slight embarrassment on your listing agent's part should you have one.
Though more rare, sellers have also been known to send out multiple contracts to different buyers.
Although there may be an expectation or hope of exclusivity from either party after the offer has been accepted, there is no requirement for either party to remain wedded to the transaction before contracts are signed.
Make sure the offer submitted by direct buyers or their agents is complete.  That typically means an offer email that contains a REBNY Financial Statement, pre-approval letter, short professional biography, any contingencies or special timing and of course price and anticipated financing structure.
The amount of information requested by listing agents for condo purchases may occasionally be more lenient, especially if there is cash buyer involved with privacy concerns.  In those situations, it may be acceptable to only require proof of funds from the buyer (i.e. bank statement).
However, because co-op's need to make sure the future potential shareholder will be financially solvent and able to continue paying maintenance, the requirements for submitting an offer typically have no flexibility.  Moreover, co-ops require applicants to undergo a board interview and generally have stricter criteria on the financial condition of the applicant.
Go into contract
In New York City, it's imperative that both the buyer and the seller have a real estate attorney to advise and negotiate the purchase and sale contract for them and to guide them through closing.
While it is not legally required to have a real estate attorney, it is almost impossible not to have one for most people given the highly customized nature of purchase contracts in NYC.
This stands in sharp contrast to some other states where the purchase contracts are standardized forms which the Realtors do without needing to involve a real estate lawyer.
Selling a coop without a broker is a little more difficult versus selling a condo without a broker because after the contract is fully signed, your buyer will have to complete and submit the board package and then be invited for a board interview if the board likes what they see in the board package.
Co-op buyers can always be rejected by the board and this does happen from time to time.  This will obviously be a contingency negotiated by the buyer's lawyer and rejection is a clear reason for the buyer to be able to back out of the contract with his good faith deposit.
Board rejections can be mitigated by carefully screening all offers you receive and picking one which you as the seller know will have the combination of the highest price, highest chance of getting board approval and highest chance of closing (i.e. if the buyer is financing with a mortgage, how likely are they to get a commitment letter from the bank).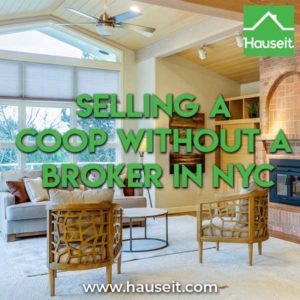 In contrast, once a contract is fully executed for a condo purchase, there is usually little room for the buyer to back out and for the deal to fall apart.
A typical contingency for a condo will be a "mortgage contingency" in which the buyer can back out with his good faith deposit if he fails to secure a bank commitment letter within a certain number of days.
At that point, the buyer could either walk or continue to be in contract without the protection of that contingency clause.
Board interview
Appraisal
Home Inspection
Final Walkthrough
Disclosure: Hauseit® and its affiliates do not provide tax, legal, financial or accounting advice. This material has been prepared for informational purposes only, and is not intended to provide, and should not be relied on for, tax, legal, financial or accounting advice. No representation, guarantee or warranty of any kind is made regarding the completeness or accuracy of information provided.