Negotiating after home inspection is a very clever and common tactic used by buyers and their agents in NYC. We'll explain everything you need to know about home inspections in this article, from how to ask for one to how to negotiate a credit in lieu of repairs.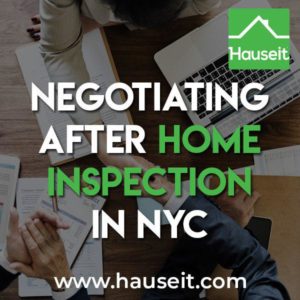 Are Home Inspections Typically Done in NYC?
Home inspections are uncommon for co-op and condo transactions in New York City for a variety of reasons. First of all, coop and condo owners only have sole responsibility for the interiors of their apartments and there's not much a home inspector can detect inside an apartment that can't be detected through a visual inspection by the buyer and

buyer's agent

.
Furthermore, common elements such as the building's roof, exterior and boilers are joint responsibilities of everyone in the building. As a result, it typically won't be worthwhile to check a co op or condo building's boiler systems if there are 200 units in the building. Furthermore, many managing agents will not even permit buyers of individual apartments to access the building's systems.
With that said, condo and co-op home inspections may be advisable for a

few special situations

. If you are buying in a small building with under 10 units, it may be advisable to do a home inspection as you'll be responsible for a greater share of any building repairs. Furthermore, if you are buying a ground floor unit or a top floor unit a home inspection may be advisable to search for signs of vermin and roof leaks, respectively. Lastly, it may make sense to get a home inspection if you are buying a co-op or condo

conversion or new construction

from a lesser known developer. You'll want to make sure that a new condo conversion is a gut renovation vs a paint job and that the workmanship isn't shoddy.
How to Ask for a Home Inspection in NYC
You can ask for a home inspection upfront and even make the right of doing a home inspection a contingency in your offer letter. However, because offers are not binding in NYC anyway some of our most experienced partner brokers suggest only asking for a home inspection after you have an accepted offer.
Make Your Offer Easy to Accept
That's because you want to make your initial offer as digestible and easy to accept as possible for the seller. Once you have a tentative deal, simply ask to come see it again and bring your home inspector. In fact, it's not even a requirement to mention that you will be bringing a home inspector on your follow up viewing post offer acceptance.
Negotiating Repairs After Home Inspection
So you brought your home inspector the weekend after you got an accepted offer. The home inspector no doubt wrote you a long

home inspection report

about every little thing that he or she thought wasn't perfect in order to make you feel like they really earned their fee. Let's now discuss how to negotiate repairs after a home inspection.
Let's begin by saying that asking for repairs after a home inspection but before signing a contract is a very common negotiating tactic by buyers. It can be a great strategy because the buyer has presumably gotten the seller invested in their offer and possibly even delayed the seller's sale process if the seller has naively stopped showing the apartment. This of course would make the seller more reliant on the buyer's offer. Because the seller is more invested and reliant on the buyer's offer, the buyer will have more negotiating leverage to ask for

seller concessions

such as repairs at this stage.
To ask for repairs, simply have your buyer's agent email a list to the seller's agent. You can view the initial list as an opening negotiation tool that can be whittled down. Be flexible as homes are typically sold in "as is" condition in New York and most sellers will not be open to fixing things as a condition of closing. Be prepared to accept a monetary credit or a reduction in the sale price instead, if the seller agrees to any concession at all.
Here is a sample list that a buyer's agent might send to a seller's agent by email for an accepted offer at the full asking price:
Please see repair list for seller's consideration:
Clean kitchen and bath faucets and tub fixtures to remove debris and check pressure

Remove refrigerator, oven and stove top

Remove mirrors from living room wall and above kitchen island

Remove murphy bed unit and baseboards nailed to floor

Repair shower door / track

Advise reason for patch in bathroom wall and ceiling

Repair light switch in kitchen left of bar to control inoperable ceiling light fixture

Repair left side kitchen window (does not stay open) and leftmost window in living room (not on track)

Replace missing screens in kitchen windows

Need plumber to confirm gas line status. You informed there is gas in building but seller replaces gas stove and oven with electric. Need to confirm gas line may be connected to new appliances in kitchen
Negotiating Home Price After Inspection
As we alluded to in the previous section, homes are typically sold "as is" in New York and it's very uncommon for sellers to agree to repairs before closing. Since most buyers know this, a common negotiating tactic is to present an attractive offer that the seller will accept, and then ask for a home price reduction after invariably finding faults post home inspection.
In fact, a buyer may make an offer for more than the buyer is willing to pay solely to get it accepted. Then once the buyer has the seller emotionally invested in a potential deal, the buyer will try to negotiate the price down due to the faults that were found during the home inspection. Sellers may indeed succumb to the sunk cost fallacy if they have innocently stopped showing their apartment and negotiating with other buyers.
Sample email from the seller in response to a buyer's repair list:
The $3,000 credit I am proposing is for all of the items on your list. $3,000 is more than reasonable for the items on the list. The seller will not perform any repairs and only a credit will be offered. Please let us know if you are still interested in moving forward.
Disclosure: Hauseit and its affiliates do not provide tax, legal, financial or accounting advice. This material has been prepared for informational purposes only, and is not intended to provide, and should not be relied on for, tax, legal, financial or accounting advice. You should consult your own tax, legal, financial and accounting advisors before engaging in any transaction. The services marketed on Hauseit.com are provided by licensed real estate brokers and other third party professional service providers. Hauseit LLC is not a licensed real estate broker nor a member of any multiple listing service (MLS).