While it's not illegal for a NYC landlord to interview a prospective tenant, conducting an interview puts a landlord at risk of potential fair housing violations. Fair housing laws in NYC are strict, and violations carry heavy penalties.
An in-person (or video) interview can easily reveal one or more protected classes or characteristics of a prospective tenant which a landlord otherwise wouldn't necessarily have been aware of in the normal course.
Landlords (and agents) in New York are subject to federal, state and local fair housing laws, which include:
Federal Fair Housing Act

New York State Human Rights Law

New York City Human Rights Law
The Federal Fair Housing Act prohibits discrimination in housing based on the following actual or perceived characteristics:
Race

Familial status (presence of children)

Color

National origin

Religion

Disability (physical or mental)

Sex
The New York State Human Rights Law protects the following additional actual or perceived characteristics:
Creed

Age

Sexual orientation

Marital status

Military status
The New York City Human Rights Law goes even further and protects the following additional actual or perceived characteristics:
Gender

Citizenship status

Partnership status

Gender identity

Lawful occupation

Lawful source of income (including public assistance or housing assistance, social security, supplemental security income, pensions, annuities, or unemployment benefits)
As you can probably tell, NYC has one of the broadest and most all-encompassing fair housing legislative frameworks nationwide.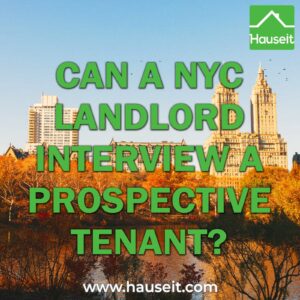 New York City takes fair housing so seriously that there are no less than four ways for individuals to report alleged fair housing violations:
Office of Fair Housing and Equal Opportunity (FHEO)

Law Enforcement Bureau of the NYC Commission on Human Rights (NYCCHR)

New York State Division of Human Rights

Civil Rights Bureau of the New York State Attorney General's Office
Given the litany of fair housing laws and multitude of agencies tasked with investigating any and all allegations, we strongly discourage New York City landlords from interviewing prospective tenants. It's just not worth the risk.
Fair housing laws in New York State cover most housing categories, with the following exceptions:
One or two family owner-occupied buildings

Room rentals in housing for individuals of the same sex

Room rentals in owner-occupied housing
A NYS Housing and Anti-Discrimination Notice must be prominently posted in all real estate broker offices and all public open houses in New York City. In addition, agents are required to present the NYS Fair Housing and Anti-Discrimination Disclosure Form to all prospective purchasers, tenants, sellers or landlords upon first substantive contact.
A Full Service Listing for 1%
Sell your home with a traditional full service listing for just one percent commission.
Disclosure: Hauseit® and its affiliates do not provide tax, legal, financial or accounting advice. This material has been prepared for informational purposes only, and is not intended to provide, and should not be relied on for, tax, legal, financial or accounting advice. No representation, guarantee or warranty of any kind is made regarding the completeness or accuracy of information provided. Hauseit LLC is a Licensed Real Estate Broker, licensed to do business in New York under license number 10991232340. Principal Office: 244 Fifth Avenue, Suite 2950, New York, NY 10001.