An open listing is a property listing where the owner has not agreed to exclusively list with any broker, but has agreed to allow brokers to list their property on a non-exclusive basis. This means that the broker will only be able to collect a commission if he or she finds a buyer or tenant, and the owner can always find their own buyer and not owe any commission.
An exclusive listing is just as it sounds, a real estate listing where one broker exclusively lists and markets the property for sale or rent. There are actually two common variants of exclusive listings:
Exclusive Right to Sell or Rent – This is the most common type of sale listing. The listing broker is the only one who can list and market the property, and will collect commission regardless of who finds the buyer or tenant. If the buyer is represented by a broker, the listing broker will typically split the commission with the buyer's broker.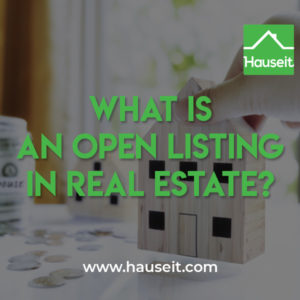 Exclusive Agency – This type of listing agreement is less common. The listing broker is still the only person who can list and market the property. However, if the owner finds a buyer or tenant by themselves, they do not owe any commission to the listing broker.
Yes. Open listings are predominantly seen in the rental market vs the sales market, and especially so when it comes to large, landlord buildings in NYC. These landlord buildings are essentially entire apartment buildings that are owned by one landlord, and where all or almost all of the units are rentals.
While many individually owned condo and co-op apartments will still be listed exclusively by a single broker, most large rental buildings will not have an exclusive listing agent.
This is because these landlords are institutional in nature, and have a history of paying commission to brokers for bringing renters. As a result, they don't need a broker to list it on their behalf in the REBNY RLS, because doing so essentially provides credibility.
Furthermore, many of the building landlords don't want to bother with marketing their own properties, and the associated expenses with doing so. For example, StreetEasy charges $4.5 per day per rental listing as of this writing, which can really add up if you're marketing many apartments at the same time. And that's just one website!
However, real estate agents are often more than happy to market open listings because it's a way of generating leads, even if it costs them money to advertise the landlord building apartments on various websites.
Open listings are very rare in the residential sales market, primarily because most MLS broker databases and even many public websites won't allow anything but exclusive sales listings. As a result, buyers typically have an easier time navigating the sales market because there is only one agent listing each property, which results in far less confusion vs the rental market.
For example, in NYC REBNY only allows exclusive sales listings to be uploaded to the REBNY RLS broker database. Furthermore, public search websites like StreetEasy will only accept exclusive sale listings, and will sometimes ask brokers for proof of exclusivity. As a result, virtually every residential sales listing in NYC is an exclusive listing.
No. As clever as the idea of using a broker to access the RLS through an open listing is, it's simply not allowed. The REBNY RLS specifically prohibits non-exclusive sales listings to be uploaded to the broker database, and any broker who surreptitiously uploads an open listing can suffer fines and other penalties.
Furthermore, many MLS systems such as the

Hudson Valley's HGMLS

will require the listing broker to upload the actual signed listing agreement for review by the MLS staff. As a result, it'd be impossible to get around certain MLS systems because of the necessity of providing proof of exclusivity
Fortunately for sellers in NYC, you don't need to pay 6% in commission and sign an onerous

exclusive right to sell listing agreement

just to list your property on your local MLS (RLS for NYC). Neither do you need to convince a broker to secretly upload an open listing onto the broker database and potentially incur fines and penalties.
Sellers who sign up for an

Agent Assisted FSBO

listing through Hauseit will be paired with a traditional partner broker who has already agreed to list your property on your local MLS for a small, one-time flat fee.
Even though you'll have to sign what is technically an exclusive right to sell listing agreement, this flat fee listing agreement is heavily modified in your favor as the seller. For example, you'll effectively be able to cancel the agreement and de-list your property, or list with another broker, at any time. Therefore, the exclusivity is rather meaningless if you can choose to cancel simply by sending an email.
Furthermore, you'll still have full control of your listing and can

submit listing updates

which are completed by our support team within one business day. And you're free to manage inquiries as they come in, all of which are relayed to you within a commercially reasonable amount of time by our partner brokers' front desk staff and secretaries.
This open listing agreement ("Agreement") is made on the first date below by and between:
New York Brokerage LLC with a mailing address of 123 Fifth Avenue, New York, NY 10044 (hereinafter "Broker"), and John Smith with a mailing address of 123 Houston Street, New York, NY 10012 (hereinafter "Owner").
Property
Address: 123 Houston Street, New York, NY 10012
Listing Price: $775,000
Owner's Authorization
Owner agrees to list the Property with Broker for a period of 30 days, from date hereof.
Commission
Owner agrees to pay Broker a commission of ______ percent (__%) of the sale price should Broker find a purchaser ready, willing, and able to pay at least the Listing Price for the property or such other sum as may be accepted by Owner. Said commissions are only payable upon closing.
Non-Exclusive
The Owner retains the right to sell the property directly on his or her own behalf with no commission to Broker, so long as the Broker did not find the purchaser. The Owner further has the right to list the property with other brokers. If a sale is made within 3 months after this agreement terminates to parties found by the Broker during the term of this agreement, and the buyer has been disclosed to Owner, Owner shall pay the commission specified above.
Forfeit of Deposit
If a deposit of money is forfeited by a purchaser produced by Broker, 30% of the deposit shall be retained by Broker, and the other half of the deposit shall be paid to the Owner.
Owner's Signature and Date:
Broker's Signature and Date:
Disclosure: Hauseit and its affiliates do not provide tax, legal, financial or accounting advice. This material has been prepared for informational purposes only, and is not intended to provide, and should not be relied on for, tax, legal, financial or accounting advice. You should consult your own tax, legal, financial and accounting advisors before engaging in any transaction. The services marketed on Hauseit.com are provided by licensed real estate brokers and other third party professional service providers. Hauseit LLC is not a licensed real estate broker nor a member of any multiple listing service (MLS).