I am a very small real estate investor in New York City and South Florida, and wanted to point out a few similarities and differences in being a landlord in each state. My primary residence is in New York, where I also have a rental property, and another rental property in Florida, and I am in the process of acquiring another one.
The responsibilities of a landlord are pretty much the same regardless of the geographic location of the rental properties. Aside from my carrying costs to maintain the properties (mortgage, taxes, maintenance, etc.), my responsibility as the landlord is to maintain and upkeep my properties, make sure that everything works, is clean, safe, manage the relationship with the tenant, and be the liaison between them and the management company if applicable.
These properties are my investments, and I am the most interested party in making sure they are in the best condition possible.
I try to go the extra mile to ensure my tenants are comfortable and immediately try to solve any issues that may arise, which are few and far between.
I like to check in with my tenants every 3 months to make sure they are okay. With regards to my role as a Landlord, my motto is to treat my tenants the way I would like to be treated, and I have always had very good tenants who have taken care of the properties.
The differences between being a landlord in Florida vs New York are mainly prior to the occupancy and pertain to the process of acquiring tenants. Pre-COVID it has always been easier to find tenants in NYC vs. FL, as the Big Apple is a high renters market and a very densely populated city.
Being that most residential buildings in New York are co-ops, they do have a lot of restrictions a landlord has to abide by. A lot of them do not not allow sublets.
As a landlord/investor, I have only invested in buildings that allow sublets, since my objective is to rent the units.
The tenant has to complete a very lengthy board application, which costs approximately $450.00, in addition to move-in and move- out fees. I always inform people in advance of these fees so that they can factor them into their costs. However, most renters in NYC are accustomed to lengthy application processes and these additional fees that may not be common in other cities, and are not surprised by them. It has never been an issue. They know they have to meet strict requirements and the financial one is usually the hardest one to fulfill.
In NYC, it is customary to require a salary of 40x the monthly rent, so if the monthly rent is $2500.00, the salary requirement would be ~$100K/year. If the tenant can't meet the salary requirement, then they would require a guarantor.
Not all co-ops accept guarantors, but mine does. I have also been the guarantor for one of my tenants. Also, a lot of co-ops have a cap on the time in which one can sublet, meaning you can rent the unit for no more than 2 years. This is an important point to consider as well when choosing a rental property investment.
A Full Service Listing for 1%
Sell your home with a traditional full service listing for just one percent commission.
My co-op building allows for consecutive rentals, however, every 2 years, I need to resubmit a document with current information of the tenant.
As a landlord, I make sure I have insurance on the unit, any accidents, serious damages, fire, loss of use, etc. are covered under the unit's insurance policy.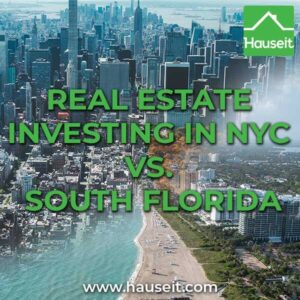 However, I require that my tenants take out renters insurance and send me proof. This is a must. If something happens to their personal possessions, I do not want to be responsible for them due to fire, theft, or any other damages, they need to carry insurance to cover their possessions.
As a landlord, I also have to pay a sublet fee to the building, which is the equivalent of a monthly maintenance payment.
So I make a total of 13 payments a year, rather than 12. These are factored into the rental prices, as are the property taxes, mortgage, etc. The property taxes in New York are very high.
There is no way to get around that, however, when you price your property, these are one of the expenses, along with insurance and monthly maintenance fee that become your carrying costs to own the property, and should be covered by the rental fee.
In Florida, the "condominium" application process is much easier, depending on the building complex, units, etc. The application fees in Florida for a well managed Condo complex may run around $75.00 (if they have a fee to begin with, not all do) and higher for luxury buildings. There is no condo application process for the units that I currently rent out in Florida.
As the landlord, I have to fill out a form and provide copies of IDs for the tenants, along with license plate numbers and background checks. It is not an application per se as with the NY unit. In Florida, I (landlord) only have to give the management company information about my tenants, they are not the ones who will ultimately approve them. The approval process is at my discretion, however, they need to know who and how many people are living in each unit for safety and insurance purposes.
One important aspect of having a rental unit in Florida is that you should have flood/hurricane insurance.
This insurance is very expensive because the chances of being affected by a hurricane in South Florida are pretty high.
I had a unit in Miami around 15 years ago that was in a flood zone, and unfortunately I had to do several repairs during hurricane season. Luckily none of it was major but since the apartment was on the first floor, there was always some sort of water damage I had to deal with. (Lesson learned: I never bought another apartment on the ground floor).
I had great tenants who were very understanding during the repairs. My insurance has what is called "loss of use", which pays for expenses such as a hotel, up to a certain amount, if the tenant can not use the property due to damages, flood, etc.
I also require that my tenants in Florida have insurance for their personal belongings, while my insurance covers any damages or major repairs to the unit itself, it will not cover personal possessions.
Again, the hurricanes are a certainty and the tenants must have renters insurance and provide proof. Once I receive the proof of insurance, I add the expiration date to my calendar, and reach out to them close to date of expiration and require them to send me a new proof of insurance.
The rents I charge for my properties are competitive and adjusted to the market rates at the time. Most of my tenants have been in my properties over 3 years. I usually increase the rent after 2 years, but it has never been over $50.00. Having had tenants for 20+ years, I have always valued my tenants. It's not worth the headache to me to raise the rent an astronomical amount, and then lose a good tenant that always paid on time and took care of my property.
When you are in the rental business, having good quality tenants or not, can make your experience good or a living hell.
I have only had to evict one tenant, in Florida. The state of Florida has less strict laws of eviction compared to New York.
The tenant broke several of the condominium rules, and I kept getting notices. I spoke to them each time about it. Then when one of their kids broke public property in the complex grounds, that is when I decided to evict them. I gave them 30 days notice as stated by Florida law at the time and in the lease, and returned their deposit after I inspected the property and deducted the amount I was charged to fix the damaged property which luckily was within the amount of the deposit.
Had this situation occurred in NY, an eviction process could easily take over 3-6 months. I have never had to go through an eviction in New York, and I hope I never have to. NY law sides a lot more with the tenants, which I fully support given the slumlord and predatory practices that frequently take place in New York City.
I think to be a landlord, you need to treat your tenants the way you want to be treated. Ultimately these properties are your investment.
It's important to keep them maintained, otherwise they will deteriorate and cost more.
I have a great relationship with my tenants and am very quick to respond to them when they have any issues with the apartment. I am also a human being and life happens to them just like it happens to me. I also have been laid off, on unemployment or had a rough season. I always try to be understanding with my tenants and tell them upfront to let me know if they are going through any issues. If they are going to be late on rent, they can notify me ahead of time.
Most of the times (and it has only happened around 5 times in a 10 year period), I would not charge a late fee if they can't pay their rent on time. If they reach out to me ahead of time, and let me know that they will pay the rent 5 days late, I won't charge them a late fee. I get it.
When I have had late payments, it's always been well into a lease where I have enough of a payment history on them to know that it was a one-off issue as opposed to a regular occurrence.
I have a tenant now who is paying late every month since April (during Covid season).
His wife lost her job, so he splits the rent in two; he pays on the 1st and 15th of each month. Given the circumstances, I appreciate that he is paying the rent every month and that he's meeting his commitment even if late. There is no way that I would charge this family a late fee when he is making every effort to pay the rent. I actually lowered their rent by $50.00 during this time in hopes that it would relieve some stress.
They are great tenants and anyone can have a rough season, as have I. During Christmas time, I always give my tenants a gift card, nothing much but just a little gift to let them know that I appreciate them. I believe these gestures go a very long way. Like I mentioned previously, I know these people, they are referrals and I am also human. I strive to be a landlord that I would like to have.
Disclosure: Hauseit® and its affiliates do not provide tax, legal, financial or accounting advice. This material has been prepared for informational purposes only, and is not intended to provide, and should not be relied on for, tax, legal, financial or accounting advice. No representation, guarantee or warranty of any kind is made regarding the completeness or accuracy of information provided.