On January 31st, 2020, the New York Department of State (DOS) released revised guidance for real estate professionals concerning the new rent laws enacted in NYC in 2019.
In the revised guidance, the New York DOS clarifies that a landlord's agent (i.e. the agent listing the property and representing the landlord) cannot collect a broker's fee from the tenant.
This is a departure from the norm in New York City where due to low vacancy rates and supply and demand dynamics, renters had customarily paid the broker's fee.
Brokers would typically offer to list a landlord's property for free and do all of the associated processing and vetting work, with the understanding that the tenant would be forced to pay a broker fee of anywhere from 1 month's rent to 15% of the annual rent, typically.
The recently revised guidance from the NY DOS on the Housing Security and Tenant Protection Act of 2019 and the Housing Stability and Tenant Protection Act of 2019 can be found on the Department of State website. We've included the text from the relevant section concerning broker fees being paid by the tenant below.
5. CAN A LANDLORD'S AGENT COLLECT A "BROKER FEE" FROM THE PROSPECTIVE TENANT?
No, a landlord's agent cannot be compensated by the prospective tenant for bringing about the meeting of the minds. NY RPL § 238-a(1)(a) provides, in part, "no landlord, lessor, sub-lessor or grantor may demand any payment, fee, or charge for the processing, review or acceptance of an application, or demand any other payment, fee or charge before or at the beginning of the tenancy, except background checks and credit checks…." The fee to bring about the meeting of the minds would be a "payment, fee or charge before or at the beginning of the tenancy" other than a background or credit check as provided in this section. Accordingly, a landlord's agent that collects a fee for bringing about the meeting of the minds between the landlord and tenant (i.e., the broker fee) from the tenant can be subject to discipline.
A Full Service Listing for 1%
Sell your home with a traditional full service listing for just one percent commission.
Will rents go up if landlords have to pay the broker fee?
The Real Estate Board of New York has stated that it intends to challenge this interpretation of the new rent laws, and says that this ruling will cause rents to rise if landlords have to absorb the cost of the broker's fee.
While we believe that rents will generally increase due to this ruling, especially in buildings without an in-house leasing office which have traditionally relied on brokers, we don't believe the increase will be meaningful.
More specifically, we don't believe rents will increase dollar for dollar based on the broker fee. For example, some industry participants claim that the average broker fee in NYC will simply be added pro rata to the monthly rent.
However, this assumes that landlords won't simply opt to list it themselves by owner, or to negotiate on the fee with brokers.
Landlords can list properties for rent by owner
The complaint that rents will go up doesn't fully account for the fact that many landlords will opt to simply list, market and rent properties by themselves vs forking up a broker's fee.
Owners can easily list their properties either For Rent By Owner (FRBO) or through an assisted FRBO listing service through Hauseit.
In a traditional FRBO listing, the owner simply posts his or her property on various third party websites such as Craigslist, and hopes for a tenant to contact him or her directly.
In an assisted FRBO listing, the owner's property is listed on the local MLS (RLS for NYC customers) by a partner broker, as well as dozens of third party websites which automatically take a listing feed from the MLS.
The assisted FRBO listing is particularly interesting because it provides landlords with the same, full listing exposure as a traditional broker, without the fee.
Owners pay a flat fee upfront to list, receive inquiries from the listing broker, and manage the rest of the process themselves.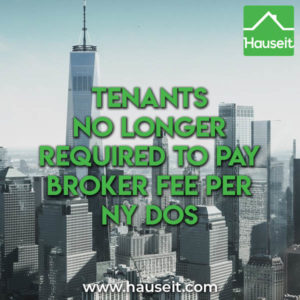 Owners will negotiate down broker fees
The argument that rents will dramatically rise due to the NY DOS ruling doesn't take into account the fact that landlords who choose to use a listing broker will obviously heavily negotiate the broker fee.
Remember that commissions are negotiated in advance of signing an exclusive rental listing agreement, and that landlords will often interview multiple brokers and perhaps have them bid against themselves.
Furthermore, landlords are typically in less vulnerable of a position when it comes to negotiating the broker fee.
Whereas tenants often face time pressure in having to move, and might not have the flexibility to negotiate the broker fee after having found the perfect apartment, landlords often can wait until they get an acceptable fee structure.
Will tenants be better off?
Yes, we believe tenants will generally be better off with the new Department of State ruling. No longer will tenants be surprised to find out that the per month rent they saw online also comes with a hefty 15% broker's fee.
The truth is, all too often tenants are afraid to dispute having to pay a broker's fee because the broker is often the only means of contacting the landlord. As a result, tenants often fear upsetting the broker and causing the broker to essentially stop responding if the tenant complains about the broker fee.
Tenants also might get bullied into simply paying the broker's fee without incident because they're afraid of being sued for non-payment.
As you can imagine, most tenants are working professionals who are simply not aware of the legal intricacies around non-payment of broker fees.
Most tenants would rather pay the broker fee, vs potentially getting embroiled in litigation over non-payment, or potentially getting their credit score dinged.
There will be fewer bait and switch open listings
Tenants will also be better off as some of the worst excesses of the real estate rental industry in NYC are curbed. We are talking about the many "open listings" of the same landlord building units being posted by brokers, often without an exact address specified.
Often times, dozens of brokers will post variations of the same landlord building apartment, with none of them having an exclusive to list the property.
What's worse, the landlord will often have a direct "no fee" listing posted as well, so that tenants could conceivably find the listing directly without having to pay a broker's fee.
However, if a tenant accidentally clicks on one of these spam listings by a broker, then he or she might be coerced into paying a broker's fee to the random agent who posted the listing.
Due to the new DOS ruling, this deceptive practice will effectively be curbed!
Save 2% On Your Home Purchase
Our partner brokers are some of the most experienced and reputable in the industry.
The biggest impact of the NY DOS ruling will be on the real estate brokerage industry in NYC, with firms focusing on residential rentals being particularly hard hit.
Firms focusing almost exclusively on managing rentals for landlord buildings will be particularly hard hit, especially when money was so easily made on easy-to-rent apartments going for under $10,000 a month.
Also hard hit will be agents and firms that focused on posting open listings on landlord building apartments, essentially your classic rental "bait and switch" listing where an agent would advertise a unit in a landlord building for sale, when that unit was already being advertised directly by the landlord as a "no fee" unit.
We think this DOS ruling will take away some of the excess capacity in the industry, especially the thousands of rental brokers that probably shouldn't be employed.
Real estate firms will have to shift their focus
Real estate firms will have to focus on getting exclusives with landlords who are willing to compensate them, or to work only on the tenant side on listings where the landlord is willing to pay an OP ("Owner Pays").
Often times, listings in the REBNY RLS will indicate that the commission structure is an OP, which means that the listing is probably listed as "no fee" on public third party websites, but the owner is willing to compensate any broker who brings a client. This OP will vary, but is often one month's rent.
However, it will no longer make sense to try and show tenants listings that have a CYOF ("Collect Your Own Fee") commission structure. This is unless of course the tenant has explicitly hired an agent to search for listings on his or her behalf. Given how easy it is to search online, that prospect is quite unlikely indeed in this day and age.
Our Discretion, Your Advantage
Our traditional partner brokers never openly discount which means less disruption and better execution for you.
Disclosure: Hauseit® and its affiliates do not provide tax, legal, financial or accounting advice. This material has been prepared for informational purposes only, and is not intended to provide, and should not be relied on for, tax, legal, financial or accounting advice. No representation, guarantee or warranty of any kind is made regarding the completeness or accuracy of information provided. Hauseit LLC is a Licensed Real Estate Broker, licensed to do business in New York under license number 10991232340. Principal Office: 148 Lafayette Street, New York, NY 10013.