A classic six is a pre-war apartment with six main rooms including a master bedroom, a second bedroom, a living room, a kitchen, a dining room and a smaller's maid's bedroom.
Classic 6 apartments are relatively rare, and can be found mostly in upper Manhattan neighborhoods like the Upper East Side or the Upper West Side.
What a true classic 6 apartment looks like
Below is a floor plan for a 1,750 square feet classic 6 apartment in a condo building located on Park Avenue between East 95th and East 96th Street in the prestigious Carnegie Hill neighborhood in Manhattan.
As you can see, this well thought out layout features a master bedroom with an ensuite master bathroom, a spacious second bedroom with adjacent access via the hallway to a second bathroom, a living room, a dining room adjacent to a separate kitchen room, followed lastly by the maid's room at the far end.
This exceptional floorplan allows for maximum privacy as not only do none of the sleeping quarters share walls, but the maid's room is farthest away from the master and second bedrooms, yet next to the kitchen.
For context, this lovely apartment was an estate sale in need of a gut renovation, and was sold by one of our partner brokerages in early March of 2019 for $2,000,000. The original listing price chosen by the owner was $2,150,000, meaning only a 7% discount which is quite a feat in a buyer's market.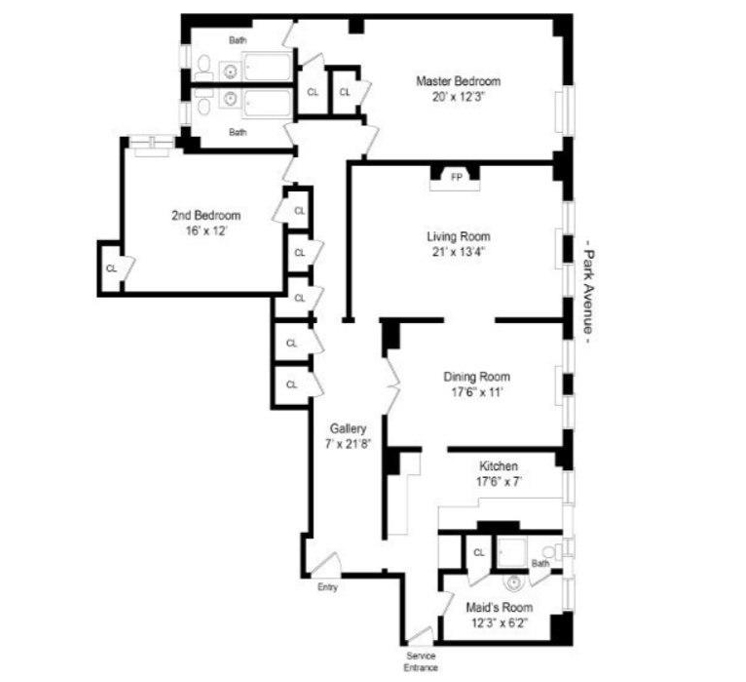 When an apartment is stretching to be counted as a classic 6
Next up, we have an example of a 1,100 square foot classic 6 apartment located in a co-op building in Morningside Heights.
Keep in mind that in this example, the sellers have marketed their apartment as a classic six, but it's certainly a bit of a stretch as most classic 6 apartments have at least 2 full bathrooms and often 3 bathrooms, whereas this one only has one and a half baths.
Furthermore, in a true classic 6 configuration, the living room is a completely separate room from the formal dining room. In this example however, the living room and dining room is connected without a dividing wall.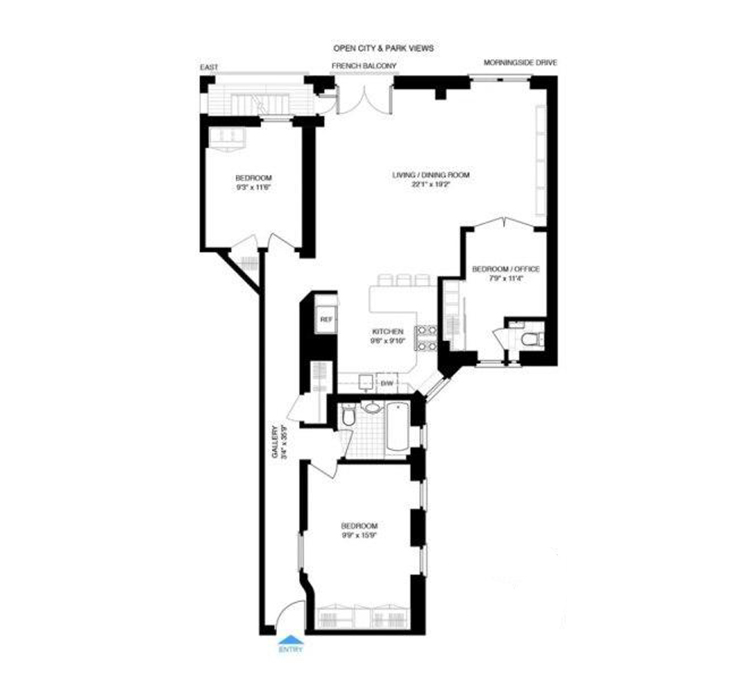 For context, this still lovely apartment was sold by one of our partner brokerages for $1,420,000 in mid-April of 2018, above its asking price of $1,395,000. Quite impressive for a bear market in NYC real estate!
A Full Service Listing for 1%
Sell your home with a traditional full service listing for just one percent commission.
Classic six apartments are popular because of their many classic, pre-war features not commonly found in newer buildings today.
Classic 6 apartments are typically located in older, sturdier buildings with "good bones," i.e. thicker walls, stone or brick construction, solid wood doors, original moldings and cornices, real fireplaces, oak floors, high ceilings and bigger rooms.
Classic 6 apartments are large
An important feature of true classic six apartments is that they're large. The 1,750 square foot classic six apartment located on Park Avenue that we showed above is a great example of how big a true classic 6 apartment should be.
Classic six apartments are usually larger than 1,500 square feet and smaller than 2,000 square feet, though larger and smaller examples do exist. Apartments this large that haven't been combined or that aren't priced extravagantly in a new construction building are certainly hard to find in New York City.
The maid's room can be a 3rd bedroom
Three bedrooms are rare in NYC where most of the condo and co-op inventory consists of studios, one bedrooms or two bedroom units.
The maid's room is typically smaller and located on the opposite end of the apartment from the other bedrooms, and thus if converted into a bedroom it can be quite popular for teenagers in particular.
The maid's room can also be used as a study or home office, or even a nursery if a baby is in the works.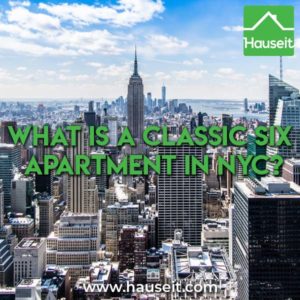 Of course, you can use the maid's room for its original purpose, but this article assumes that having a live-in maid is the product of a long, bygone era.
There's a formal dining room for dinner parties
If you like hosting friends over for dinner or having dinner parties, then a classic 6 might be the perfect apartment for you given how rare it is to see separate, formal dining rooms in more modern layouts today.
You can feel good about inviting your friends to sit down in your separate, formal dining room when they probably don't even have a dining table in their apartment.
Classic 6 apartments became popular in the 1920's and were built mostly until World War II broke out in the 1940's, hence the reason the term "pre-war" is used to describe the buildings these apartments are located in.
Due to demographic trends in NYC at the time, wealthier people who could afford to buy a classic 6 usually lived uptown. As a result, much of the inventory of classic six apartments are located in uptown neighborhoods like the Upper East Side, Upper West Side and Morningside Heights.
That show provides a wonderful context as to why classic 6 layouts were created and why they were popular back then. Labor was much cheaper, and it was actually possible for families to hire live-in, full-time maids.
However, we must point out that the actual apartment Midge has in the show is much larger than a classic 6. The apartment from the show is a N line apartment located in 404 Riverside Drive (intersection with West 113th Street in Morningside Heights), a 48 unit co-op building built in 1909.
The real life apartment is 3,650 square feet and features 10 rooms, including 4 bedrooms and 3 bathrooms. 12N in the building sold for $5,900,000 on 2/14/2018.
Our Discretion, Your Advantage
Our traditional partner brokers never openly discount which means less disruption and better execution for you.
A classic 7 or a classic 8 apartment is essentially a classic 6 apartment with one or two additional bedrooms, and sometimes an additional bathroom or two as well.
Therefore, a classic 7 apartment consists of a master bedroom, a second bedroom, a third bedroom, a living room, a dining room, a kitchen and a maid's room.
As you might deduce, a classic 8 apartment therefore consists of a master bedroom, a second bedroom, a third bedroom, a fourth bedroom, a living room, a dining room, a kitchen and a maid's room.
Keep in mind there is no universal agreement on how many bathrooms a classic 6, 7 or 8 should have.
Many experts agree that a classic 6 should have at least 2 bathrooms, while others believe a classic 6 should have 3 bathrooms.
If you're lucky enough to find and buy a classic 7 or a classic 8 apartment, then you're in luck because these rare 3 and 4 bedroom homes are considered to be trophy properties due to their rarity.
In fact, 3 bedroom apartments are rare to begin with in NYC, and 4 bedroom apartments are almost unheard of. So be happy if you own one!
Save 2% On Your Home Purchase
Our partner brokers are some of the most experienced and reputable in the industry.
Disclosure: Hauseit® and its affiliates do not provide tax, legal, financial or accounting advice. This material has been prepared for informational purposes only, and is not intended to provide, and should not be relied on for, tax, legal, financial or accounting advice. No representation, guarantee or warranty of any kind is made regarding the completeness or accuracy of information provided. Hauseit LLC is a Licensed Real Estate Broker, licensed to do business in New York under license number 10991232340. Principal Office: 148 Lafayette Street, New York, NY 10013.