Where to live in Miami is the biggest question facing New Yorkers and other pandemic transplants to sunny South Florida. Do you want to live in a house or an apartment? Should you live on the beach or closer to downtown? Does it matter if the building is a bit older? Should you rent first to test the waters or buy a place right away?
We'll answer these questions and more in this article. If you're more interested in where to live in Miami in terms of neighborhoods however, please check out Hauseit's Miami neighborhood guide instead. Please leave us a comment if you have any questions, we'd love to hear from you! Welcome to Miami!
There are two major property types in Miami and South Florida generally: condos and free-standing, usually single-family houses. There are pros and cons to each property type, and much will depend on your personal preferences and how much you're willing to spend.
Waterfront vs in-land houses
In Miami, houses come in all types of price points. Generally speaking, waterfront houses will be significantly more expensive than non-waterfront houses, oftentimes with a 10x difference in price. For example, a new construction house might cost $3 million on Alton Road in in-land Miami Beach, but that same house might cost $30 million if it's beachfront on Miami Beach. That same house in Sunset Islands with water access and a dock might cost $10 million.
New construction vs older houses
As of 2021, the market for single-family homes remains extremely hot, and newer construction houses are very hard to come by. In fact, land is so scarce that builders are approaching owners of older houses with "tear-down potential" with proverbial suitcases of cash.
Miami is unique vs New York in that newer is generally better. There are essentially no protected or historical neighborhoods that are comparable to New York's West Village or SoHo (the Art Deco or Entertainment District in South Beach is for tourists). As a result, newer is almost often better in Miami.
The benefits of living in a newer house besides the feel good factor and the typically greater aesthetic appeal is that you'll have fewer problems to deal with in terms of replacements and repairs.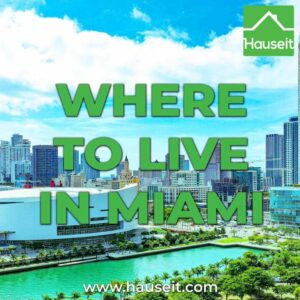 However, the benefits of being more open-minded and buying an older home is that you can get a substantially better deal. In South Florida, depreciation is very, very real due to the lack of protected neighborhoods or any historical architecture that needs to be preserved. As a result, people generally want to live in newer construction homes, and homes that are a couple of decades old face very real depreciation.
Benefits of living in a condo
The allure of living in a condo is the ease of maintenance. You pay a monthly fee in the form of common charges to your HoA or condo association, and the building's management company takes care of the rest. That means no time spent on calling and hiring various contractors to repair and maintain the property.
This can be a real benefit in Florida where maintenance can be a real time suck. Even with the city's resiliency initiatives, the storm drains seem to overflow every time there's even a moderate rainstorm. And that's before the annual King Tides in the fall, or the multiple hurricanes that prowl the Caribbean every year.
Plus, there's the added benefit of not having to individually purchase flood or hazard insurance because the building already does so. Of course, if you're financing your purchase with a mortgage, your lender will still require you to purchase H06 interior insurance, which provides you with "wall-to-wall" coverage for the inside of your apartment.
However, H06 condo insurance is quite cheap, and rates are comparable to what you'd see in other cities like NYC. The major benefit is not having to pay for hazard / flood insurance which is very expensive in comparison. This is due to both high rates of insurance fraud in Florida, as well as frequent natural disasters.
Benefits of living in a house
Living in a house vs a condo comes with many benefits such as generally having more living space, more private outdoor space including a yard, the ability to have a private pool, no restrictions on number of vehicles you can park on your property, potentially lower maintenance costs vs comparable condo charges if you hustle to find low cost providers, not having to deal with potentially corrupt HoA boards, not having to deal with greedy hotel lot owners who siphon off common charges for profit, no crazy board members or neighbors, no restrictions on pets, and generally no one telling you how to live your life.
Furthermore, if you're lucky enough to have a waterfront home with a dock, you won't have to pay boat slip fees to park your yacht, which significantly reduces the cost of owning one. Or, if you don't have a yacht and have an unused boat slip, you can always rent it out for some extra profit.
It really comes down to privacy and control. Do you want full control of and insight into your property? Do you want to deal with neighbors and HoA rules about how to live your life? Do you want to know exactly what's going on with your property, vs not having any information except for what the board decides to share?
Pro Tip: If you live in a house, you must be comfortable with the fact that there will inevitably be bugs, including Florida's famous Palmetto bugs (i.e. Florida cockroaches), that somehow make their way into your house regardless of how airtight it is.
A Full Service Listing for 1%
Sell your home with a traditional full service listing for just one percent commission.
Newcomers like New Yorkers will often first gravitate to the beach when they move to Miami because they don't know anything else. After all, tourists often stay in Miami Beach and that's all they've ever seen. Furthermore, many New Yorkers are so entranced by the novelty of living on the beach that they overly focus on living on the beach, often with a direct oceanfront view, upon first moving to Miami.
Benefits of living on the beach
Besides having a direct ocean view if you're so lucky, the beach is generally cooler year-round due to direct ocean breezes, even during Miami's brutally hot summer months. Generally speaking, it's 10 degrees hotter in-land vs on the beach, which can mean 90 degrees vs 100 degrees during the summer.
This means the difference between a cool south-easterly breeze at 8mph hitting your oceanfront balcony during a humid summer evening vs having no breeze on a back-facing balcony or a house somewhere in-land.
Furthermore, the higher up you are in elevation, the more reliable the wind will be. Meaning much more air circulation and less heat.
Another benefit of living on a higher floor generally is the greatly reduced incidence of pests and vermin, which New Yorkers are sadly accustomed to.
Being on a high floor, especially on the generally cleaner oceanfront, means you won't have to worry about mosquitos, cockroaches and other vermin. The combination of steady breezes and altitude means flying pests generally can't make it to your balcony.
Lastly, living on the beach means you'll actually make it out to the beach more than once or twice a year. Without direct beach access, going to the beach becomes a trip for most people, meaning they'll have to plan, pack and then travel to the beach. It becomes quite an ordeal when you see these poor souls lugging umbrellas and beach chairs on their back, after parking in a public parking lot.
Benefits of living in the city
The benefits of living in the city really come down to better pricing, more selection in newer construction buildings, and proximity to nightlife, restaurants and generally where the action is.
Furthermore, certain neighborhoods on mainland Miami such as Coral Gables, Coconut Grove and Pinecrest are known for having excellent, public educational facilities.
This is not meant to be exclusionary, but some mainland neighborhoods do have higher rated schools on 3rd party websites like greatschools.com, which you should check out if this is a criteria. In contrast, other neighborhoods on the beach might be more focused on vacation rentals or retirees, and as a result, less property taxes are devoted to educational facilities.
Another great perk of living in the city is that the neighborhoods are generally more developed. For example, many of the top restaurants in the city are based in Wynwood and many of Miami's high fashion is located in the Design District, both of which are within walking distance of each other.
Furthermore, there are a plethora of high rise, new construction condominiums in the city, many of them clustered on the bayfront. On a high enough floor, you essentially have an ocean view as much of Miami Beach is low-rise and becomes a thin strip of land in your view.
Condo buildings come in all shapes and sizes, but can generally be segmented into old vs new buildings. Old condo buildings can be from the early 2000's to as old as the 1960's (yes, they do still exist in Miami). There are even Art Deco buildings from the 1920's in South Beach.
Unlike in NYC where older buildings in historical neighborhoods protected by strict zoning actually appreciate in value, there are no such protections generally in most of Miami.
Therefore, the combination of ever newer construction plus the hefty toll taken on the exteriors from the extreme weather here truly depreciates buildings over time.
Benefits of living in an older building
The benefit of living in an older building is primarily cost. You can get a much bigger space if renting (i.e. $7,000 a month for a 3,000 sq ft apartment vs a 1,500 sq ft apartment), and the PPSF will be significantly lower if buying (i.e. 500 PPSF vs 1,000 PPSF).
This can be a great option for families who need more space, but don't want to deal with the upkeep and maintenance of having a house.
The cons of living in an older building
On the other hand, there are quite a few cons to living in an older building, one of which is that older buildings tend to have smaller units.
For example, the Bel Aire (built 2004) and the Sterling (built 1991) are slightly older buildings on North Beach which present interesting value because they are older. However, the biggest units in the building max out around 1,100 sq ft.
In the off-chance that you do find a larger unit in an older building, there's a good chance that it might have been combined from multiple smaller units. As a result, it might stick out as a sore thumb vs the other, much more moderately priced units in the building.
This can create problems with re-sale potential as someone who can afford to pay $2-3 million for an apartment might not want to live in an older building with neighbors who all have smaller, sub $1 million apartments.
For buildings that are even older, you run the risk of having really poor curb appeal as many older buildings simply look aesthetically unpleasing, whether due to wear and tear from the unforgiving salt-laden ocean air or simply due to different tastes from an earlier era.
Furthermore, older buildings are more likely to have large special assessments levied for major refurbishments or repairs. You should do your diligence, speak with the front desk, staff and neigbhors to find out whether the building is planning any major upcoming work such as stucco, balcony, roof repairs etc.
Lastly, older buildings have the perception of being more unsafe, whether it be due to dangerous materials (i.e. lead pipes, asbestos, etc.) or being more prone to literally collapse, especially after the horrific collapse of the Champlain Towers South condo in Surfside, Florida. With that said, buildings simply should not accidentally collapse in America, even in South Florida with its notoriously fragile, sinkhole-prone limestone foundations.
Pro Tip: Watch out for older buildings, especially buildings without many amenities to speak of, with suspiciously high HoA fees. South Florida is notorious for corrupt condo boards and building funds even being surreptitiously controlled by criminal groups. Not surprisingly, corruption often leads to funds being siphoned off vs being used for critical repairs and maintenance, often with fatal side effects.
Pros of living in a new building
The benefits of living in a newer condo building are many, starting from the fact that you'll have modern finishes, amenities and designs. You'll live in a fresh building and a fresh unit, and you're more likely to be proud of how your building looks when your friends visit.
Furthermore, if you buy a new construction home or a pre-construction home, you'll have the luxury of being the first people to ever live in the unit. You simply won't have to worry about any hidden wear and tear to the unit from the previous owners.
Furthermore, new construction condos do not necessarily have to be super expensive, depending on where they're built. Sure, beachfront new construction condos are astronomically priced, but new construction condos on the mainland or "intracoastal" can often be priced much more reasonably.
Sure, there's the potential for depreciation to be aware of in Miami, almost akin to new cars losing value the moment they're driven off the lot, but you may have to view having a nice place to live as a necessary and unavoidable expense.
Keep in mind that because the real estate market experiences long cycles, much like the commodities market, and because it takes time for new construction to catch up with demand, condo prices can actually go up in periods of high demand such as Miami is experiencing in the wake of the 2020 pandemic.
Pro Tip: New construction condos in Miami often offer out-sized commission incentives to buyers' agents, such as 5% to 7% of the sale price, in contrast to a typical 3% co-broke for most re-sales. By signing up for a Hauseit Buyer Closing Credit, you can get 2/3 (two-thirds) of that commission back at closing.
Save 2% On Your Home Purchase
Our partner brokers are some of the most experienced and reputable in the industry.
Renting may be a great idea if you've brand new to Miami and there's uncertainty in your life, i.e. how long you'll be staying, whether your company will let you work remotely, whether you plan to have kids etc.
Renting makes a lot of sense if you're a newcomer from New York and haven't explored Miami's various neighborhoods much except for Miami Beach as a tourist. You'll find that Miami, unlike NYC, has a plethora of desirable neighborhoods in widely varying locations to choose from.
Check out Hauseit's Miami neighborhood guide to learn more about neighborhoods as varied as leafy Coconut Grove to tropical North Beach. You'll find that all of these neighborhoods are a maximum 30-40 minutes away by car, and as a result, your friends will tend to live in a variety of neighborhoods.
Pros of renting
Renting, especially renting furnished, is extremely freeing, literally. If you don't like the apartment, the building or the neighborhood, you're not tied down. You can simply move on and try a new area when your lease is up.
Furthermore, if you rent a completely furnished apartment in Miami, you can literally take a flight when you move and just bring a few suitcases (and maybe ship a few boxes of belongings). How liberating is that?
Historically, renting has been a great trade in Miami, especially in buildings with high common charges where the owner might not even break even on the rental.
That's because there's usually a glut of condos on the market from cyclical building booms due to Miami's near lack of zoning protections against overbuilding.
When you factor in the costs of repair, maintenance, Miami buyer closing costs and the occasional special assessment, the tenant often only pays marginally more than the owner pays in total running and one-time costs.
Cons of renting
Of course, there is no free lunch in life. The downside of renting in Miami is that the market might appreciate quickly as it has in 2021, and suddenly there's a total lack of inventory on the market due to the droves of people leaving New York.
As a result,  your landlord may be a "numbers guy" and decide to drastically increase your rent, or you may have trouble finding a comparably priced replacement rental to move into.
Furthermore, the sales market will usually appreciate in line with the rental market, so you may also find yourself facing dramatically higher sale prices if you decide to buy instead.
Pros of buying
The pros of buying in Miami include having a sense of security that you'll have a place to live, and being able to benefit from any further appreciation in Miami's hot property market.
Furthermore, if you're buying a pre-construction or new construction home, you'll be able to make customizations to your liking, more so if you're buying a house vs a condo.
Ultimately, it comes down to whether the numbers make sense for you, so be sure to factor in the cost financing which are historically low, as well as opportunity cost for your down-payment. Learn more about the math behind buying vs renting in this article.
Cons of buying
The cons of buying are that you might have overpaid, perhaps buying a house or condo at the peak of the market in Miami. Some evidence to suggest that this might be the case is the fact that many new construction condo developers are offering commission incentives as high as 7% to buyers' agents. If anything, that's a sure that they themselves believe the pricing is too high.
A second con of buying is that it's more permanent than renting due to the time it takes to rent or sell a property if you change your mind, as well as Florida seller closing costs. You're certainly more "locked-in" if you buy a place vs rent a place.
Disclosure: Hauseit® and its affiliates do not provide tax, legal, financial or accounting advice. This material has been prepared for informational purposes only, and is not intended to provide, and should not be relied on for, tax, legal, financial or accounting advice. No representation, guarantee or warranty of any kind is made regarding the completeness or accuracy of information provided. Hauseit LLC is a Licensed Real Estate Broker, licensed to do business in New York under license number 10991232340. Principal Office: 148 Lafayette Street, New York, NY 10013.