Anti-competitive practices in NYC real estate include any actions taken by agents which keep commission rates artificially elevated by suppressing or discouraging competition amongst fellow agents and brokerages.
Anti-competitive practices also include the failure to disclose all information to consumers, as this lack of transparency may deter, discourage or otherwise obstruct consumers from securing the best possible deal when it comes to
commission rates
.
Similarly, spreading misinformation in order to discourage consumers from negotiating commissions is also an anti-competitive practice.
For example, an agent who knowingly and falsely informs a prospective purchaser that
buyer agent commission rebates
are illegal is engaging in anti-competitive practices.
According to the New York State Office of the Attorney General (NYAG), illegal anticompetitive practices in real estate include the following:
Agreements among brokers not to charge commissions under a certain level;

Agreements among brokers not to work with discount brokers;

Refusals to deal with brokers who offer rebates to their clients;

Refusals to show properties that are

for sale by owner

(FSBOs) or listed by a discount broker;

Agreements among brokers or multiple listing services (MLSs) to prevent competition from real estate websites.
Of particular importance is prohibition against fellow real estate agents
boycotting discount brokers
. Many buyers and sellers who consider working with a reduced commission broker often express concerns about being ignored, penalized or otherwise mistreated by other agents who are displeased that a fellow agent is willing to work for less.
This behavior is particularly anti-competitive due to the fact that over 75% of deals in NYC are done between two agents: a listing agent who represents the buyer and a
buyer's agent
who works with the purchaser.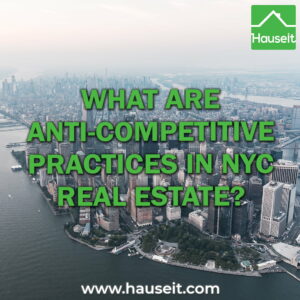 In other words, cooperation amongst agents is of paramount importance in NYC for buyers, sellers and renters when it comes to achieving objectives.
Anticompetitive practices also include failing to provide full disclosure of "all information they (consumers) need for a fair real estate transaction."
The New York Attorney General cites the following examples of full disclosure and transparency expected of real estate licensees:
Buyers must receive the required

disclosure form

listing the broker's fiduciary duties and disclosing whom the broker represents.

Buyers should be informed if the agent representing them is going to be paid by the seller's broker.

Buyers should feel free to inquire about how much commission their broker will earn on a transaction.

Both buyers and brokers should know that rebating commissions is legal in New York.
You can report suspected anti-competitive practices by contacting the Office of the New York Attorney General:
Disclosure: Hauseit® and its affiliates do not provide tax, legal, financial or accounting advice. This material has been prepared for informational purposes only, and is not intended to provide, and should not be relied on for, tax, legal, financial or accounting advice. No representation, guarantee or warranty of any kind is made regarding the completeness or accuracy of information provided.