No. Per additional guidance from the Real Estate Board of New York's legal counsel, in-person showings by agents are absolutely not permitted while "Governor Cuomo's Stay at Home Executive Order is still in place. Real estate licensees are expected to work from home. Any licensed activity that a real estate licensee engages in which requires the real estate licensee to have in-person contact with others is not permissible under this executive order."
With that said, per guidance from the New York State Association of Realtors (NYSAR), showings by FSBO sellers and by sellers under limited service listing arrangements are allowed, provided that the seller insists on showing the property directly to the buyer, and the listing agent only furnishes the necessary contact information for the seller to do so directly.
However, we cannot advise FSBO sellers and flat fee MLS listing sellers to continue showing their homes during the pandemic as it violates the spirit of Governor Cuomo's New York State on Pause executive order.
Keep in mind that Real Estate Board of New York (REBNY) members are predominately based in NYC, whereas NYSAR members are distributed throughout the rest of the state where population densities are less.
As a result, REBNY counsel necessarily will have a stricter interpretation of Governor Cuomo's decrees vs NYSAR. Official guidelines regarding showings by licensees have been released by REBNY here.
Yes, per guidance issued by the New York State Department of Economic Development, real estate brokerage is an essential professional service with extensive restrictions:
Real estate services shall be conducted remotely for all transactions, including but not limited to title searches, appraisals, permitting, inspections, and the recordation, legal, financial and other services necessary to complete a transfer of real property; provided, however, that any services and parts therein may be conducted in-person only to the extent legally necessary and in accordance with appropriate social distancing and cleaning/disinfecting protocols; and nothing within this provision should be construed to allow brokerage and branch offices to remain open to the general public (i.e. not clients).
While some brokers have interpreted this to mean that in-person showings can resume, this is certainly not the case as REBNY has clarified.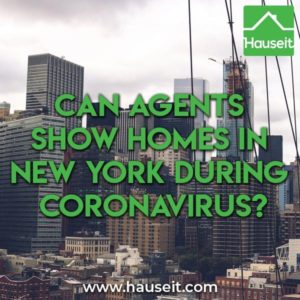 The New York State Association of Realtors backs up REBNY's view by saying that licensees cannot have in-person contact with a member of the public and that:
Empire State Development (ESD) has issued guidance that "real estate services shall be conducted remotely for all transactions."  Licensees must utilize alternative methods of conducting business to avoid person to person contact with members of the public.  NYSAR is unaware of any scenario where a licensee would be "legally necessary" to have in-person contact.
Pro Tip: REBNY legal counsel believes that many real estate brokers have misinterpreted the government's guidance on allowing "virtual showings" to mean that they can travel to a property and host a video-conference at the property. REBNY believes the more conservative view that follows the spirit of Governor Cuomo's executive order is to not travel unnecessarily at all, especially in dense urban areas like NYC, as every time you leave your home you put others at risk. The NY Department of State has already received many complaints against real estate agents for failing to comply with Governor Cuomo's decrees.
A Full Service Listing for 1%
Sell your home with a traditional full service listing for just one percent commission.
Yes. The guidance from Empire State Development only applies to businesses and not members of the public. Per the New York State Association of Realtors:
NYSAR recommends that licensees should not be involved in coordinating an unaccompanied showing. If the seller demands that buyer's be permitted to view the property the licensee should not be involved in the process. If the seller instructs the listing agent to provide their contact information to the buyer, then the listing agent should do so. This should be the only activity the listing agent performs. The listing agent should not be coordinating anything between the seller and buyer except for providing contact information.
The guidance from ESD only applies to businesses and nothing prevents members of the public from having in person contact so long as they maintain recommended health and safety measures. So nothing prevents a seller from permitting a buyer into their home as that is their choice much like they can under a FSBO or limited service listing. Since such activities are permitted among members of the general public, a licensee providing the phone number is not acting contrary to the ESD guidance. The licensee is merely following the direction of their principle under their fiduciary duties. The licensee should advise the seller that all recommended health and safety procedures should be followed.
This means traditional For Sale By Owner sellers are not restricted from interacting with members of the public, i.e. showing their property.
In the case of an Assisted FSBO listing, where a seller pays a flat fee for an agent to list his or her property on the MLS, an agent must abide by his or her fiduciary duty to the client and dutifully hand over contact information of the buyer if the seller insists on continuing to show the property by owner.
Keep in mind that open houses are still prohibited, and many public search websites will not allow the posting of open houses anyway during the pandemic.
If you are a FSBO seller or an Assisted FSBO seller and you still choose to allow carefully vetted buyers to view your property via private showings, then we recommend reviewing the following safety procedures:
Social distancing: Consider conducting meetings and events via phone or video conference.

Sanitation: Clean and disinfect all frequently touched objects and surfaces, per CDC recommendations.

Hygiene: Wash your hands frequently with soap and water. If not available, use hand sanitizer with alcohol.

Request buyers to wear PPE such as a face mask or latex gloves and to avoid touching anything as much as possible.

Request buyers to wear disposable "booties" over their shoes before entering your property.

If you, the buyer or a member of either party's household is ill, stay home and avoid physical contact with others.

Seek help: Call the NYS Novel Coronavirus hotline if you suspect exposure (1-888-364-3065).

Present the COVID Disclosure Form to anyone before they enter your home.
Legal Tip: REBNY legal counsel advises sellers from showing their own property as it violates the spirit of Governor Cuomo's stay-at-home order. Even though it's not a quarantine and the police cannot tell why members of the public are out and about, remember that you should only be outside for essential reasons such as going to the pharmacy or taking a walk. As a result, we cannot encourage sellers to continue to allow buyers to visit their properties, even if unoccupied, during the Coronavirus pandemic.
Yes, per the NYSAR agents are allowed to visit an empty property if no one is present for the purposes of viewing it or taking photographs and related media:
Can I go to a property where nobody is present (meaning if individuals reside there, everyone has left the property) to view it or take photographs for a listing? (updated 5/7/20)
Yes, with the knowledge and informed consent of the seller. In the event that an individual is still at the property upon arrival or arrives while the licensee is there, the licensee should cease taking photographs/video and leave the property.
However, it seems that a professional photographer or videographer who is not also a licensed real estate agent cannot visit a vacant property, unless they have received an exception from ESD per the NYSAR:
Can a professional photographer and/or videographer take photos or video of a property? (added 4/29/20)
If the photographer/videographer has received approval for real estate photography as an essential business from Empire State Development (ESD) and provides a copy of such approval, the activity is permitted. Such approvals are on a case-by-case basis and it is currently NYSAR's understanding that photography/videography as a whole has not been deemed an essential business, only those individuals receiving the letter from ESD.
REBNY counsel has advised us that an agent visiting an unoccupied property to take photographs violates the spirit of the law, especially in NYC where the population density makes it difficult to socially distance. That's because every time you leave your home, you potentially put others in jeopardy through incidental contact (i.e. in the elevator, on the sidewalk or in the property itself).
REBNY counsel says that if you were able to get in a car, not have any direct or indirect contact with others, then you're probably within the spirit of the executive order and they'd say it was okay to go and take photos. Obviously, this will be harder to accomplish in more urban vs rural areas.
Keep in mind that geography matters. For example, in NYC many condos and co-ops won't allow any visitors during the pandemic.
As a result, remember to check your local rules, and any rules imposed by condo and co-op boards which may vary by building.
Many condos and coops have imposed rules that are orders of magnitude stricter than those imposed by the government. For example, many buildings have prohibited visitations by any non-residents, meaning a girlfriend cannot visit a boyfriend or vice versa.
We think it's important to get the informed consent of all parties, including any potential tenants and not just the seller, before agents can go and take photos of an empty property. It is important to get informed consent by presenting a COVID disclosure form even if the tenant has moved out early, but still has time left on his or her lease.
Our Discretion, Your Advantage
Our traditional partner brokers never openly discount which means less disruption and better execution for you.
Yes, per the NYSAR the ESD guidance only pertains to businesses and nothing prevents members of the public from interacting with each other, so long as they maintain recommended health and safety procedures.
As a result, an unrepresented buyer is free to do as he or she pleases as it relates to in-person interactions and thus property viewings.
If a buyer is represented and insists on physically viewing a property, then the buyer's agent cannot physically accompany the buyer. Furthermore, the buyer's agent should dutifully inform his or her client of the risks of doing so, and present a COVID disclosure form to the buyer.
Remember that the listing agent cannot be present either, and the property owner will have to coordinate and organize the showing.
Many properties, especially in the Hudson Valley where showings have resumed en masse, will have specific instructions in the MLS on how buyers should view a property.
For example, in the agent remarks section of the MLS, listing agents will often specify whether the buyers should wear masks and gloves or any other special instructions or directions.
Even if the listing doesn't specify any safety requirements, we recommend following all safety measures prescribed by government and health authorities.
Even though it will only be members of the same household present at the showing, it is still courteous to wear a mask and gloves, and to avoid touching anything as much as possible.
Legal Tip: Per guidance from REBNY legal counsel, we cannot advise buyers or sellers to visit properties, even if vacant, because it violates the spirit of Governor Cuomo's executive orders. If a buyer or seller insists on an in-person viewing, then yes agents must abide by their fiduciary duty and hand over contact information of the buyer or seller to make it happen, but otherwise should not be involved.
Remember that REBNY necessarily takes the most cautious view due to their members being based in geographically dense New York City. Here's what REBNY has to say regarding showings when it comes to NYC:
Can a Licensee have someone (i.e. a superintendent for a building) open a property for a prospective tenant for them?
A Licensee cannot ask someone to do something that they themselves cannot do. Additionally, a Licensee should not be encouraging the public to conduct in-person property visits.
Can Licensees unlock a property so a consumer may enter for an unaccompanied showing?
We do not believe Licensees should be encouraging consumers to visit properties. If a consumer insists on seeing a property, they are not acting in accordance with the Executive Order. While people are permitted to leave their homes for "essential" reasons (i.e. food shopping, exercise, visiting a doctor), viewing or shopping for properties is not deemed to be essential or legally necessary.
The purpose of the "stay at home order" is to limit the amount of contact that people have with each other to reduce the spread of the Coronavirus (COVID-19). A real estate Licensee should not be encouraging the public to engage in these activities.
Save 2% On Your Home Purchase
Our partner brokers are some of the most experienced and reputable in the industry.
Disclosure: Hauseit® and its affiliates do not provide tax, legal, financial or accounting advice. This material has been prepared for informational purposes only, and is not intended to provide, and should not be relied on for, tax, legal, financial or accounting advice. No representation, guarantee or warranty of any kind is made regarding the completeness or accuracy of information provided. Hauseit LLC is a Licensed Real Estate Broker, licensed to do business in New York under license number 10991232340. Principal Office: 148 Lafayette Street, New York, NY 10013.