Real estate 3D Virtual Tours are an essential part of a successful marketing strategy for sellers and listing agents in the post-pandemic and increasingly digital era. While the Pandemic was the main catalyst for the widespread deployment of Virtual Tours, the technology is most likely here to stay. Virtual Tours are advantageous to both buyers and sellers, and they make the sale process more efficient.
See below for frequently asked questions on Real Estate Virtual Tours as well as some real examples of the technology. Home sellers in New York City and South Florida may purchase a 3D virtual tour
here
.
The main benefit of a 3D Virtual Tour is the added visibility and exposure it offers to a listing. Public real estate search websites such as StreetEasy and Zillow have recently enabled the ability for users to filter listings based on which ones have a Virtual Tour. This means that lisings without a Virtual Tour are at risk of missing out on buyer traffic.
A Virtual Tour can also increase efficiency for sellers and listing agents by helping to reduce the number of initial in-person showing requests, particularly from buyers and buyer's brokers who are unlikely to submit an offer. This is because a Virtual Tour can address many basic screening questions about a listing which previously required an in-person visit to answer, such as:
What is the view from the bedroom window?

How spacious does the kitchen feel?

What is the closet space like?

How bright is the apartment?
While having a Virtual Tour won't completely eliminate physical showing requests, it may screen out less-serious buyers and increase the ROI on the actual in-person viewings you agree to.
A Real Estate 3D Virtual Tour is also beneficial in marketing to international buyers as well as other interested parties who might not necessarily be located in New York City while searching.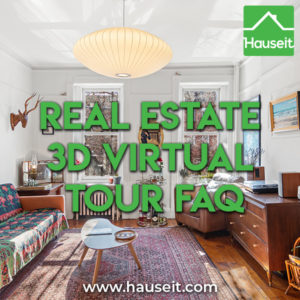 The Virtual Tour may allow these interested parties to submit an offer or take the next few 'steps' with a property of interest, whereas without the tour they may have waited until physically visiting NYC and seeing a listing before becoming more serious.
A Full Service Listing for 1%
Sell your home with a traditional full service listing for just one percent commission.
It's important to keep in mind that unlike
Professional HDR Photography
, a 3D Virtual Tour cannot be retouched or modified via Photoshop. This means that it's not possible to edit out unwanted items such as cables or furniture as is the case with traditional real estate photography. Therefore, preparing your home in advance of the 3D Virtual Tour appointment is a prerequisite for success.
Prior to your virtual tour appointment, we recommend utilizing the following home preparation checklist:
1. General
Turn on all lamps and overhead lights in the home

Replace all missing or broken bulbs

Raise all blinds and open curtains fully

Move cords out of site (lamp, extensions, computer, etc)

Turn televisions off

Remove all personal photos

Stop all ceiling fans

Clean home office of all clutter

Clean floors

Make beds and close closets

Remove shoes

Clear all items off bedside tables

Remove trash cans out of sight

Be sure any pets are contained in an area of the house that will not be photographed

Remove any signs that you have pets (crates, food, water bowls, litter box, etc)
2. Kitchens
Remove all dishes from the sink

Remove all appliances and clutter from the kitchen counters

Ok to leave 1-2 small appliances and/or a knife set for size perception

Remove all magnets and items off the surface of the refrigerator

Remove all floor mats

Place trash can out of sight
3. Bathrooms
Remove toiletries from the shower and bath

Remove all items from the bathroom counter tops

Close toilet lids

Remove all floor mats and area rugs in the bathroom

Position trash can out of sight
4. Exterior
Move any cars in the driveway away from the front of the home.

Move outside trash cans and hoses, put in the garage or somewhere out of sight

Cut grass and spruce up landscaping

Place cushions on outdoor furniture

Clean patio area
It takes approximately 20 to 30 minutes to prepare a 3D virtual tour for a studio for one bedroom apartment. Timing estimates for larger apartments and homes are as follows:
Studio / 1 Bedroom: 20 to 30 minutes

2 or 3 Bedroom: 30 to 40 minutes

4 or 5 Bedroom: 40 to 60 minutes

5 Bedrooms or More: 60 to 90 minutes

Large Homes or Townhouses: 1 to 2 hours
The appointment duration estimates above assume that the property is cleaned, decluttered, organized and generally in 'show-ready' condition. An appointment can take significantly longer, perhaps twice as long, if the photographer is required to move items for each shot.
A Hauseit 3D Virtual Tour is delivered within one to two business days of the appointment.
Our Discretion, Your Advantage
Our traditional partner brokers never openly discount which means less disruption and better execution for you.
Virtual Tours are accessible directly on StreetEasy by clicking the 'LAUNCH 3D TOUR' button directly below the images on the listing page:
Listings on StreetEasy with a Virtual Tour are also prominently identified as such in the search results:

StreetEasy users can also screen for listings which have a 3D viewing option: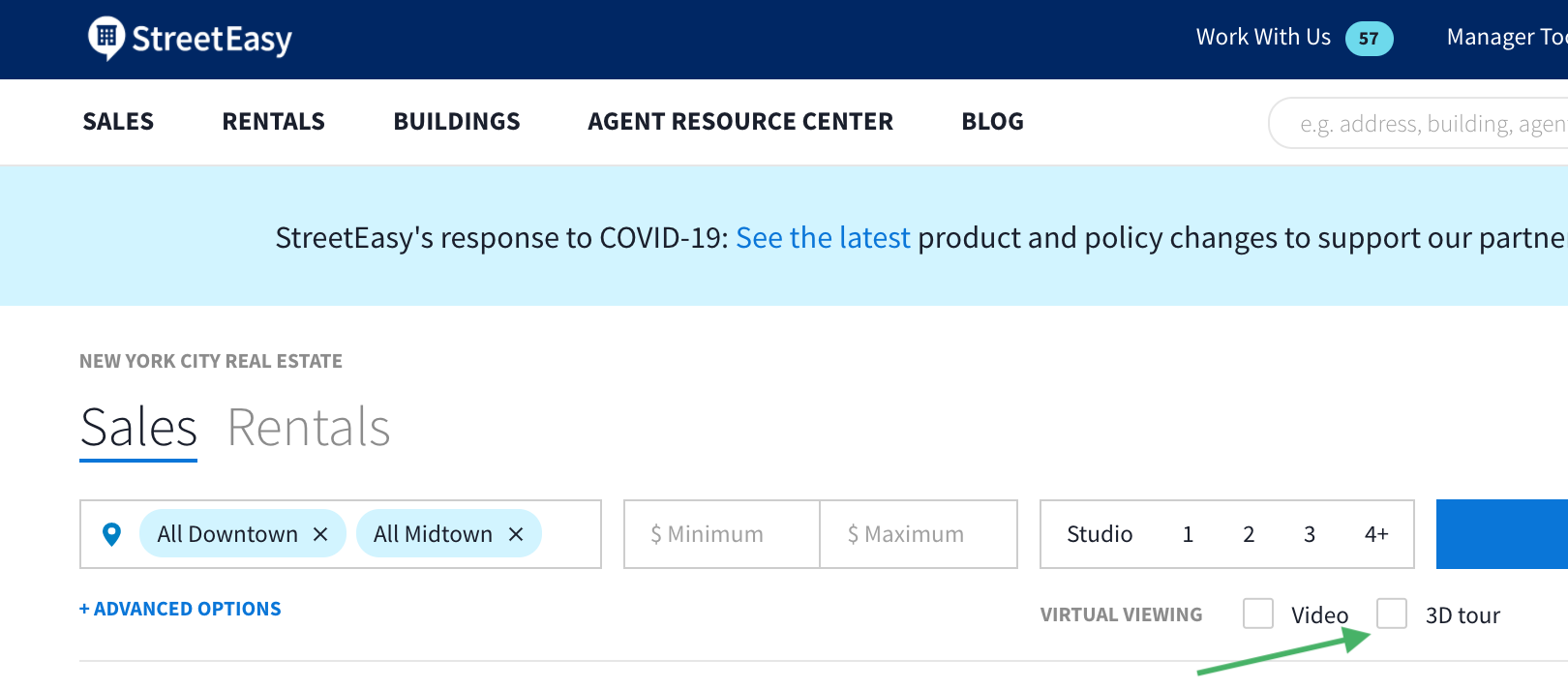 Real Estate 3D Virtual Tour Examples
Here is an example of a Real Estate 3D Virtual Tour for a 3 bed / 2.5 bath condo in Chelsea, Manhattan using Zillow 3D Home™ software:
Here is an example of a Real Estate 3D Virtual Tour for a condo in Williamsburg, Brooklyn using Matterport software:

Here is an example of a Real Estate 3D Virtual Tour for a garden apartment on the Upper East Side of Manhattan using Zillow 3D Home™ software:
Here is an example of a Real Estate 3D Virtual Tour for a co-op apartment in Gravesend, Brooklyn using Zillow 3D Home™ software:
Save 2% On Your Home Purchase
Save thousands on your home purchase with a buyer agent commission rebate from Hauseit
Disclosure: Hauseit® and its affiliates do not provide tax, legal, financial or accounting advice. This material has been prepared for informational purposes only, and is not intended to provide, and should not be relied on for, tax, legal, financial or accounting advice. No representation, guarantee or warranty of any kind is made regarding the completeness or accuracy of information provided.