Yes, a HoA can put a lien on your house or condo if you are seriously delinquent on your monthly common charges or HoA fees.
It's no different than how the IRS or your county can put a tax lien on your property for delinquent income taxes or real estate taxes, or how your bank can put a lien on your home if you don't pay your mortgage, or how a general contractor can put a mechanic's lien on your property if you don't pay him or her for renovation work.
A Full Service Listing for 1%
Sell your home with a traditional full service listing for just one percent commission.
Yes, a HoA can absolutely foreclose on your home. However, most HoAs will be hesitant to do so, and will only consider attempting to foreclose as a last resort.
Why? Because litigation is expensive and will necessarily have to be paid for by the HoA members, with no guarantee of payback or on how long the litigation will take.
Furthermore, litigation is bad news for re-sale values in a condo building or community because most banks will have issues financing when there's litigation present, especially the big banks headquartered in New York.
As a result, HoA members will have to pay higher common charges or a special assessment to cover the cost of the litigation.
On top of that, they risk not being able to sell their property because buyers might not be able to get financing. After all, it doesn't take much to find out whether a condo building or a HoA is under litigation as court cases are generally indexed on the internet as public records.
New York and Florida are judicial foreclosure states
In New York and Florida, a lender or HoA must file a lawsuit in state court, and initiates this process by filing a complaint with the court and having it served to the home owner, along with a summons.
Needing to go to court to get a judgment to be able to seize and sell a home is no easy process, and rules and complexity varies by state.
As a result, you can imagine an HoA, run by volunteers, being hesitant to engage in a lengthy court proceeding. After all, they're already handling this outside of work, why would your ordinary HoA board volunteer for more headache?
Pro Tip: The exception to this are co-ops, which aren't considered to be real property and thus are able to be foreclosed on relatively quickly in New York without needing a judge's approval. Learn more about the co-op foreclosure process in our guide on the topic.
If you have liens on your property, they will be discovered during the title search and examination process, when the buyer's or closing attorney will do a title search, municipal lien search, coop lien search etc.
If you have a property tax lien, then the closing attorney will automatically pay it off with the proceeds at closing. The closing attorney won't need anyone's permission to do so, even if it has been sold to an investor.
Other liens may require you to produce a payoff statement at closing, such as HoA liens or mortgage liens. You'll need to ask your HoA or your bank to produce a payoff letter stating exactly what you owe and what what you would need to "pay off" at closing in order to satisfy the lien.
This is often handled by the seller's attorney, or in states like Florida where attorneys aren't required by the sellers themselves.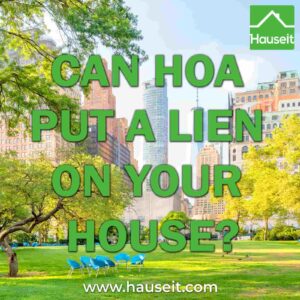 It shouldn't be difficult to produce a lien payoff letter. For mortgages, you can usually request a payoff letter in your bank's online portal without needing to call anyone.
For HoA lien payoff letters, the best bet is usually to email your managing agent and ask for a payoff letter, and to notify them that you intend to sell your property. They're sure to be relieved that you'll finally be paying off your debt!
Pro Tip: Remember that there are other significant closing costs for sellers in Florida or New York to worry about. And if your closing costs, mortgage and other lien payoffs exceed the sale proceeds, then you'll need to bring cash to the table to close or else your sale is considered to be a short sale, in which case you better have listed as such or risk being sued by the buyer for misrepresentation.
Dear Party Requesting Payoff Letter,
As you are aware, the undersigned law firm represents MIAMI BEACH CONDOMINIUM ASSOCIATION, INC., ("Association"). In accordance with your request, the following are payoff figures to satisfy the above referenced matter:
Assessments through September 2021: $15,000.00
Interest: $250.00
Costs: $50.00
Legal Fees: $700.00
TOTAL: $16,000.00
***PENDING CLEARANCE OF ANY AND ALL PAYMENTS RECEIVED BY THE ASSOCIATION OR THIS OFFICE***
***Please note that the above figures include special assessments (if any) which are owed to the Association through the date of this payoff. Special assessments will continue to accrue on a monthly basis after the expiration of or payment in accordance with this letter, and such special assessments will remain due and owing to the Association until such time as the entire special assessment is paid in full. If you have any questions regarding the special assessments (if any) in connection with the above matter, please feel free to contact our office.***
PAYMENT MAY BE MADE BY WIRE TRANSFER, CASHIER'S CHECK, CERTIFIED CHECK, PERSONAL CHECK OR MONEY ORDER AND MADE PAYABLE TO SIEGFRIED RIVERA, TRUST ACCOUNT. FOR WIRE TRANSFER INSTRUCTIONS SEE ATTACHED. THE BANK INFORMATION INCLUDED IN THE ATTACHED WIRE TRANSFER INSTRUCTIONS ARE FOR ACH DEPOSITS AND WIRE TRANSFER DEPOSITS ONLY, NOT COUNTER-DEPOSITS. WE DO NOT ACCEPT CREDIT CARD PAYMENTS. The above balance is good through September 29, 2021 at 5:00 p.m. If we fail to receive payment by said date, we shall proceed with further legal action. If you have any questions, please do not hesitate to contact this office.
****WARNING: THIS LETTER ONLY REPRESENTS THE BALANCE DUE TO THE ASSOCIATION LISTED ABOVE. THIS PROPERTY MAY BE SUBJECT TO ADDITIONAL ASSESSMENTS/DUES/CHARGES FOR OTHER ASSOCIATIONS/ENTITIES. PLEASE CONTACT THE APPROPRIATE PARTY FOR THE ADDITIONAL BALANCES DUE.*****
Pursuant to the Fair Debt Collection Practices Act, it is required that we state the following to you: "This document is an attempt to collect a debt and any information obtained will be used for that purpose." This is a communication from a debt collector.
WIRE TRANSFER INSTRUCTIONS FOR COLLECTION DEPARTMENT
DO NOT MAIL PAYMENTS TO THE BANK
Transfers for the COLLECTION IOTA TRUST ACCOUNT of
John Collector Smith
1100 Biscayne Blvd, 9th Floor
Miami, FL 33133
(786) 989-3245
BANK:
FIRST FLORIDA BANK
111 Collins Ave.
Miami Beach, Florida 33131
(DO NOT MAIL PAYMENTS TO THE BANK)
ATTENTION: George Jacques
ACCOUNT NAME: John Collector Smith IOTA Collection Trust Account
SWIFT CODE: FKDBJS56
ACCOUNT NUMBER: 052633992575
BANK ABA NUMBER: 053124860
REFERENCE: Further Credit to Matter: 61247861
Client: MIAMI BEACH CONDOMINIUM ASSOCIATION, INC.
TO PREVENT FRAUD, BEFORE YOU WIRE ANY SUMS TO THE FIRM PLEASE CONTACT THE ACCOUNTING DEPARTMENT AT THE FIRM'S GENERAL CORAL GABLES OFFICE TELEPHONE NUMBER AND VOICE VERIFY THE WIRE INSTRUCTIONS. YOU ARE RESPONSIBLE FOR VOICE VERIFICATION AND PROPER DELIVERY OF ALL FUNDS UNTIL RECEIVED BY THE FIRM.
Save 2% On Your Home Purchase
Save thousands on your home purchase with a buyer agent commission rebate from Hauseit
Homeowner Transaction History
Miami Beach Condominium Assoc.
Account#: 1254524891
Owner: Jack Ryan, 2025 Domingo Way, Naples, FL 33154
Property Address: 3341 Collins Ave, Apt 4402, Miami Beach, FL 33141
Posting Date:     Description:                    Ref #:       Amount:     Balance:
1/1/2020              Monthly assessment     3050         $1,000         $1,000
1/15/2020            Late fee                              3051          $25               $1,025
2/1/2020              Monthly assessment     3052         $1,000         $2,025
2/15/2020            Late fee                              3053          $25               $2,050
3/1/2020              Monthly assessment     3054         $1,000         $3,050
3/15/2020            Late fee                              3055          $25               $3,075
4/1/2020              Monthly assessment     3056         $1,000         $4,075
4/15/2020            Late fee                              3057          $25               $4,100
Our Discretion, Your Advantage
Our traditional partner brokers never openly discount which means less disruption and better execution for you.
Disclosure: Hauseit® and its affiliates do not provide tax, legal, financial or accounting advice. This material has been prepared for informational purposes only, and is not intended to provide, and should not be relied on for, tax, legal, financial or accounting advice. No representation, guarantee or warranty of any kind is made regarding the completeness or accuracy of information provided.