Co-ops in NYC value job security, so any change to your employment status during the purchase process is a challenge which must be navigated with care, even if you're found a higher paying job.
If you already submitted your board application and received approval prior to accepting a new job, there's likely nothing to worry about. But what happens if you accept a job offer before the application has been submitted, or after the application is submitted but before the interview? In either case, you certainly need to disclose your new employment plans to the board.
We discuss how to present a job change in your co-op board application in this article.
To be absolutely clear, you have no duty to disclose possible changes in your employment status. If you're applying for jobs, at the interview stage or even close to receiving a job offer, you have no obligation to share this information with a co-op board since there is no concrete change to your employment status as of yet. You might simply be exploring your options.
Even if you're received a job offer (or perhaps multiple), you still have no obligation to disclose this information to the co-op board since you haven't committed to anything. However, the moment you accept a job offer and sign the offer letter, this becomes something which the co-op board might need to know about.
Let's say you've accepted a new job offer but you've already submitted your application, completed the
board interview
and received co-op board approval. Must you disclose this information? Legally speaking, probably not. Assuming there is no material change in your financial status, you really have no obligation to disclose. That being said, always check with your
real estate attorney
for official legal advice. 
What do we mean by material change in financial status? Let's say you're leaving a $500k a year job at Goldman Sachs to take a $650k a year job at Deutsche Bank.
Since you're transitioning within the industry to a similar role with arguably similar pay, is not something the co-op board needs to know about.
If, however, you're leaving a $500k job at Goldman Sachs to take a $30k job as an entry level mechanic, that could be considered a material change in your financial status.
Let's say you've accepted a new job offer but you have not submitted your board application. Must you disclose this planned change of employment, assuming you've signed an offer letter? The answer is unequivocally yes.
What happens if you get laid off before you submit the application, or even after you've already received board approval?
Unfortunately, in either case this is considered a material change to your financial situation and you likely have a duty to disclose this information.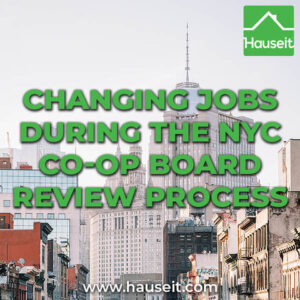 Being unemployed will practically guarantee a board rejection. On the bright side, you probably don't want to move forward with a purchase if you were just fired, and board rejection will typically allow you to recoup your contract deposit and walk away relatively unscathed.
When preparing the board package, you'll need to include a signed copy of your offer letter. This typically goes in the 'Employer Verification Letter' section of the board package. The offer letter should clearly outline your base salary, bonus and/overtime compensation (if applicable) as well as any other compensation i.e. sign-on bonus, equity awards, etc.
Oftentimes, an offer letter can be somewhat confusing to a layperson, particularly if you're receiving equity awards which vest over time. Therefore, we recommend drafting a supplemental letter which explains your new compensation structure in easy to understand language. Creating a table which breaks down your new compensation structure while also comparing it to your current compensation structure is particularly helpful in this endeavour.
Here is an example:

If you're also receiving a signing bonus or other compensation, be sure to explain how this further improves your annual income. Here's an example of additional language which may be added to your change of employment letter:
In addition to your offer letter and additional compensation explanation letter, please be sure to submit an employer verification letter from your current employer.
If you're changing employers, chances are that you will be asked about this during the board interview. Co-op boards are primarily focused on ensuring that an applicant will be able to pay the monthly maintenance, so a change in employment will naturally ring some alarm bells.
That being said, you're likely changing employers because of a more attractive opportunity. If asked about the job change during the interview, you'll want to leverage this opportunity to emphasize the higher compensation associated with your new gig.