Citysnap is a new consumer facing residential real estate search website for New York City which was launched in 2022. It was created by the Real Estate Board of New York (REBNY) as the organization's first-ever attempt to make listing data from the RLS available directly to consumers and to compete directly with StreetEasy.
Citysnap more closely aligns REBNY and its listing database with other regions of the country, where the local MLS (Multiple Listing Service) typically has a consumer-facing search portal.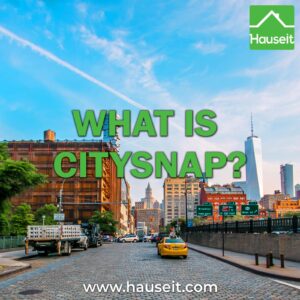 Prior to the development of Citysnap, consumers in NYC had no way to search the REBNY RLS directly. Instead, buyers had to rely on their buyer's agent to send them listings, or search on third party consumer portals like StreetEasy.
The creation of Citysnap is an attempt by REBNY and the brokerage community to challenge the hegemony of StreetEasy (owned by Zillow Group Inc.) as the leading consumer facing sale and rental search portal in NYC.
Over the past few years, Zillow Group Inc. has leveraged the dominance of StreetEasy to aggressively impose new and seemingly ever increasing fees on agents, much to the ire of the brokerage community.
StreetEasy's most controversial move was the implementation of a hefty daily fee for rental listings in 2017.
The daily fee, which started out at $3, was raised to $4.50 in 2019 and went up to $6 in 2020.
StreetEasy and REBNY have also fought legal battles over Zillow's 'Premier Agent' program, a form of advertising whereby a buyer's agent can pay to appear in the contact agent box on StreetEasy listings.
Many brokers and consumers feel that the Premier Agent program is misleading, as a prospective buyer who is trying to contact a listing agent often don't realize that the inquiry has been redirected to a buyer's agent who paid to advertise on the listing. In other words, when this paid buyer's agent responds to the original inquiry, the buyer may think that she or he is communicating directly with the exclusive listing agent.
Seemingly in direct response to StreetEasy's Premier Agent Program and onerous fees for agents, REBNY has promised that "all leads (on Citysnap) will go to the listing broker or agent — with no additional cost or daily listing fee."
According to REBNY, Citysnap featuresa growing inventory of over 40,000 sale and rental listings with an aggregate notional of $50 billion. REBNY currently has around 600 member firms with a total of over 12,000 member agents.
Citysnap is developed by a partnership between REBNY and Homesnap, which is owned by CoStar Group (NASDAQ: CSGP).
Disclosure: Hauseit® and its affiliates do not provide tax, legal, financial or accounting advice. This material has been prepared for informational purposes only, and is not intended to provide, and should not be relied on for, tax, legal, financial or accounting advice. No representation, guarantee or warranty of any kind is made regarding the completeness or accuracy of information provided.