NYC home sellers who aren't interested in paying 6% or listing FSBO often consider working with a discount real estate broker. But finding the best discount real estate broker in NYC isn't an easy task. That's because discount brokers generally have a reputation for being sketchy and incompetent.
After all, what's the point in potentially saving money on commission if using a discount broker actually reduces your chances of selling for the highest price, or selling altogether? If a closing never even happens, how much money you save on commission is a moot point.
Moreover, due to the inherently disruptive nature of undercutting traditional agents on commission rates, discount brokers usually don't have the best reputation in the eyes of the brokerage community. This is a problem, as over 75% of real estate transactions in NYC involve two agents, which means cooperation between agents is a crucial component of a successful sale (or purchase) effort.
If the traditional brokerage community harbors resentment against your listing agent, your listing may be placed at a competitive disadvantage compared to other listings being marketed by traditional brokers.
We'll discuss the various aspects of working with a NYC discount real estate broker in this article.
NYC real estate is a big deal. Along with cities like London and Hong Kong, New York City is home to some of the world's most globally prized real estate. Inventory is low, demand is high and therefore prices remain stratospheric.
What this means for NYC's real estate brokers is that they are the luckiest and wealthiest agents in the world.
Even though technology has crippled commission rates in the rest of the world (such as in London, where the average commission is only 1.5%), NYC commissions have remained extremely close to 6%.
What this means is that NYC real estate agents want to keep things exactly the way they are.
There are over 50,000 agents in NYC who would like nothing more but to see the 6% commission gravy train continue forever.
It's virtually impossible to negotiate down your commission when choosing a listing agent due to the oligopolistic control a few large brokerages have over the entire market.
Traditional NYC real estate agents obviously don't like discount brokers. The city's powerful real estate community will do anything and everything to stop companies or agents who try to reduce commissions in New York City.
You may be asking yourself: Why should I care of other brokers don't like my discount broker? For you to ask this question as an industry outsider makes a ton of sense.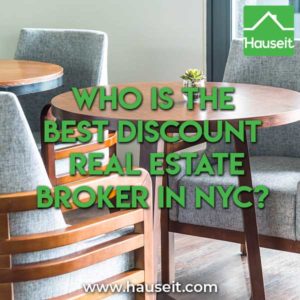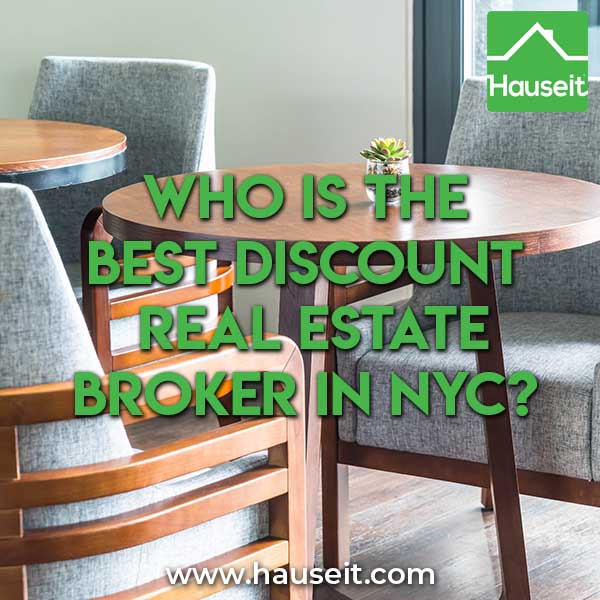 That's until you realize that over 75% of buyers are represented by these buyer's agents who likely don't love the idea of discount brokers.
As a seller, you need the cooperation of buyer's agents in order to successfully find a buyer to your listing.
Therefore, sellers who work with a discount broker run the risk of buyer's agents steering their clients towards other properties whenever feasible.
While it's illegal for a traditional agent to boycott a discount broker or subject them to any form of adverse treatment, the reality is that bad behavior very hard to prove and/or prevent.
There are a multitude of undetectable ways a traditional buyer's agent could sabotage a discount broker, such as:
Buyer's agent sends a buyer client a long list of suitable units, but intentionally places the listing(s) from a certain discount broker towards the bottom of the list

Buyer's agent advocates much more aggressively for another apartment (listed by a traditional broker), even though the listing from the discount brokerage is an equally good fit for the buyer

Buyer's agent doesn't work as hard to glean intel from a discount listing agent about potential offer competition, thereby reducing the likelihood that the buyer's bidding strategy is effective

Buyer's agent makes minimal effort to coordinate a suitable showing date/time for the discount broker's listing, while trying considerably harder to secure appointments for other properties

Buyer's agent contacts a seller directly under the false pretense that the discount broker listing agent is being unresponsive to showing requests, in an attempt to discredit the listing broker

Buyer's agent writes an embarrassing email to a seller, in an attempt to undermine the discount broker's relationship with the seller.
In any of these examples, how can the enforcement arm of the New York Department of State objectively prove that the agent has engaged in discrimination against a discount broker?
There's simply not enough of a paper trail to prove wrongdoing beyond a reasonable doubt.
Our Discretion, Your Advantage
Our traditional partner brokers never openly discount which means less disruption and better execution for you.
The best way to go about hiring a discount broker in NYC is to ask friends, family or co-workers if they have any first-hand experience working with a specific company. Nothing beats a referral from someone you know when it comes to credibility, honestly and alignment of interest.
Aside from referrals, we recommend evaluating discount brokers based on the following criteria:
Online Reviews
Detailed written reviews on a variety of websites are some of the best indicators of the quality of a discount broker. Ideally, any discount broker you consider should also have a portfolio of video reviews from actual clients (as opposed to paid performers).
Deal Experience
How many deals has the brokerage closed in the past year? Does the team have recent experience with similar properties to the one you're thinking of buying or selling (price range, property type, location, etc.)?
A discount broker who does large volume generally face less resistance from the traditional brokerage community since the brand is widely prevalent and therefore more 'accepted' and ultimately trusted by fellow agents.
Quality and Competence
Does the discount broker you're interviewing sound competent? Are they friendly? Do they come across as confident and capable without being arrogant or off putting over the phone? Has the agent been responsive to your initial outreach?
If you're a seller, remember that the agent you hire will be the 'face' of your listing in the eyes of prospective buyers and buyer's agents. If your listing agent sounds presumptuous, difficult or is simply hard to reach, it will likely discourage buyers and buyer's agents from seriously pursuing your listing.
If you're a buyer, keep in mind that the agent you hire is tasked with building rapport with listing agents.
If your agent comes off as combative to listing agents, chances are that he or she will struggle to engage in a constructive dialogue with listing agents for the properties you're interested in.
This means that listing agents may share less information with your buyer's agent. This will put you at a competitive disadvantage, particularly for a hot listing which goes to a best and final.
Marketing Language
Does the discount broker you're considering openly attack or disparage the traditional brokerage community (or competitors) online through its choice of language?
Remember that over 75% of deals in NYC involve two agents, which means cooperation between agents is paramount.
Other agents obviously won't want to cooperate with the discount brokerage you hire if it has a reputation for constantly denigrating fellow agents online.
While it's one thing to advertise reduced commission services, it's another thing entirely to outright attack the very agents whose cooperation is necessary to close a real estate transaction in NYC.
We recommend working with a discount brokerage who encourages cooperation with traditional agents instead of actively working to create conflict and division with other brokerages. Avoid discount brokers who consistently disparage competitors and traditional real estate agents online. Remember that the more time a discount brokerage dedicates to attacking fellow agents means less time they have to pay attention to you and your deal.
A Full Service Listing for 1%
Sell your home with a traditional full service listing for just one percent commission.
Disclosure: Hauseit® and its affiliates do not provide tax, legal, financial or accounting advice. This material has been prepared for informational purposes only, and is not intended to provide, and should not be relied on for, tax, legal, financial or accounting advice. No representation, guarantee or warranty of any kind is made regarding the completeness or accuracy of information provided.