The residential real estate industry nationwide is experiencing considerable amounts of disruption and uncertainty stemming from the COVID-19 pandemic. While the real estate market is still open and both new and existing deals are moving forward, buyers and sellers face new Coronavirus related legal risks and operational difficulties during the course of a transaction.
A real estate transaction requires complex coordination between numerous parties, including brokers, attorneys, appraisers, lenders, title companies and inspectors.
As a result, it's increasingly likely that one or more service providers may be providing limited or no service due to COVID-19. Real estate deals are therefore subject to delays, and in some cases deals simply cannot move forward because of limited availability of third parties, illness or general uncertainty.
Real estate attorneys nationwide have begun to include a COVID-19 addendum clause, also known as a rider, to new purchase contracts being signed. The optional Coronavirus contract addendum (rider) provides additional timing flexibility and deal cancellation optionality for both the buyer and seller in response to the uncertainty and increased risk brought about by the pandemic. The rider allows for the buyer to recoup her or his deposit should a real estate transaction be cancelled through language in the COVID-19 rider.
The boilerplate COVID-19 addendum provided by The New York Association of Realtors (NYSAR) provides for an optional extension of all deadlines in a purchase contract due to COVID-19 issues. The contract rider also allows for optional termination of the contract by either party should the COVID-19 issue continue for a mutually agreed upon number of days beyond the closing date set forth in the contract.
For buyers who are financing with a mortgage contingency, the Coronavirus contract rider also includes a funding contingency. This gives a purchaser the ability to cancel the deal and recoup the contract deposit if the buyer is unable to fund the loan at closing due to COVID-19. This protects a buyer who loses her or his job due to Coronavirus after receiving a loan commitment letter but before closing, as banks will not ordinarily fund a loan to a purchaser who is no longer employed.
For the purposes of the optional contract rider, COVID-19 issues may include, but are not limited to: emergencies declared by the government, travel restrictions, mandatory closures or reduction of staff at transaction related service providers, quarantine, exposure to or contraction of COVID-19.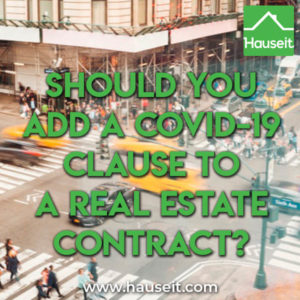 The text of the NYSAR COVID-19 Addendum is as follows:
All other terms and conditions of the Contract remain in full force and effect.
A Full Service Listing for 1%
Sell your home with a traditional full service listing for just one percent commission.
The Coronavirus purchase contract rider is designed to protect against COVID-19 related disruptions which may delay a transaction. For example, a deal might not be able to move forward if government mandated stay-at-home orders prevent an appraiser or inspector from visiting the property.
Another example would be if the buyer or seller gets sick and is hospitalized or quarantined, making it impossible to move forward with the deal based on the original timeline as outlined in the purchase contract.
Some condo and co-op buildings have banned move-in and move-outs during the pandemic, and the inability for the seller to move out or the buyer to move in (or both) creates another obstacle when it comes to finalizing and moving forward with a closing date.
No. The COVID-19 purchase contract addendum is completely optional. The stock rider itself may be utilized and optionally customized based on mutual agreement of both buyer and seller.
The rider can be included as part of the contract itself or it may be utilized after the contract itself has already been signed, provided that both parties agree to it.
Save 2% On Your Home Purchase
Our partner brokers are some of the most experienced and reputable in the industry.
Last Updated: 4/19/2020
Disclosure: Hauseit® and its affiliates do not provide tax, legal, financial or accounting advice. This material has been prepared for informational purposes only, and is not intended to provide, and should not be relied on for, tax, legal, financial or accounting advice. No representation, guarantee or warranty of any kind is made regarding the completeness or accuracy of information provided. Hauseit LLC is a Licensed Real Estate Broker, licensed to do business in New York under license number 10991232340. Principal Office: 148 Lafayette Street, New York, NY 10013.