What is the Dutchess County MLS? Which real estate broker database is relevant for Dutchess County NY? Can I sell my home through a Flat Fee MLS listing?
Dutchess County, NY is covered by the Hudson Gateway MLS, which is now known as the OneKey MLS.
The MLS was formed in 2020 through the merger of MLS Long Island (MLSLI or the Long Island Board of Realtors, also known as LIBOR) and the Hudson Gateway MLS (HGMLS or HGAR).
The OneKey MLS  is now the primary broker to broker Multiple Listings Service database in the Greater Hudson Valley. Therefore, it's important to understand going forward that when we refer to the Dutchess County MLS, we mean the OneKeyMLS!
Can I list my home on the Dutchess County MLS for a flat fee?
Absolutely. There is no requirement for you to pay a certain commission rate in order to sell your home in Dutchess County.
Don't be fooled by real estate agents who will try to convince you that having to pay 6% in commission in order to sell is some sort of law. It's not!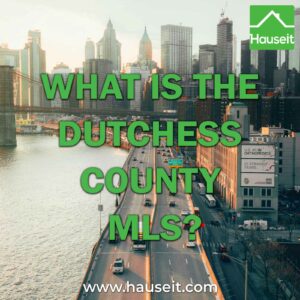 In fact, the OneKey MLS is very professional in making sure that all broker and agent participants know that there is no standard commission rate and that they cannot give any guidance on commission rates. The only truth is that real estate commissions are negotiable!
With that said, the Dutchess County, NY MLS (aka the OneKey MLS) does require participants to offer some form of commission, regardless of how much that may be, to cooperating brokers. In other words, you need to offer buyers' agents some form of commission on the Dutchess County MLS.
However, this does not mean you need to reveal how much you are paying to your listing broker. It is standard practice for listing Realtors to only enter how much commission they are offering buyers' agents in the HGMLS.
Disclosure: Hauseit® and its affiliates do not provide tax, legal, financial or accounting advice. This material has been prepared for informational purposes only, and is not intended to provide, and should not be relied on for, tax, legal, financial or accounting advice. No representation, guarantee or warranty of any kind is made regarding the completeness or accuracy of information provided.