What should NYC home sellers watch out for when writing FSBO listing descriptions? Can you mention the great school district your home is in? What are Fair Housing Laws?
Writing great FSBO listing descriptions should be easy for sellers since they know their home and neighborhood intimately.
However, there are certain details about your home and neighborhood you cannot write in FSBO listing descriptions because they may violate the Fair Housing Act of 1968.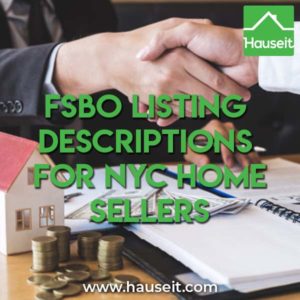 The Fair Housing Act was passed in 1968 to prevent housing discrimination. It prohibits any real estate professional or landlord from steering buyers or renters towards or away from a community based on race, color, national origin, religion, sex, disability or familial status.
While the law was enacted with good intentions at a time when the nation truly had widespread animus between races and discrimination on a mass scale, it can be more of a nuisance today in cosmopolitan cities like NYC when agents or landlords without any animus towards others are prohibited from mentioning what school district their listing is in and other important nuances.
This is why real estate listing agents can be so tight lipped when asked about a home or neighborhood.  They can unknowingly violate the Fair Housing Act with as innocent of a statement as "this is a great area for families." That statement might steer away unmarried couples, single people or older couples which would be a violation of the Fair Housing Act.
Similarly, one should not mention crime statistics in FSBO listing descriptions as they can be interpreted as a reference to race which would be a violation of the Fair Housing Act.
A tough one for sellers to swallow is the inability to reference school zones or districts in their listing description. Certain schools may be known to have a lot of students of a certain race or national origin. Therefore it can be a violation of the Fair Housing Act to steer buyers to your listing because of a certain school district.
Phrases to avoid while writing FSBO listing descriptions
Agents and FSBO sellers must avoid using words and phrases that could be deemed to represent any of the protected classes. Flat fee MLS listing customers should have realistic expectations of what their agents can and cannot do. Our partner brokers are bravely going against to hear to help you sell your home without having to pay a full commission, why would they go out of their way to also break the law? There simply isn't enough upside even if it wasn't clearly illegal!
Bachelor pad; family friendly; great for couples; married; seniors; Golden Agers; great for singles; handicapped; great school zone; located in the PS199 school district; low crime; Jewish community; close to synagogue; high income neighborhood; mostly older and white; Hispanic only
Aside from fair housing considerations, you should also ensure that your listing and description do not overstate the number of legal bedrooms in your apartment.
Note: NYC is a unique market where certain descriptions such as "no pets" are acceptable due to co-op House Rules. In this case, it is generally not viewed as discriminatory in nature but rather the statement of a fact per the co-op's rules. Furthermore, New York City has many walk-up buildings which are clearly not friendly to disabled people. However, it is acceptable to describe a building as a walk-up which is typically viewed as a mere fact.
FSBO listing descriptions versus what you can say in person
The Fair Housing Act is not limited to what is written in FSBO listing descriptions but also applies to what is said in person. Though instances of being reported are rare, there is always the possibility in a place like NYC that people will have delicate sensibilities and get offended. Be careful about saying anything that might be perceived to be discriminatory in natures such as:
"This building has a lot of guys, it might be tough for a young girl to be comfortable here."
"It's not going to be easy for you to live here since you're in a wheelchair."
"There are a ton of Puerto Ricans in the neighborhood, not sure if you'd fit in."
Can you reference a home office in your listing description?
Unfortunately many real estate search websites such as Zillow and StreetEasy have corporate policies which prohibit words such as "office" in listing descriptions.
This is because these sites are geared towards residential listings and as a result they don't want to corrupt their search results with commercial listings. While not actively enforced as of this writing, you run the risk of your listing being removed from certain sites because of references to a home office in FSBO listing descriptions. To be safe, try an alternative phrase such as "work area" or "work space!"
What are some sample FSBO listing descriptions in NYC?
Welcome home to this over-sized, sun-filled 2 bedroom, 2 bathroom, whole floor apartment on a prime Upper West Side block literally steps from Central Park. Sprawling the entire length of a semi-detached, stately brownstone, this garden apartment has it all including your own private garden and a wood burning fireplace. The kitchen is an entertaining dream with large island, plenty of cabinet space, double ovens, and Sub Zero and Bosch appliances. A generous master bedroom features space for a sitting area/home work space or nursery and includes a custom closet. A large second bedroom is perfectly suited for a guest or child's room. The elegant bathroom contains a pedestal sink, washer/dryer and linen closet. The exclusive garden is an oasis in the city, featuring a mature willow tree, English ivy along the length of the patio and thoughtful landscaping and plenty of space to enjoy Sunday brunch and summer BBQ's. New hardwood floors, custom closets in both bedrooms, exposed brick in the living room and built-in bookshelves in both the kitchen and living room. There is ample bulk storage for each unit in the basement and private storage (perfect for bikes and strollers). Low co-op maintenance and pets are welcome.
A Full Service Listing for 1%
Sell your home with a traditional full service listing for just one percent commission.
Disclosure: Hauseit® and its affiliates do not provide tax, legal, financial or accounting advice. This material has been prepared for informational purposes only, and is not intended to provide, and should not be relied on for, tax, legal, financial or accounting advice. No representation, guarantee or warranty of any kind is made regarding the completeness or accuracy of information provided.