It is important for
NYC FSBO
home sellers to realize that a Flat Fee MLS Listing (
RLS for NYC customers
) listing is an 'owner managed' option. This means home sellers should not expect anywhere near the same level of service they would receive under a full service, full commission listing.
With that said, an
Agent Assisted FSBO
(Flat Fee MLS) Seller will receive the same level of exposure to buyers as they would via a traditional full commission listing by having their home advertised in the RLS (
REBNY
Listing Service) broker database, StreetEasy, New York Times, Zillow, Trulia, Realtor.com and many other major real estate websites all at once.
The Agent Assisted FSBO listing service is a highly effective option for sellers who are self-starters, proactive and ready, willing and able to invest time in the sale process. However, selling Agent Assisted FSBO isn't for everyone.
Listing via Agent Assisted FSBO is not a good idea If you're unable or unwilling to
do your own homework
, short on time, lacking confidence and/or highly dependent on professional advice.
As a seller utilizing an Agent Assisted FSBO (Flat Fee MLS) listing service, you will be responsible for:
Drafting a

listing description

and answering other essential questions about your home

Conducting, scheduling and coordinating all property showings

Responding to and following up later on all buyer and broker email inquiries
An Agent Assisted FSBO seller in NYC is essentially responsible for all facets of the sale process with the exception of the online advertising / syndication of the listing.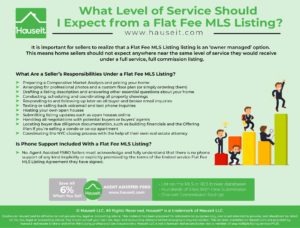 The level of success you can expect as an Agent Assisted FSBO seller is highly dependent on the following factors:
Your willingness to invest time into learning how the sale process works

Correctly pricing your property and producing adequate marketing materials (description, professional photos, etc.)

Being persistent (but not overzealous) with interested buyers and buyer brokers

The overall quality of your soft-skills and negotiating prowess

How responsive and available you are throughout the sale process

Your ability to keep a level head when hiccups arise during the sale process

The quality of your real estate attorney
No. Agent Assisted FSBO Sellers must acknowledge and fully understand that there is no phone support of any kind implicitly or explicitly promised by the terms of the limited service Flat Fee MLS listing agreement they have signed.
The owner must also understand that Hauseit is a marketing platform. Once a listing has been assigned to an affiliate listing broker, Hauseit is no longer directly involved in the sale process at all. That means all deal-specific questions by home sellers must be directed to the affiliate listing broker versus Hauseit.
Any deal-specific questions in any format directed towards Hauseit by a seller after a listing has been assigned to a partner broker will not be answered by Hauseit.  Hauseit simply asks the Agent Assisted FSBO customer to direct all questions to the affiliate broker they are paired with.
With that said, there are a wealth of DIY resources including hundreds of highly detailed articles on how the sale process works on Hauseit's
blog
. You are also welcome and encouraged to read the large number of previously asked and answered questions on
Hauseit's Customer Support Forum
.  If there is a topic we haven't covered, simply post the question in Hauseit's Forum or
send us an email
and we will make sure it's answered.
Please note that per the terms of the listing agreement, the affiliate broker is not responsible for any advice or phone support of any kind.  Should you want the advice of the professional real estate broker you have been paired with, you can purchase a
Professional Broker Consulting
package for a low, one-time flat fee.
Knowing how to handle inquiries from buyers and buyer brokers is an essential part of the skill set required for success as an Agent Assisted FSBO seller. The most important thing you can do is to respond to all inquiries in a timely manner.
As an Agent Assisted FSBO seller, you'll also need to remember that NYC real estate is a momentum-driven exercise. Buyers and buyer agents are not used to waiting days for answers to basic questions or confirmation of a showing request. They simply don't care if you're in the Hamptons for the weekend or if you can't show during the day because you're at work until 7pm Monday to Friday.
After all, the majority of other listings on the market are being handled by full-service agents whose job is to be highly responsive and make properties available to show as quickly as possible.
Just remember that as an Agent Assisted FSBO seller there are simply no excuses for being slow or unresponsive to interested buyers and buyer agents. If you're traveling for work or away on vacation, the same rule applies: there are no excuses. Any time you spend out of the city and unavailable during the sale process will harm your progress relative to other listings on the market.
As a reminder, all inquiries on your listing including emails, text messages, voicemails and front desk messages will be emailed to you by your partner broker. Here are some specific rules for responding to Agent Assisted FSBO listing inquiries:
It is safe to respond directly if you are CC'd on a broker inquiry

It is safe to respond if you are BCC'd on a broker inquiry where our affiliate states that you will revert

If our affiliate forwards you an inquiry with specific instructions, please respond directly to our affiliate. This is usually because the inquiring broker has a history of wasting our various affiliates' time and not having a real buyer.  It is for your own protection to respond to our affiliate and not reveal your contact information to such a troll (agent without a real buyer). Here's

how to deal with trolls who may attempt to solicit and harass you

.

It is okay to CC your affiliate on responses to inquiries for increased legitimacy
In order for us to truly amaze all of our customers, we must be firm in setting expectations so that we are able to provide the same, equal level of service to all of our customers.
In a city like NYC full of aggressive, "Type A" personality working professionals, you are bound to meet some extremely demanding customers who are never satisfied and always want more value than they've paid for (Learn more:
Why Agents Won't Do A Flat-Fee MLS Listing in NYC
).
Therefore, in order for us and our affiliates to continue serving the wider NYC home buyer and seller community we must be firm in setting expectations with the occasional customer of this type.
Sometimes people just need a reality check!  In one of the most expensive cities in the world, our NYC broker affiliates must be extremely efficient if they are receiving effectively nothing versus
$120,000 in commission for the average NYC sale
.  That means a reality check in terms of expectations for 24/7 help, service and phone support.
Absolutely not. Our affiliates have no obligation to take on any or all of the customer referrals we direct their way. This means that customers who abuse the essentially free service we are providing will likely be rejected or fired by our affiliate listing brokers.
Moreover, in the event of abuse, disrespect or harassment of our affiliate listing broker by the customer, our affiliates reserve the right to cancel the listing agreement and refund a pro-rated share of the flat fee back to the customer.
Our affiliate listing brokers are all full-service, traditional REBNY Member Firms who also have full-commission, full-service clients to look after.  The benefit of this method is that your affiliate listing broker will have none of the possible
reputational damage that a typical "discount broker" will suffer
.
In return, our customers are expected to be respectful and behave professionally towards our affiliate listing brokers. These traditional brokers have taken personal risk to break ranks with the rest of the brokerage industry to help you save money on your real estate transaction.  They are risking their own reputations to discreetly help you sell your home for less than 6% in commission.
The upside for them is an enhanced reputation from having more listings and the potential for buyer and seller referrals to come from the additional business.  Because you are getting the 'deal of a lifetime' by selling through a traditional broker for 0% instead of 6%, it's important for you to be appreciative and respectful of the tremendous opportunity you have been given.
Using a Flat Fee MLS Listing is a good idea if you're ready, willing and able to do the following:
Effectively show your property and answer questions from interested parties without being overbearing, too aggressive or simply off-putting to buyers and brokers.

Keep a level head while negotiating and juggling multiple inquiries of interest from buyers and buyer agents.

Work through the bureaucracy of your managing agent to secure board approval for your buyer.
Using a Flat Fee MLS Listing is a bad idea if any of the following statements describe you:
You aren't available on most weekends for open houses, and you're rarely available during the day to accommodate private showing requests.

You're not interested in calling back buyers and buyer brokers and following-up with leads on a consistent basis.

You're easily prone to lose your patience while scheduling appointments or become compromised emotionally during negotiations.

You don't have time to learn the intricacies of how the sale process works in NYC.

You simply don't like interacting with buyer agents or any real estate agents.

You're simply not comfortable in a sales role.
Disclosure: Hauseit and its affiliates do not provide tax, legal, financial or accounting advice. This material has been prepared for informational purposes only, and is not intended to provide, and should not be relied on for, tax, legal, financial or accounting advice. You should consult your own tax, legal, financial and accounting advisors before engaging in any transaction. The services marketed on Hauseit.com are provided by licensed real estate brokers and other third party professional service providers. Hauseit LLC is not a licensed real estate broker nor a member of any multiple listing service (MLS).