When the real estate market is hot, the industry always sees an inflow of new agents inspired by a plethora of reality TV shows glamorizing real estate agents selling multi-million dollar properties. And given the price points seen at the most luxurious end of the market in NYC, we're talking about 6% commission on up to $200 million penthouse condos in Manhattan.
Now obviously, no one would enjoy watching shows about agents sitting around, playing with their fingers or trying to cold call FSBO sellers with no success. So just how prevalent are these gigantic paydays? How many real estate agents are there in NYC and how many deals are there to close?

According to the U.S. Bureau of Labor Statistics (BLS) data as of May 2021 for the "New York-Newark-Jersey City, NY-NJ-PA" metropolitan area, the average real estate sales agent makes $86,650 per year, with an average hourly rate of $41.66.
While this is better than the annual mean wage of $81,020 for New York State and $61,480 nationally, it's a far cry from earning $12 million in commission on a $200 million listing in Billionaire's Row!
So what explains the discrepancy between the eye-popping commissions you see on TV and the reality on the ground for the vast majority of real estate agents?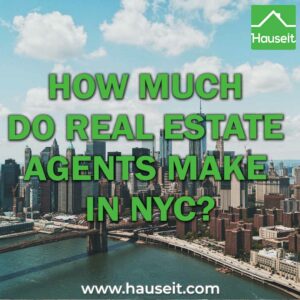 Too many agents chasing too few deals
According to Miller Samuel Inc., there 13,453 closed sales in 3Q 2022 in NYC, and 13,837 in 2Q 2022. That would equate to 54,580 closed sales annually in NYC if we annualize this to include 2 future identical quarters.
Keep in mind this would be a generous estimate consider the strong sales cycle we are coming off of, the fact that sales can take months to actually close, and the current collapse of the housing market.
According to the New York State Department of State (DOS), as of November 30, 2022 there were 82,815 Active Real Estate Salespersons and 18,115 Associate Brokers in New York State. There were also 12,405 Individual Brokers, which often consist of sole proprietors or lawyers who happen to have a broker's license.
For the purposes of this exercise, we won't include the many thousands of other license types such as LLC Brokers or Corporate Brokers given they typically aren't personally responsible for deal execution.
Within the five boroughs of New York City, NY DOS data shows that as of Nov 30, 2022 there were 36,336 actively licensed real estate salespersons and 13,575 actively licensed associate and individual brokers. That means there's a total of 49,911 licensed real estate agents in NYC!
Therefore, with only 54,580 closed sales pear year and 49,911 licensees, NYC real estate agents only close an average of 1.1 sales deals per year!
Pro Tip: Considering we've often said that the average sales price in NYC hovers around $2 million, and assuming agents collect an average of 4.5% in commission between deals where they co-broke and deals where they keep all 6%, one deal nets approximately $90,000 in commission which is roughly in line with the annual mean earnings estimated by the BLS.
Being a real estate agent is a game where you only "eat what you kill," with the prospect of unlimited earnings but also the downside of making nothing if you don't close any deals.
Even though real estate agents can only associate with one brokerage within their state of licensure, meaning they have to practice real estate exclusively with one brokerage firm, they are classified as independent contractors and almost universally paid purely on commission.
In fact, agents will typically have to pay the brokerage a variety of fees such as desk fees, transaction fees, franchise fees and so forth.
This is in addition to the commission split with the brokerage firm, which is typically 50% of the gross commission earned. Commission splits can vary, and are often a closely guarded secret with top agents (i.e. agents with their own rosters of clients, management companies etc.) being able to negotiate commission splits as high as 75% or more to themselves at certain firms.
Pro Tip: Interested in learning how you can keep 100% of your commission with Hauseit or one of our partner brokerages in New York or Florida with no hidden fees? Shoot us an email or sign up for a time to speak with us on Hauseit's careers page.
Real estate commissions are always paid by the seller at closing, based on a pre-negotiated percentage of the contract or sale price. When a seller signs an exclusive listing agreement with a seller's agent, he or she agrees to pay typically 6% in commission to the seller's agent if the property sells.
The seller's agent, also known as the listing agent, then markets the property in the MLS and other 3rd party sites. If a buyer's agent brings a buyer client who ultimately closes on the property, then the buyer's agent is entitled to a split of the commission per local MLS rules, typically 50/50.
At closing, the seller's attorney either wires the commission to the brokerage's bank account or gives a certified check to the agent. The agent will then either give the check to his or her managing broker or deposit it directly into the company's bank account. Either way, state law mandates that all commission payments must be paid to the brokerage.
After the commission check clears, the brokerage will then pay the agent his or her commission split, which is specified in the independent contractor agreement he or she signed when joining the brokerage. As we discussed, this is often 50% of the gross commission, especially for newer agents or those without large books of business.
Pro Tip: So just how much is real estate commission in NY? Remember to account for the fact that agents don't get to keep the entire commission. Net payouts after accounting for the commission split to the brokerage is often just 50%. Then you have to account for taxes, which can be another 50% of the agent's net payout in high tax jurisdictions like New York.

Don't be fooled by the statistics, just because the mean annual income for real estate agents in the NYC metro area is $86,650 per year doesn't mean your typical agent is making even that much money.
It's a well known fact that the typical agent in NYC does zero deals per year, and that the top 10% of agents close 90% of the deals year after year. The pool shrinks even further for brokers focused on the luxury market, defined as listings worth $10 million or more.
As you can imagine, a few brokers closing $20 million dollar deals will boost the average income figures and then some.
This makes a lot of sense, even with many agents simply hanging their licenses at a brokerage for option value, while focusing on other full-time jobs, gigs or businesses.
Remember that it's quite easy for someone to get licensed as a real estate salesperson in New York, you really only need to be a US Citizen or Permanent Resident and at least 18 years of age.
Furthermore, not all brokerages require their agents to practice real estate full-time, not that it would really be enforceable since it's not a 9-to-5, come in to the office type of job.
Pro Tip: Want to learn how
much can a real estate agent make in NYC

if they have vetted buyer and seller referrals to work on? Check out our careers page to learn more about how you can benefit from working with our buyer and seller clients to fill out your book of business.
A Full Service Listing for 1%
Sell your home with a traditional full service listing for just one percent commission.
Disclosure: Hauseit® and its affiliates do not provide tax, legal, financial or accounting advice. This material has been prepared for informational purposes only, and is not intended to provide, and should not be relied on for, tax, legal, financial or accounting advice. No representation, guarantee or warranty of any kind is made regarding the completeness or accuracy of information provided.