Home buyers in Florida typically submit an offer by filling out a standard template contract with the proposed offer terms, signing the contract and sending it to the listing agent along with proof of funds and a pre-approval letter if financing. This is usually handled by a buyer's agent. 
In Florida, the contract used to submit offers is commonly the ["AS IS" Residential Contract for Sale and Purchase] template which is approved by the Florida Realtors and the Florida Bar.
The typical offer terms which are added into the standard contract include the following:
Purchase price

Initial deposit

Additional deposit

Offer acceptance deadline

Closing date

Financing terms

Length of the inspection (cancellation) period

Assignability
The buyer's agent also fills out standard information such as the following:
Legal name(s) of buyer and seller

Property address, legal description, county and property tax ID

Listing agent and buyer agent names and firms
In counties where the buyer pays for title insurance, the buyer will also typically choose the escrow agent and list the agent's information in the contract.
A buyer may also include one or more addenda or write-in additional terms in the contract itself. In the case of a condo, a boilerplate condominium rider is usually added to the contract.
A seller who wishes to accept a buyer's offer simply countersigns the contract and sends it back to the buyer, at which point the property is officially
under contract
. The buyer then makes an initial
earnest money (escrow) deposit
according to the terms outlined in the contract.
A seller who wishes to counteroffer can simply update the contract with the proposed changes and send it back to the buyer to initial.
If the buyer and seller are far apart on terms, the listing agent may simply convey the seller's counter offer terms via email instead of preparing and sending a revised contract to the buyer's agent.
Similarly, a buyer or buyer's agent may opt to submit initial offer terms more informally via email instead of filling out and sending a formal contract to the listing agent. Keep in mind that a seller is more likely to seriously consider an offer submitted via a signed contract since it's inherently more actionable. By extension, verbal offers are rarely taken seriously by sellers.
Florida contracts typically have an inspection period of up to 15 days during which the buyer may cancel for any reason and receive a refund of the contract deposit. The length of this cancellation period is negotiable.
During this time the buyer can conduct a myriad of due diligence such as ordering an inspection, waiting for mold test results and reviewing
condo financial statements
. The buyer may cancel for any reason during this period.
Once the contract is fully executed and the cancellation period has elapsed, a buyer who is financing proceeds to submit the loan application. Lenders typically require an appraisal as well as a survey as part of the underwriting process. The purchaser will also need to secure a
homeowner's insurance policy
at some point prior to closing.
Assuming everything is in order, the closing will take place on or about the date listed in the contract.
What documents do you need to submit an offer on a home in Florida?
You'll need to submit a pre-approval or pre-qualification letter along with your offer terms if you're financing. Keep in mind that some listing agents or sellers may insist on a pre-approval letter since it requires more vetting from the lender compared to a pre-qualification letter.
If you're an all cash buyer, we recommend submitting proof funds along with your offer to show that you have sufficient liquid assets to close. This can be in the form of an online banking screenshot or the first page of a bank or brokerage account statement.
It's also beneficial to submit proof of funds along with your offer even if you're financing, as it demonstrates that you have enough liquidity to make the escrow deposit and the balance of the down payment at closing.
What contingencies should be included when submitting an offer in Florida?
Most offers in Florida include a mortgage contingency as well as an inspection contingency.
A mortgage contingency allows you to cancel the transaction if you're unable to obtain financing within the timeframe outlined in the contract. This assumes that you submitted the mortgage application in a timely manner and made a good faith effort to cooperate with the lender throughout the underwriting process.
The inspection contingency allows you to cancel the transaction within a set period of time after the effective date of the contract. The inspection period in Florida is most commonly 15 days but it's negotiable.
In the example below, the buyer and seller agreed on a property inspection period of just five days: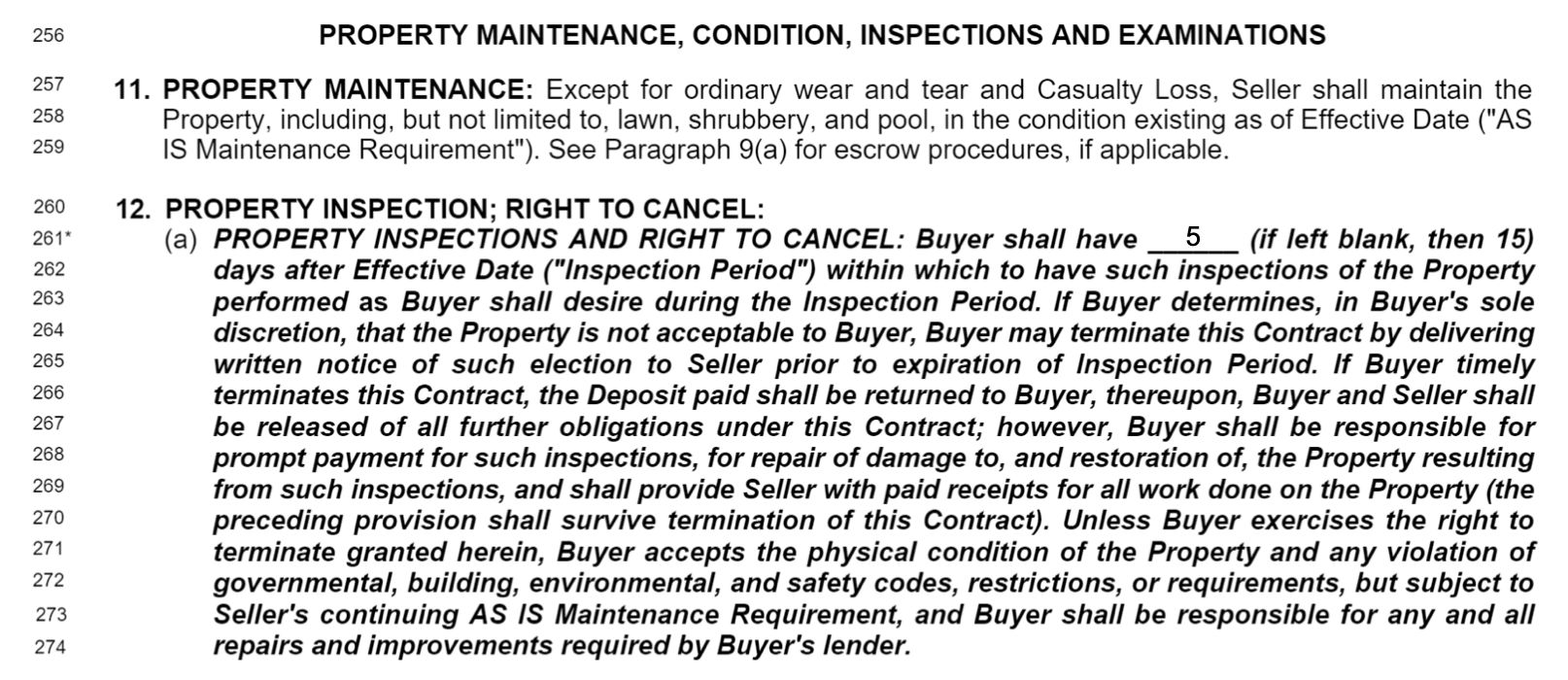 Do I need an attorney when buying a home in Florida?
You are not required by law to hire a real estate attorney when buying a home in Florida. Real estate agents typically handle the contract and most paperwork by utilizing standard templates. This is quite different from states like New York where both buyers and sellers
retain attorneys
who negotiate bespoke contracts.
That being said, an attorney often helps orchestrate the closing for a Florida real estate transaction by serving as the closing agent. Interestingly, the closing agent is often the same as the escrow agent as well as the title insurance company on a transaction.
What is included when a home is sold in Florida?
All fixtures, including built-in appliances, built-in furnishings and attached wall-to-wall carpeting and flooring are typically included when buying a home in Florida unless specifically excluded in the contract. 
This includes range(s)/oven(s), refrigerator(s), dishwasher(s), disposal, ceiling fan(s), light fixture(s), drapery rods and draperies, blinds, window treatments, smoke detector(s), garage door opener(s), thermostat(s), doorbell(s), television wall mount(s) and television mounting hardware, security gate and other access devices, mailbox keys, and storm shutters/storm protection items and hardware ("Personal Property").
Standard inclusions as well as any exclusions are referenced in provisions 1.(c), 1.(d) and 1.(e) of the standard 'AS IS' Residential Contract For Sale and Purchase which is commonly used in Florida: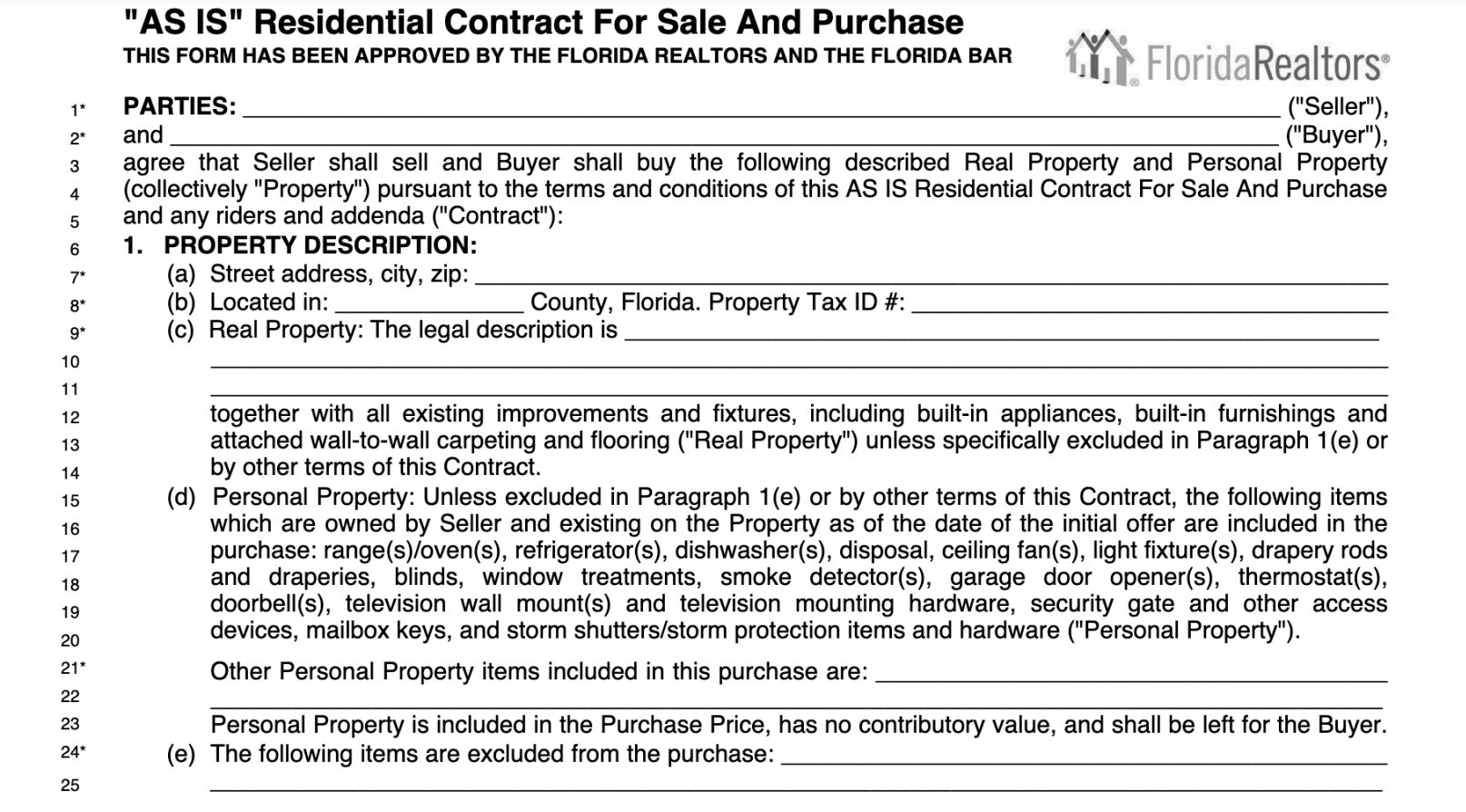 What disclosure requirements exist for home sellers in Florida?
Sellers in Florida are required to disclose all facts materially affecting the value of the property which are not readily observable and are not known to the buyer. 
This obligation has been in effect since the Johnson
vs. Davis
ruling in 1985, where the Florida Supreme Court held that "where the seller of a home knows of facts materially affecting the value of the property which are not readily observable and are not known to the buyer, the seller is under a duty to disclose them to the buyer. This duty is equally applicable to all forms of real property, new and used."
A Full Service Listing for 1%
Sell your home with a traditional full service listing for just one percent commission.
Is a home inspection necessary when buying in Florida?
Getting a home inspection is a good idea when buying in Florida, particularly if you're purchasing a freestanding home. While a seller is required to provide you with a property disclosure form, the seller is only obligated to disclose known facts. 
There are lots of things which a seller might not be aware of. For example, a seller might not know that the sewer line has significant corrosion, blockages and cracking which could result in a failure anytime. A thorough inspection can detect something like this.
Disclosure: Hauseit® and its affiliates do not provide tax, legal, financial or accounting advice. This material has been prepared for informational purposes only, and is not intended to provide, and should not be relied on for, tax, legal, financial or accounting advice. No representation, guarantee or warranty of any kind is made regarding the completeness or accuracy of information provided.