The only way to completely eliminate any and all broker solicitation is to sell via a discounted full service listing with a REBNY Member Firm. This will cost 1% in commission to your listing agent vs. the traditional 6% paid in an exclusive right to sell agreement.
Even in this scenario, it is important to make sure your phone number and email has not been publicly shared with other agents.  Your listing agent will handle all inquiries, showings, communication and open houses with buyers and other agents so you will never be in contact with other agents.
However, assuming you have chosen to sell your home via a Hauseit Assisted FSBO listing in NYC where you manage the showings, the amount of broker solicitation you will receive will still be dramatically reduced.
This is primarily because you will already have an exclusive listing broker who is a Member Firm of REBNY (Real Estate Board of New York).  REBNY has penalties up to $10,000 for violations of its code of conduct, which include the solicitation of the owner client of another Member Firm's exclusive listing.
Excerpt from the REBNY Universal Co-Brokerage Agreement:
Section 3. Solicitation of Exclusive Listings. If an Exclusive Property is subject to an Exclusive Listing then, during the term of the Exclusive Listing, a Participant who is not a party thereto or whose firm is not a party thereto ("Participant B"):
May not solicit the Owner with respect to the Exclusive Property; but

May enter into a separate agreement, such as an Exclusive Listing to lease the Exclusive Property, with the Owner concerning the Exclusive Property where (i) that agreement (the "Second Agreement") covers matters which are not covered by the Exclusive Listing or (ii) Participant B or his or her firm is specifically requested to do so by the Owner. Before entering into the Second Agreement, Participant B should inform the Owner that by entering into the Second Agreement the Owner could be liable for a commission under both the Exclusive Listing and the Second Agreement.
Home owners who have previously listed their home for sale via a traditional for sale by owner process (i.e. listing FSBO on Zillow or StreetEasy) may continue to receive some agent solicitation after they have signed on for an assisted FSBO listing.
This is because they will have given out their contact information to many agents in their previous traditional FSBO sale process.
Very few of the agents continuing to solicit you may truly not be aware that you have re-listed exclusively under a REBNY Member Firm.  Most of the agents doing so are simply dumb and unaware of the penalties for soliciting you.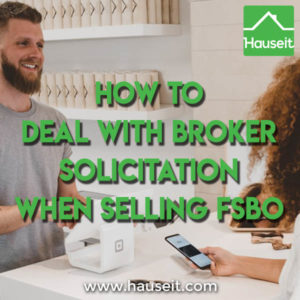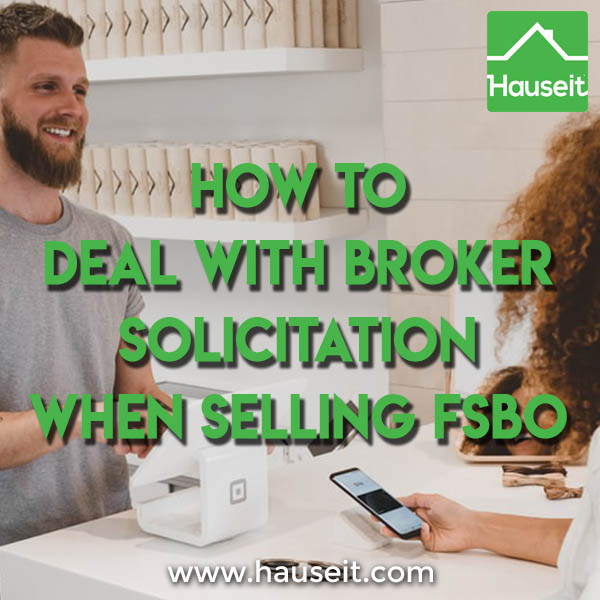 If an agent is stupid enough to solicit you by email, simply reply and copy your exclusive listing broker saying that you do not wish to be solicited and that you already have an exclusive listing broker who is a REBNY Member Firm.
If an agent tries to harass you by phone or in person, the only thing you can do besides turning them down swiftly is to record the conversation so our affiliate broker can report them.  You can also report the offending agent to REBNY directly.
How to prevent in person solicitation by agents
In a Hauseit Assisted FSBO sale process, your listing agent will attempt to initially screen any buyer agent inquiries on your behalf to make sure they are legitimate.  Your listing agent will have a record of any known "trolls," or agents who do not have real buyers but rather focus on getting an opportunity to solicit you in person.
Additionally, you can decrease the chance of solicitation by requesting all private showing requests to first show a pre-approval or pre-qualification letter.
You can also decline any requests by agents to "preview" an apartment for their clients.  Should an agent show up for a private viewing without the buyer they were supposed to bring, you can be pretty certain that the agent will be using this as an opportunity to solicit you.
You can tell them politely that you are very busy and only have time to show if there was a real buyer.  Alternatively, you can start recording on your smartphone and let them in.
What to do if you are solicited by an agent in person
This may happen if you're elected to manage your own open house and you're being solicited by a walk-in agent without a buyer or the above scenario where an agent shows up without a buyer to your private viewing.
Just remember that if you break down and sign up with them the ONLY thing they will do differently is to take professional photographs (if you have not already chosen to do so) and reduce your listing price to something more realistic.
The other major difference of course is that you will be forced to pay 5-6% in commissions and sign an extremely unfavorable exclusive right to sell listing agreement.
In such an agreement, you will typically be forced to pay the commission if a "ready, willing and able" buyer is found at your listing price but you decide to back out.
The most important factor in succeeding in your home sale
You need to understand the facts and maintain confidence.  These two factors will determine whether you are able to save 6% in broker commissions or whether you will break down and let an "expert" handle your sale for a third of your home equity.
Fact: You have full exposure to all home buyers
There are approximately 5,000 closed deals in NYC every year and 90% of them are done agent to agent.  99% of all inquiries will come from RLS (and all the RLS Vendors, or portals, like OLR, Nestio, RealPlus and RealtyMX which agents use to access RLS data), StreetEasy, Zillow and Trulia.  Your home will be listed on over a dozen major consumer real estate search websites but almost all of the inquiry in NYC will be captured by RLS (i.e. buyers' agents) or StreetEasy.
Dishonest agents may attempt to break your confidence by saying your listing is not in RLS (REBNY Listing Service) which is the NYC equivalent of the MLS inter-brokerage database.  You can simply respond to this disgusting lie by saying that your exclusive listing broker is a REBNY Member Firm and they are required to co-broke all listings in RLS.
This is an example of a home owner who was unfortunately misled and lost their confidence.  As you can see the home owner still does not realize that there is no MLS in NYC, and that the inter-broker database is the RLS which they are listed correctly on.  Logically, our affiliate brokers have no reason to incorrectly list the commission to buyers' agents because doing so will make the affiliate broker responsible for the difference.  Considering that our affiliate broker is being paid a small flat fee, there is zero reason or upside for them to incorrectly offer more commission than the home owner has agreed to.
Moreover, the pedigree of our affiliate brokers is dramatically superior to that of the agents soliciting you.  All of our affiliate brokers have professional backgrounds in fields such as finance, law, accounting or consulting which require much more attention to detail than most agents soliciting you will possess.
Lastly, you can always request our affiliate listing broker to send you a screenshot of your listing and the commission offered in RLS as proof.  Furthermore, the fact that you are getting agent inquiries from different RLS vendors such as OLR and RealPlus means that your listing has indeed syndicated from RLS to the various RLS vendors.
This piece of feedback from a home owner who lost confidence and gave up does not even make sense.  Just remember that there are over 30,000 hungry real estate agents in Manhattan alone, many without any formal higher education, who will say and do anything to try to get a listing.
Fact: Most NYC real estate agents are not home owners
You are a property owner in the most expensive and desirable city in the world.  You've come this far which means you're not about to be outsmarted by an agent who doesn't own property or have clients and spent 75 hours on an online pre-licensing course to get a license that 50,000 other people also have in NYC (i.e. there are 50,000 licensed real estate agents in NYC and 30,000 in Manhattan).
The agents who will solicit you are the "bottom of the barrel," or "the worst of the worst" among the 50,000 licensed real estate agents in NYC. Do you think real agents on Million Dollar Listing are spending their days trying to solicit FSBO owners or the clients of other brokerages?
The agents who you will receive harassment from are the most dishonest, slimiest and most incompetent segment of the agent population.  If you elect to host your own open house, you may want to have a physically intimidating male friend present to escort out any agents who "set up shop" and refuse to leave.
We have heard horror stories of agents who have insisted on staying and soliciting the owner or other unrepresented buyers who show up for hours against the wishes of the owner. In the rare instance that happens, not only should you call the police but you should immediately report this to the press and the offending agent's brokerage.
How do you turn down agents who solicit you when selling your home FSBO?
The easiest way to stop harassment is to remind the offending agent that solicitation of another REBNY Member Firm's exclusive is strictly prohibited and punishable by fines up to $10,000.
This is a sample email exchange between a Hauseit Assisted FSBO customer who had previously tried to sell his apartment via a traditional FSBO.
Hi, Happy 4th.  What's the status of your sale?  Ricky
Happy 4th. Still available Jon. Thx, Teddy
Doesn't look very attractive on the market six weeks in the summer market. Let me sell it for you.  Can we meet next weekend?  Ricky
No, thx
Why not?
You weren't even capable of bringing me a single potential buyer so you go in the list of dozens of brokers who reached out to me solely to try to get the listing. Good luck.
PS: I believe, before randomly soliciting me on a holiday, if you had simply refreshed the listing you'd see it is listed with a broker right now. As such, you trying to solicit the listing from me, the owner, client of another REBNY member firm's exclusive listing is not allowed as per REBNY, excerpt for your reference below:
"Section 3. Solicitation of Exclusive Listings. If an Exclusive Property is subject to an Exclusive Listing then, during the term of the Exclusive Listing, a Participant who is not a party thereto or whose firm is not a party thereto ("Participant B"):
1.     May not solicit the Owner with respect to the Exclusive Property
Well it's been on my page for months now.  Perhaps you could have advised me that you listed your property as an exclusive so I could have removed it from my page.
A Full Service Listing for 1%
Sell your home with a traditional full service listing for just one percent commission.
The first edition of this article was originally published on 5/17/2016.
Disclosure: Hauseit® and its affiliates do not provide tax, legal, financial or accounting advice. This material has been prepared for informational purposes only, and is not intended to provide, and should not be relied on for, tax, legal, financial or accounting advice. No representation, guarantee or warranty of any kind is made regarding the completeness or accuracy of information provided.