Reviewing condo and coop board meeting minutes is a critical step of the due diligence process.
We'll explain everything you need to know about board meeting minutes from where to find them to how far back they go in this article.
The board meeting minutes are critically important to review before purchasing a co op or condo apartment in NYC. The board meeting minutes will share real time information on pertinent financial matters in the building which can result in common charge or maintenance fee increases.
A condo or co op's board meeting minutes will shed light on any issues between unit owners and any current or anticipated litigation.
The board meeting minutes may also shed light on any complaints from unit owners about pest or vermin issues such as bedbugs, rats and cockroaches.
For example, a co op's board meeting minutes may record a conversation about ten units within the building having just been treated for a bed bug infestation.
A co op or condo's board meeting minutes may also shed light on any prospective capital expenditures which may cause a special assessment to be levied in the future.
This can be incredibly impactful if major façade repairs are being contemplated by the board, perhaps because of having just failed a Local Law 11 inspection. This is no joking matter as there have been cases in New York City where a major building has had to pay up to $50 million for a complete renovation of its façade after failing a Local Law 11 inspection.
Our Discretion, Your Advantage
Our traditional partner brokers never openly discount which means less disruption and better execution for you.
A co op or condo's board meeting minutes can typically only be reviewed in person at the managing agent's office. Your real estate attorney will have to make an appointment with the building management company to do so.
Just because your attorney is responsible for due diligence on your behalf doesn't mean you shouldn't also review the board meeting minutes yourself.
Read Them Yourself
In fact, you should make every effort to go with your lawyer when he or she goes to review the board meeting minutes.
That's because only you can determine whether your potential, future neighbors on the condo or co op board sound reasonable or not.
Save 2% On Your Home Purchase
Save thousands on your home purchase with a buyer agent commission rebate from Hauseit
Board meeting minutes will go back towards the very beginning of a condo or co op's existence.
Board meeting minutes typically start being recorded after owners take over the board from the sponsor, at the first official condo or coop board meeting when a board of directors is elected.
Most real estate attorneys will only review the last two years of board meeting minutes.
Anything further back than that will not be relevant, and the attorney will not have time to review much more than that anyway.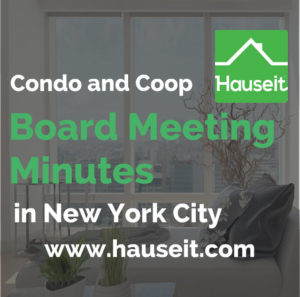 This is a purely hypothetical example of what a condo or coop's board meeting minutes may look like. Obviously, not all condos or coops will be going through these many issues, but it illustrates why you should pay attention to this critical piece of the due diligence process!
Date: June 6th, 2018
Location: 555 Fifth Avenue, Apartment 3A, New York, NY 11395
Board Members in Attendance: Mark Brown, Todd Hammond, Lucy Liu, Joseph Dodd, Lauren Fox
Managing Agent Representative in Attendance: Dorian Gray
Local Law 11 – Just received notice that we have failed our Local Law 11 inspection. The front façade has crumbling masonry on the 8th and 9th floors. We have been rated unsafe and need to remedy the situation immediately. First step to install sidewalk shed to protect the sidewalk in front of the building from any potential debris. Suggest contacting the same vendor that the building used next door as they already have a sidewalk shed in place that partially extends over our frontage.
Water leak on 4th floor – Received email complaint last night from unit 3B about a potential water leak from unit 4B above. Unit 4B has had a recent water leak from their washer and dryer and has already replaced their bathroom floor. Building superintendent to investigate.
Ongoing litigation – The absentee unit owner in 1A is still avoiding court and not paying common charges. She refuses to grant us access even though the unit is empty and dilapidated. Is building liable for any unsafe conditions that result from her unit? Lucy to research and find out.
Common charges – Vote to keep common charges the same and levy a special assessment instead for the upcoming Local Law 11 work. Will need estimate first on cost before deciding on assessment. Todd says that raising common charges is like raising taxes, they always go up but never go down. That's why it's better to do a one off special assessment instead. Rest of board agrees with sentiment.
Painting of hallways – Work will commence next Tuesday. Building superintendent to coordinate access with various unit owners as we also want to paint the interior edge of everyone's doors. Will be a nice facelift given scratches on some of the hallway walls.
Increase in Managing Agent fee – Dorian asks for raise given that there hasn't been one in over two years. Motion was put on hold by Board President Mark. Mark suggested that we bring this up at another meeting so this already long meeting can be adjourned.
51st Street Tenants Corporation Board Meeting
Wednesday April 15, 2020
Co-op Board Meeting Minutes
Attendees
Board: Jesse James, Will Robbins, Bill Riley (by phone), George Clooney, Will Smith
Approval of Minutes of 4/16/20
Elevator Update:
CAT 1 & CAT 5 inspections due this year
Brake inspection was in fact done in 2019 but paperwork was not displayed, TEI to correct
Motion approved for George to create RFP for CAT 1, CAT 5 and DLM
i.cost of above approx. $25k
ii. RFP will also include new maintenance contract
Apartment updates:
5B still refusing to pay Systems Plumbing for work done on radiators
Bathroom drain issue between 2C & 2D resolved independently between owners
7C renovation completed
1B decision not to go ahead with split A/C system
4A for sale
9AB new moisture showing in NE corner of apartment; John Cook to reinspect
9D bedroom ceiling issue still not resolved
Belfast Change orders
Not approved; board requesting $900 credit for water test and $1500 credit for work done in 9D
53rd Street Tenants Corporation Board Meeting
Wednesday May 20, 2020
Co-op Board Meeting Minutes
Attendees
Board: James Riley, Will Smith, Arnold Armstrong (& Baby George), Kobe Bryant, George Clooney, Bob Hope (by phone)
Motion to appoint Donald Trump to the board for the rest of the term year (unanimously approved)
Motion to approve Minutes of 4/20/20 (unanimous)
Review of Financials:
Late fee for Apt 3D; Motion to impose the fee and then waive it at shareholders request  (approved 5-1)
Late fee to be imposed for 9AB as of May 31 in response to shareholder's refusal to pay monthly maintenance
Motion to approve outstanding payables in the amount of $18k approved (unanimous)
Elevator Update:
Riley RFP finalized
Agreement to go ahead with CAT1, performed by Elevator Systems Inc.
Apartment updates:
5B Carmen to inform shareholder that steam-pipe issue must be fixed
Motion to authorize managing agent to take legal action if necessary to force shareholder to allow repairs (approved 4-2)
1B sublet agreement – shareholder to find appropriate form for subtenant
9D ceiling / PHB terrace leak still not resolved
Miscellaneous:
Local Law 11 filing approved 3/21/20
Annual meeting prep
Tree guards/outside plantings:
Steve to check on possibility of NYC providing guards; Sara to follow up
George to look into possibility of corporate sponsorships
31st Street Tenants Corporation Board Meeting
Wednesday May 31, 2020
Coop Board Meeting Minutes
Attendees
Board: George Clooney, Will Smith, Denzel Washington, Arnold Armstrong (by phone), Neil Armstrong
Meeting began with interview of 4A prospective buyers Daniel and Sara Stevens; buyers were unanimously approved by all present.
Motion to approve Minutes of 4/31/20 (unanimous)
Elevator Update:
All proposals are in
Sam and Mike to talk to Elevator Systems Inc. after reviewing all quotes
Apartment Updates:
9A/B
New repair proposal received but shareholder is requesting to see full insurance binder of contractor before allowing work to be done
Plumbing Systems Inc. objecting to taking responsibility for damage from work they did
George and Sara to discuss with John Moss to pursue
9D ceiling/PHB terrace leak still not resolved
John Moss to re-examine ceiling on June 20
If no action then another engineer will be brought in; managing agent to suggest an alternative
5B
Still refusing to pay Plumbing Systems Inc. bill
Daniel to try one more time to gain access to apartment
Miscellaneous:
Late payment notices/penalties to be sent to all shareholders in arrears
Annual meeting prep
A Full Service Listing for 1%
Sell your home with a traditional full service listing for just one percent commission.
Disclosure: Hauseit® and its affiliates do not provide tax, legal, financial or accounting advice. This material has been prepared for informational purposes only, and is not intended to provide, and should not be relied on for, tax, legal, financial or accounting advice. No representation, guarantee or warranty of any kind is made regarding the completeness or accuracy of information provided.