The legality of grills for apartment buildings in NYC depends on the fuel source (propane, electric, charcoal or gas), the grill's location (balcony, terrace, roof deck, courtyard or backyard) as well as the building type (multiple dwelling or 1-2 family property).
In all cases, barbecues must be at least 10 feet away from any material that may burn, and a portable fire extinguisher or garden hose must be available for use.
Barbecue grills in NYC are regulated under the New York City Fuel Gas Code §623 as well as the New York City Fire Code §307.5.
We'll demystify the rules for gas, propane, electric and charcoal barbecues in NYC in this article.
Please keep in mind that condo, co-op and rental buildings may elect to have stricter rules regarding barbecue usage compared to what is mandated by the NYC Fuel Gas & NYC Fire Code. For example, some building insurance carriers prohibit the use of grills.
When in doubt, please refer to your condo or co-op's house rules, bylaws, or ask the building's managing agent. If you live in a rental building, be sure to review your lease and check with the landlord directly.
Table of Contents:
Standard 20-pound liquefied petroleum gas (LPG) containers may not be used or stored on balconies, roof decks, roofs, yards or courtyards of apartment buildings or or other residential buildings that qualify as a multiple dwelling (three or more residential units) in NYC.
The good news is that you are allowed to use a propane tank smaller than 16.4 ounces for a short period of time on a roof. However, you are not allowed to store the propane canister on the roof itself for any period of time.
The NYC Fire Code is slightly less strict on the use of propane barbecues when it comes to one- or two-family homes. You are allowed to use a propane barbecue grill with no more than two 20-pound LPG propane tanks.
Yes. Electric grills may be installed, stored and utilized on balconies, terraces, roofs and yards in NYC. It's important to ensure that the power outlet has sufficient current to power the grill. Similarly, make sure that any extension cord being used can handle the electrical load of the grill.
You must also situate the grill at least 10 feet from anything which is flammable and could catch fire.
Our Discretion, Your Advantage
Our traditional partner brokers never openly discount which means less disruption and better execution for you.
The use of a charcoal barbecue in NYC is legal on a terrace or in a backyard, provided there is a 10-foot clearance between the building and the grill. Charcoal grills may not be used on balconies or roofs in New York City.
If you use a charcoal barbecue on a terrace or in a backyard, you must also have immediate access to a hose or fire extinguisher as per the NYC Fire Code §307.5.1.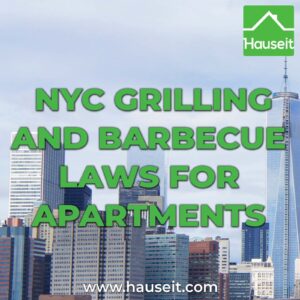 You might be wondering: what's the difference between a terrace and a balcony? A balcony is affixed to and protrudes out from the facade of a structure. In other words, balconies stick out horizontally from the structure itself.
A terrace, on the other hand, rests above some part of the building itself. A terrace can be at the very top of the building in the form of a roof deck, or perhaps it can be on a lower floor (which means it's on top of a building's setback).
A Full Service Listing for 1% Sell your home with a traditional full service listing for just one percent commission.
A natural gas grill is permitted in NYC provided that it is installed by a New York City Licensed Master Plumber (LMP) in accordance with the NYC Fuel Gas Code. All gas piping must be inspected and tested according to the code. Please note that the use of a commercial grill is not permitted in a residence as per the NYC Fuel Gas Code §623.2.
No. The use of a charcoal, electric, or piped natural gas or propane barbecue on any sidewalk or street is illegal in NYC.
Our Discretion, Your Advantage
Our traditional partner brokers never openly discount which means less disruption and better execution for you.