NYC smoking laws for apartments are quite strict. The Smoke-Free Air Act of 2002 prohibited smoking or e-cigarette use in indoor common areas, while Local Law 147 which went into effect in 2018 required buildings to create, share and post a smoking policy for the building.
None of these regulations prohibit smoking in the privacy of one's own apartment, but Local Law 147 leaves it to the building to decide the smoking policy for the building, which may restrict smoking partially or entirely, including in one's own apartment.
Local Law 147 requires residential buildings with three or more residential units to have a written building policy on smoking and to share such rules with current and prospective tenants and buyers.
It's important to note that Local Law 147 does not require buildings to restrict smoking entirely (i.e. prohibiting smoking within an apartment), but rather only to produce a written, public policy on the building's rules around smoking.
Often times, a building's smoking policy will be included as an additional page at the end of the condo or co-op building's house rules.
Buildings will be required under Local Law 147 to specify exactly where smoking will and won't be tolerated, including all outdoor and indoor locations. Note that The Smoke-Free Air Act of 2002 already bans smoking in common indoor areas.
We'll discuss The Smoke-Free Air Act and how it affects condo, co-op and multi-family buildings in more detail in the following section.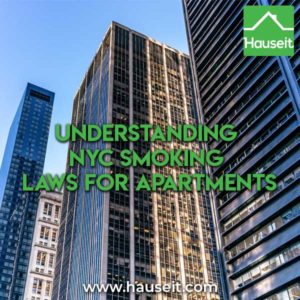 Local Law 147 was passed to protect New Yorkers from the dangers of second hand smoke, as smoke can easily travel between apartments and to common spaces. This may present a hazard to older people, infants and others with compromised immune systems.
Local Law 147 was passed in August of 2017 and went into effect on August 28, 2018. You can read the full text of the law here and make sure to check out the official summary pamphlet produced by the NYC Department of Health.
A Full Service Listing for 1%
Sell your home with a traditional full service listing for just one percent commission.
How does the Smoke-Free Air Act effect buildings?
The Smoke-Free Air Act of 2002 has long prohibited smoking or the use of e-cigarettes in the indoor common areas of residential buildings with three or more residential units.
Common indoor areas include places such as:
Hallways

Lobbies

Storage rooms

Stairwells

Elevators

Laundry Rooms

Gyms
Residential buildings are also required to post no smoking or e-cigarette use signs in all common areas of the building.
It's important to note that this law enacted in 2002 does not prohibit smoking within an apartment or other private residence, except in areas where child day care centers or health facilities "operate and are open or employees are working."
You can learn more about the NYC Smoke-Free Air Act and other NYC smoking laws for apartments on the website of NYC Smoke-Free, a program by Public Health Solutions.
Condo and co-op boards should relax
No, NYC apartment smoking laws are strict enough already that it's overkill to prohibit smoking entirely, i.e. within the confines of someone's apartment.
Despite the health benefits of having no second-hand smoke to ever worry about, having such a draconian policy will likely give prospective buyers and tenants the impression that your condo or co-op board is extremely rigid, inflexible or domineering in nature.
This is especially the case for individually owned condo or co-op apartments, where the apartment owner should theoretically have some freedom on what he or she chooses to do in the apartment.
What about multi-family rental building owners?
The same logic might not apply if you're the owner of an entire residential building that you're renting out. In this situation, you may find it harder rent out apartments where tenants have smoked, which directly adversely affects your returns by increasing your vacancy rate.
Don't forget that it can be quite expensive in NYC to rehabilitate apartments and remove the persistent odor of tobacco smoke.
All of these are considerations for a potential landlord of a rental building to consider. Since all the apartments in the building are your property, then it should be up to you to decide what folks can do to your property, and that includes staining the apartment with tobacco smoke.
It's a slightly different story with condo or co-ops where there are individual owners, and theoretically the individual unit owners will bear the cost of any rehabilitation or vacancy as a result of cigarette smoke.
Our Discretion, Your Advantage
Our traditional partner brokers never openly discount which means less disruption and better execution for you.
NYC smoking policy sample
Smoking Policy for a Co-op Building in NYC
Smoking and using e-cigarettes of any kind is not permitted in any of the common areas of the Building or within 25 feet the Building's entrance. Pursuant to New York City Code § 17-505, smoking is prohibited in any of the Common Areas, including, but not limited to the lobby, roof, hallways, laundry rooms, stairways, elevators, courtyards, rear life line yard and basement.
Shareholders and all other building residents, including their visitors and guests, shall only be permitted to smoke within an apartment if the shareholder takes all necessary measures to prevent smoke and odors from emanating from the apartment, including, but not limited to, installation and use of an air filtration system of a capacity satisfactory for the apartment, sealing of duct work, electrical outlets and switches and the closing of all gaps within the apartment capable of allowing smoke to emanate from the apartment.
The Board of Directors, in its sole discretion, shall from time-to-time determine the adequacy of such measures. In the event of secondhand smoke emanating from one apartment to another or the common areas, the shareholder of the apartment that is the source of the secondhand smoke will be liable for remediation costs to seal both apartments as well as the professional fees to cover the costs incurred to seal both apartments. For purposes of these House Rules, the definition of "smoking" includes the use of cigarettes, cigars, pipes, hookahs, electronic cigarettes and other smoke or vapor causing devices.
If a shareholder receives a notice of violation of this Smoking Policy and fails to comply or have the residents in his or her apartment comply with any requested remedial measures set forth herein within thirty (30) days of receipt of the notice, the shareholder of the offending apartment will be fined $250. If the offending shareholder or resident continues to violate this Policy after the imposition of the $250 fine set forth herein, additional fines of $250 will be assessed against the owner of the offending apartment thirty (30) days later or on the first day of the next calendar month, whichever comes later, and such $250 fines will continue to be assessed on the first day of each calendar month thereafter until the smoking issue is reasonably resolved based on an assessment by Building Management and the Board of Directors.
INSPECTIONS: On reasonable notice, the Board may inspect or instruct the Management to inspect any apartment for compliance with these rules, or for any other reason, including the maintenance and operations of the building or the health and safety of its residents.
ENFORCEMENT: Any resident found by the Board to have violated these rules (or found by the Board to have had a visitor that violated these rules) is financially responsible to the BUILDING for any damages resulting from the violation. The Board may also impose such other sanctions for a violation of these rules as it finds reasonable and fair.
Save 2% On Your Home Purchase
Save thousands on your home purchase with a buyer agent commission rebate from Hauseit
Disclosure: Hauseit® and its affiliates do not provide tax, legal, financial or accounting advice. This material has been prepared for informational purposes only, and is not intended to provide, and should not be relied on for, tax, legal, financial or accounting advice. No representation, guarantee or warranty of any kind is made regarding the completeness or accuracy of information provided.