A rent roll in NYC real estate is a summary of a property's rental income streams. The purpose of a rent roll is to help a prospective buyer calculate various real estate valuation metrics, such as the Net Operating Income (NOI) and Cap Rate.
In addition to itemizing the actual monthly rental rates, rent rolls may also show the lease expiration date for each unit, projected monthly rents, estimated annual expenses, actual and projected gross annual and net operating income, as well as the actual and/or projected cap rates.
Rent rolls are only provided for multifamily properties which have more than one unit. If you're buying an occupied single-family home or apartment as an investment, there's no need for a rent roll. The listing agent will simply tell you what the current rent is and when the lease expires.
A rent roll is an overview of a rental property's income streams. If a property has 5 units, the rent roll will show the monthly rent for each unit, lease type (term or month-to-month) and the lease maturity date.
If the current rent(s) are below market value, a listing agent may also include projected rent on the rent roll in addition to the actual and projected Net Operating Income and Cap Rates.
You'll typically come across rent rolls if you're buying a three or more family home. For properties with just one or two units, there's usually no need for sellers and listing agents to prepare a rent roll since there's not a lot of information which needs to be organized.
Our Discretion, Your Advantage
Our traditional partner brokers never openly discount which means less disruption and better execution for you.
Here is an example of a rent roll for a 5 family multi-family brownstone in Park Slope, Brooklyn: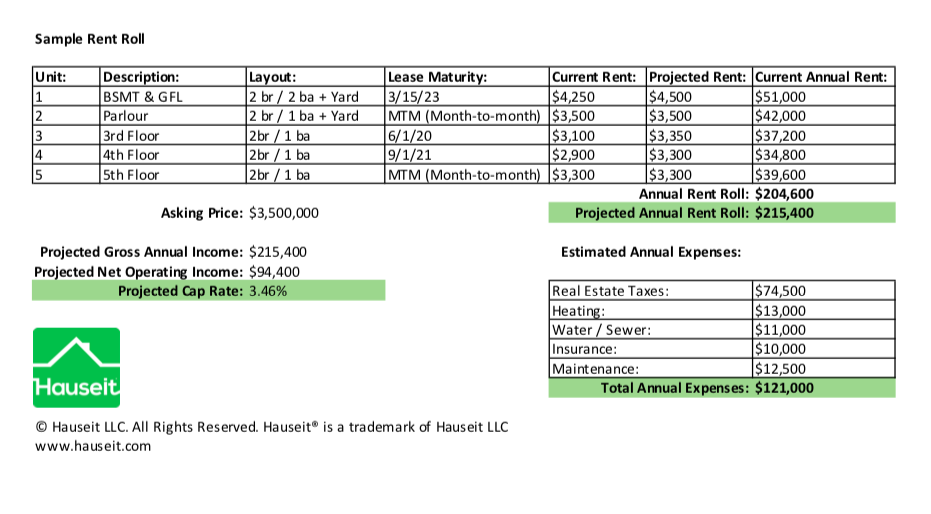 The cap rate in this example of 3.46% is fairly standard for New York City, which has some of the lowest cap rates in the country. The low cap rates are a function of the perceived stability and safety of real estate in New York City.
If you think of cap rates as a risk premium, it makes sense why they are lower in NYC compared to less prosperous cities which have smaller economies, lower rents and higher vacancy rates.
A higher cap rate in NYC is generally an indication that the property has a higher risk-adjusted opportunity for greater returns in the future, possibly by raising rents or modernizing the property over time.
Save 2% On Your Home Purchase
Our partner brokers are some of the most experienced and reputable in the industry.
'Multiple of the Rent Roll' is a simple metric used by investors when comparing the relative value of real estate investments. If the rent roll is $100k and the asking price is $1 million, the Multiple of the Rent Roll is 10x. Similarly, if the asking price is $800k, the Multiple of the Rent Roll is 8x.
A multifamily investment with a lower Multiple of Rent Roll means it's more expensive on a relative value basis compared to other properties with a higher multiple. The multiples are typically lower for more stable and lower risk investment opportunities.
For example, the Multiple of Rent Roll will be lower for a fully updated brownstone in Gramercy with 3 market-rate tenants compared to a brownstone in Bed-Stuy in need of renovation with below-market rate tenants.
Net Operating Income is calculated by deducting operating expenses from the rent roll. If the rent roll is $275,000 and operating expenses are $125,000, the Net Operating Income is $150,000.
Operating expenses typically include real estate taxes, heating, water and sewer, insurance and some provision for ongoing maintenance.
Net Operating Income on its own is a relatively unhelpful figure when comparing investment opportunities, as it does not factor in the cost of the real estate asset. Therefore, Net Operating Income is usually divided by the purchase price the calculate the Cap Rate of a real estate investment opportunity.
Analyzing cap rates is a much more useful way to compare the relative value of two or more real estate investments.
A Full Service Listing for 1%
Sell your home with a traditional full service listing for just one percent commission.
The Cap Rate is a simple measure of the yield of a real estate investment. Cap Rate is calculated by dividing the Net Operating Income (NOI) of an investment by the purchase price. Analyzing Cap Rates is a straightforward way to perform a simple relative value analysis between real estate investment opportunities.
Here's an example of how to calculate the Cap Rate of a real estate asset:
It's important to note that the Cap Rate does not factor in the financing structure of an investment. This allows real estate investment opportunities to be compared by buyers who may be using different financing strategies.
Disclosure: Hauseit and its affiliates do not provide tax, legal, financial or accounting advice. This material has been prepared for informational purposes only, and is not intended to provide, and should not be relied on for, tax, legal, financial or accounting advice. You should consult your own tax, legal, financial and accounting advisors before engaging in any transaction. The services marketed on Hauseit.com are provided by licensed real estate brokers and other third party professional service providers. Hauseit LLC is not a licensed real estate broker nor a member of any multiple listing service (MLS).