The New York Department of State (DOS) issued a memo on 1/31/20 which, if upheld by courts, effectively bans traditional rental broker fees in NYC by prohibiting landlords' agents from collecting commissions from tenants.
Following a lawsuit initiated by REBNY on 2/10/20, there is currently a Temporary Restraining Order in place which, for the time being, has removed the prohibition against landlord's agents collecting commissions from tenants. Therefore, landlords' agents may continue to collect commissions from tenants until further notice. REBNY and the Department of State return to court on June 12th, 2020.
The memo issued by the Department of State is intended as guidance for how to interpret the Housing Stability and Tenant Protection Act of 2019. This sweeping set of regulations resulted in a number of changes to the rental market in NYC, including a limitation on security deposits, caps on application fees and other changes to market-rate, rent-stabilized and rent-controlled apartments.
If the regulatory guidance is upheld by the courts, rental brokers would still be entitled to collect commissions directly from landlords. Moreover, a broker who is hired by a tenant as a tenant's agent to help with an apartment search may still be paid a broker fee by the tenant or a landlord.
The regulatory memo issued on 1/31/20 by the New York Department of State makes it explicitly clear that a landlord's agent may not collect a broker fee from a prospective tenant.
According to the New York Department of State:
Our Discretion, Your Advantage
Our traditional partner brokers never openly discount which means less disruption and better execution for you.
No. While most renters won't feel sorry if rental brokers disappear completely, the reality is that real estate agents aren't going anywhere anytime soon. The broker fee itself will simply be paid by landlords in most instances, and it's likely that more tenants will work directly with landlords and cut out brokers in some cases.
Moreover, landlords in NYC will most likely raise rents over the long term to recoup the additional cost of the broker fees they'll now have to pay directly.
Rental brokers aren't disappearing because many landlords in the city simply don't want to deal directly with tenants.
While many tenants think that rental brokers simply 'open the door' and collect a broker fee, the truth is that some landlords are not willing to get involved in any capacity in the day-to-day management of showing apartments to prospective tenants. And for small, out-of-town landlords, having a rental broker to provide access will always be a necessity.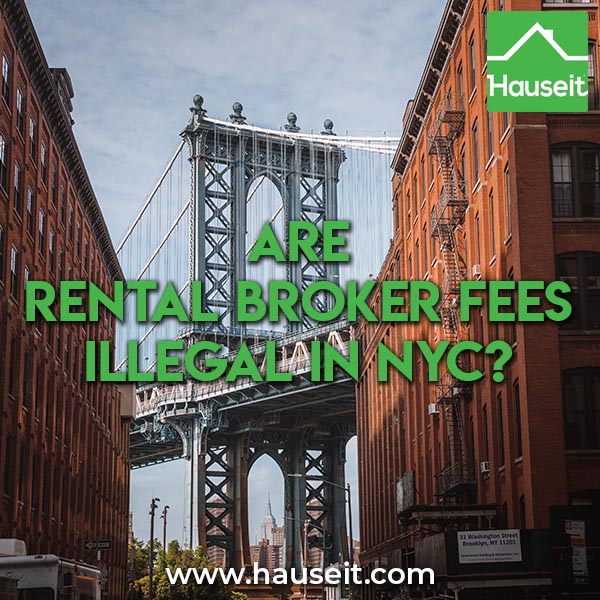 The long-term implication of the recent rental broker fee ban in NYC will be a reduction in new real estate agents looking to enter the rental industry over the next few years. In addition, new real estate agents may attempt to start their careers directly in sales versus initially focusing on rentals, which has always been the customary starting point for new brokers in NYC.
Does Recent Rental Broker Fee Regulation Affect NYC Sale Commissions?
The recent regulation on rental broker fees in NYC does not directly impact or restrict the ability of sale brokers to continue charging 5% to 6% in commission on resales. That being said, we do believe that the recent rental broker fee  regulation will have indirect effects on broker commissions for resales in NYC which may reduce headline commission rates over the long-term.
Perhaps the most direct long-term impact of prohibition on rental broker fees in NYC will be a reduction in the number of real estate agents who operate in the rental space. While many of these agents will leave the industry completely or transition more to being part-time agents, some amount of rental brokers will invariably attempt to find more traditional buyer and seller clients.
An increasing supply of agents working on resales may force down commission rates over time.
As consumers become accustomed to not having to pay rental broker fees over time, they'll likely become more resistant to forking out a 5% or 6% commission when it comes time to sell. This could create more demand for reduced-commission methods for selling in NYC, including Assisted FSBO and 1% Full Service.
Will Rental Broker Fee Regulation Contribute to Rising Rents in NYC?
Yes. It's highly likely that landlords will raise rents over time to help cushion them against the extra costs associated with paying broker fees on behalf of tenants. Moreover, it's possible that the supply of apartments for rent may decrease over the long-term due to the recent spike in tenant-friendly regulations, such as caps on security deposits and further hurdles for eviction and non-payment proceedings, as these reforms make it costlier and more risky to rent out properties in NYC.
Individual owners who are debating between renting out their property for a few years or selling may simply opt to sell immediately in part due to recent rental broker fee regulation and other reforms which are harmful to landlords. This will reduce the supply of homes for rent and ultimately contribute further to rising rents.
Can I Still Hire a Broker to Help Me with My NYC Apartment Search?
Yes. You're still allowed to hire a dedicated real estate agent to help you with your apartment rental search in NYC. There is no restriction under the new regulatory guidance against a tenant hiring a 'tenant's agent' and paying that individual a broker fee.
While most New Yorkers are accustomed to searching for rentals on their own, it can be valuable to hire a dedicated tenant's agent if you're moving to NYC or if you're simply too busy with your career or other projects to manage the apartment rental search on your own.
Many large rental buildings in NYC are open to paying a one-month broker fee to a tenant's agent, so you might not even have to pay a broker fee directly if you choose to work with a dedicated tenant's agent during your search.
A Full Service Listing for 1%
Sell your home with a traditional full service listing for just one percent commission.
Posted: 2/17/20 | Last Updated: March 15th, 2020
Disclosure: Hauseit® and its affiliates do not provide tax, legal, financial or accounting advice. This material has been prepared for informational purposes only, and is not intended to provide, and should not be relied on for, tax, legal, financial or accounting advice. No representation, guarantee or warranty of any kind is made regarding the completeness or accuracy of information provided. Hauseit LLC is a Licensed Real Estate Broker, licensed to do business in New York under license number 10991232340. Principal Office: 148 Lafayette Street, New York, NY 10013.