Selling For Sale By Owner, or FSBO, may seem easy in a hot seller's market like we're seeing in Miami today. After all, when there's a shortage of housing inventory and a lag in new construction, homes seem to sell themselves even if you just put it up yourself by owner on any number of websites like Zillow.
However, selling For Sale By Owner has some severe disadvantages such as not getting complete exposure to all possible buyers, and getting harassed constantly by enterprising agents soliciting you to list with them. We'll explain how to deal with these problems, get full exposure and still save all 6% in broker commission with an Agent Assisted FSBO listing through Hauseit®.
FSBO sellers usually think that by inserting a sentence at the bottom of their listing description like "agent representing the buyer will receive a commission 3%" will be enough to satisfy any buyer's agents. After all, they have it in writing right? Why shouldn't buyer's brokers just take their word for it and send along their clients?
The problem with this approach is that buyer's brokers, who typically have no exclusivity with their buyer clients in competitive metro markets, can't simply take your word for it. If they even share the address of your listing with a buyer lead or client, there's nothing preventing the buyer from searching for your address, finding out that you're a For Sale By Owner seller, and cutting the broker out completely.
Remember that real estate agents work on commission, and they often spend quite a bit of money procuring buyer leads and referrals.
This could range from spending money on dinners or rideshares taking their buyers around, or paying for advertising to get the lead in the first place. And since there's no exclusivity to protect them, they are obviously going to do everything possible to keep their client and not get dis-intermediated.
As a result, there's no way a smart buyer's agent will show a For Sale By Owner listing without any protections in place. And yes, your sentence about paying them something on your listing description is meaningless. They've never worked with you, have no idea who you are, and the only thing they know about you is that you're a supposed FSBO seller. And because you've chosen to sell For Sale By Owner, you presumably dislike real estate agents. Not a great start for gaining trust!
What if I agree to sign a commission agreement?
Sure, it's theoretically possible for you to sign a FSBO commission agreement, or a one-time showing agreement with the real estate agent to protect them if they bring their client or clients. You can specify in the agreement one or more names of their clients that they wish to show your property to.
However, how much work do you think it'll be for you to have to negotiate and sign a separate commission agreement with each buyer's broker that wants to show your property, assuming they even would? Furthermore, why would buyer's agents bother going through the hassle of negotiating a custom legal agreement with you, when the vast majority of listings are properly co-broked on the MLS where commissions are automatically contractually offered?
In fact, this is the very reason that the MLS is such a powerful marketing tool for sellers. Every listing broker is required to sign some sort of universal co-brokerage agreement before joining their local MLS. This agreement obligates the participating broker to co-broke, or split commission, with cooperating buyer's brokers per MLS rules.
As a result, co-broking is automatic and contractual, meaning buyer's agents can send their clients to listings without any fear that they will get cut out of the deal. In fact, sometimes buyer's brokers are so comfortable that they have no problem sending their buyer clients on their own to listings if the seller's agent is okay with it.
Pro Tip: You can solve this problem by listing on the Miami MLS (Southeast Florida MLS) for a flat fee through Hauseit®. You'll get the same marketing exposure as if you'd listed for 6% commission with any other brokerage, including automatic listing syndication to dozens of popular websites like Zillow, Homes.com and Realtor.com. Once inquiries come in for your listing, they'll automatically be forwarded to you for you to manage on your own. If you close with a direct buyer, then no commission is owed and you've saved all 6%. If you decide to sell to a buyer represented by an agent, then only pay the commission you chose to offer in the MLS.
A serious problem with trying to sell For Sale By Owner in Miami, or anywhere else for that matter, is that you'll be constantly subjected to phone calls, texts and emails from Realtors looking to list your home.
Real estate agents need to get their seller leads from somewhere, and one of the most popular sources are For Sale By Owner websites and listings. In fact, there are multiple services out there that scrape the web for FSBO sellers' contact information to sell to real estate agents on a regular basis.
Sometimes, FSBO sellers will get dozens of cold calls from mostly junior agents on a daily basis. Sometimes these calls are done from what are effectively "boiler rooms" where new agents are pressured to make cold calls to gain experience.
So as a FSBO seller, prepare to be called again and again by agents explaining why you need to pay 6% to list your home on the MLS.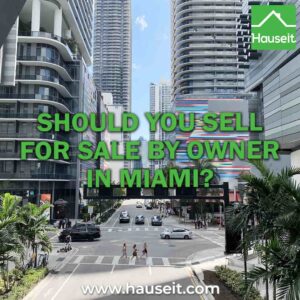 What if I say "no agents please" on my listing?
Desperately frustrated For Sale By Owner sellers in Miami will often write things like "no brokers," "please do not contact to offer services" or "agents please do not call" on their listing descriptions in an effort to fend off cold calls by persistent Realtors.
Unfortunately for FSBO sellers, not only will this be ineffective in deterring hungry brokers looking for their next listing, but it might also deter the rare buyer's agent who might actually be willing to consider signing a one-off commission agreement with you. This might be because inventory is very low and/or their client's criteria is very specific and you happen to have the only property that fits the bill.
A serious problem that For Sale By Owner sellers in Miami face is the inability to tell whether any inquiry is legitimate or not, meaning that it's from a real buyer or buyer's agent with a real buyer vs an agent who simply wants to meet you to pitch their listing services.
As you can imagine, we've heard lots of stories of sellers who tried the traditional For Sale By Owner route, only to routinely be caught in their living room by an agent with a listing presentation book in hand instead of a buyer client.
Personally, we're not sure how successful such a deceptive strategy would be given how angry this typically makes the seller, but never discount how competitive the real estate brokerage industry is, and how desperate agents might be to get business.
Remember, there are over 50,000 Realtors who are members of the Southeast Florida (Miami MLS) alone, and as you can imagine there aren't quite enough deals to go around.
As a result, the frustration that naturally comes from experiencing these deceptive "showings" that are nothing more than opportunities to corner and pitch you their services in-person will cause even the most patient FSBO seller to be much more selective in who they respond to.
The unfortunate side effect of this cautiousness is that you might miss out on the occasional showing request from a real buyer, making the process of selling For Sale By Owner even more difficult.
In a hot seller's market with low inventory and lots of buyer demand, FSBO sellers will often say that they don't need any help because homes "sell themselves." While that may be true, the question you need to ask yourself is whether it's selling at the highest possible price, and whether you're getting the maximum possible exposure.
Keep in mind that in a hot real estate market, predatory all-cash buyers and investors specifically seek out FSBO and other off-market listings as they can often times score a below market price. This is great for business as they can often minimally refurbish the house and quickly flip it for much more.
So sure, you got an offer from just listing it FSBO on some website, but could you have gotten five or six offers if you had properly and fully marketed your property?
Could that possibly have sparked a bidding war that would have enabled you to sell substantially higher than your original asking price?
Remember that with 50,000 Realtors in the Southeast Florida MLS, there's bound to be quite a few buyers represented by agents who aren't engaging on your listing. In fact, over 75% and in some areas up to 90% of all buyers end up being represented by buyer's agents.
As a result, if your listing isn't in the MLS, the offers you are getting may only be from a small slice of the market, many of which are predatory, vulture investors.
So why do most buyers end up deciding to be represented by an agent, even though up to 98% of all home buyers start their search online? Well, there's a saying that every New Yorker or Miamian has at least 5 real estate agent friends.
And these friends are hanging out with you at cocktail parties, on the weekends with real estate often being the topic. So naturally, when it comes time for you to buy, your real estate agent friends are your natural go-to's.
Your Realtor friends will then be sure to mention that working with a buyer's agent is "free," because any commission they earn comes from a split of the seller agent's commission, and broker commission is a seller closing cost.
They'll also explain that the seller pays the same amount of commission regardless of whether you have a buyer's agent or not. If you choose not to take advantage of your right to free, dedicated buyer agent representation, then the seller's agent simply keeps both sides of the commission in an unexpected payday.
As a result, you might as well "use it or lose it." And not only would you be helping out your friend, but your friend will be providing you some real services for free, such as taking you on tours of multiple listings on the same day, negotiating, advising, scheduling and coordinating on your behalf.
When they put it like this, especially after a few drinks with your friend, why would anyone turn down a "free" service like this?
Of course, as the seller you realize that the service isn't technically free even if it is a seller closing cost. That's because the broker commission, often 6% of the sale price, represents a major amount of friction on pricing, which often leads the seller to have to price higher to get the net proceeds that they want. Ultimately, the buyer also has to absorb some of this cost since they are they ones paying the purchase price.
Pro Tip: Buyers can save 2% or more on their purchase with a Hauseit® Buyer Closing Credit, where one of our buyer's brokers will rebate you 2/3 of the buyer broker commission at closing. This could more than cover your closing costs, especially if you're purchasing a new construction condo where the co-brokes are often much higher (i.e. up to 7% or more).
Disclosure: Hauseit® and its affiliates do not provide tax, legal, financial or accounting advice. This material has been prepared for informational purposes only, and is not intended to provide, and should not be relied on for, tax, legal, financial or accounting advice. No representation, guarantee or warranty of any kind is made regarding the completeness or accuracy of information provided.