What are the pro's and con's of buying property in NYC through a LLC? Here's what you need to know before you submit an offer.
Table of Contents:
New York City is widely known to be the world's preeminent real estate market and remains the favorite destination for investors worldwide as a safe haven asset.
On a macroeconomic level, New York City is even more attractive as an investment destination versus other major metropolises like London or Hong Kong due to recent geopolitical events such as Brexit negatively affecting London property prices and the increasing encroachment of mainland Chinese political control over Hong Kong.
As a result, New York City remains the world's freest, most cosmopolitan and safest megalopolis and easily the most suitable for property investment.
Moreover, the real estate market in New York City is among the world's most transparent, especially when it comes to apartment re-sales. Recorded sale prices and the names of the buyers and sellers are publicly available through systems such as ACRIS to the general public. Furthermore, public records and property listings are aggregated by easy to use real estate search websites geared for consumers such as StreetEasy, New York Times or Realtor.com.
Our Discretion, Your Advantage
Our traditional partner brokers never openly discount which means less disruption and better execution for you.
It depends on what your objectives are. If you are a celebrity or billionaire concerned about personal privacy, then yes a LLC will prevent your name from being recorded in public records and indexed by search engines.
If you are a celebrity or someone whom the press is after, it'll be extremely easy for even the most inexperienced investigative reporter to find out your home address and what you paid for your home unless it's hidden through a LLC.
Furthermore, if you are an investor with a large portfolio of other assets, it may make sense to shield your other assets from liability through a LLC. This way, in case a tenant or visitor to your property trips and falls and decides to sue you for an unreasonable sum, only that specific LLC will be liable in the lawsuit and your other assets will not be involved.
Note: It may be simpler and cheaper to simply buy rental properties in your name and to purchase a personal umbrella insurance policy to cover against lawsuit claims in excess of what a traditional home owner's insurance policy covers.
Save 2% On Your Home Purchase
Save thousands on your home purchase with a buyer agent commission rebate from Hauseit
The biggest drawbacks will be higher upfront and running costs, so you'll have to really ask yourself whether it's worth it to buy using a LLC.
Set-up costs – you'll need to spend up to several thousand dollars to set up the LLC, a registered agent and fulfill publication requirements.
This is assuming you do this yourself using cost efficient providers. If you hire a lawyer to set the structure up for you, expect to pay significant legal fees on top.
Running costs – you will have higher running costs from owning your property through a LLC, even if it is a single member LLC. You will have to pay yearly for a registered agent so that you can use their contact information in public records. If you will be owning the LLC with partners, you'll need to pay additional yearly accounting fees for the company's tax filings and K-1's to partners. You will have recurring fees to the State of New York to maintain the LLC, and you may have the pay the Unincorporated Business Tax (UBT) if you reside in NYC.
Opportunity costs – buying through a LLC means you'll have to forgo the popular cooperative and condominium tax abatement which decreases property tax bills by 17.5% or more. That's because New York City recently changed the eligibility for the abatement to only apply to properties that are primary residences and held in the actual owner's name. Furthermore, you might have issues in obtaining financing from some lenders because of the LLC structure. However, other lenders won't have an issue with LLC ownership as long as they can still underwrite you personally as the borrower, just like a normal mortgage.
The search, offer submission, negotiation and closing process will be identical to the steps to buying a condo in NYC except for a few additional steps you'll need to take to set up the LLC.
Do I need to reveal my name when buying property in NYC through a LLC?
You do not need to reveal your name if you are purchasing all cash and can show proof of funds. Your buyer's agent will simply state that the name of the buyer is the LLC's name. Since you will be showing proof of funds, you will want to have a bank statement that shows the name of the LLC.
Alternatively, you can deposit the funds into your lawyer's escrow account and have a statement from your lawyer showing that you are the beneficiary to your funds.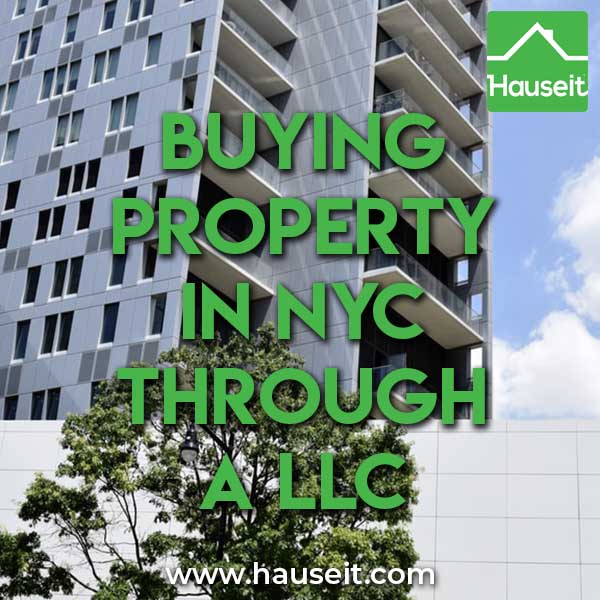 Disclosure: Hauseit® and its affiliates do not provide tax, legal, financial or accounting advice. This material has been prepared for informational purposes only, and is not intended to provide, and should not be relied on for, tax, legal, financial or accounting advice. No representation, guarantee or warranty of any kind is made regarding the completeness or accuracy of information provided.