The NYC FSBO Closing Process is surprisingly easy as long as you have accepted an offer from a qualified home buyer.  Assuming that you have elected to sell via a Hauseit Assisted FSBO, you have already cleared the toughest hurdle to selling FSBO in NYC which is engaging the 90% of buyers' who are represented by agents!
Accepting an offer as a NYC FSBO home seller
You should request all offers made by buyers or their agents to be professional and standard in nature.  That means the offer email should contain all of the following:
Full legal name of the buyer

Offer level and form of consideration (i.e. all cash, mortgage and down-payment amount)

Timing for the buyer on closing date

Contingencies, if any (i.e. mortgage contingency – needing a mortgage to be able to close)

Short biography of home buyer

Pre-approval letter if the buyer will be financing with a mortgage

Proof of funds including a gift letter if applicable for "all cash" buyers
Depending on how lenient or strict you would like to be as the seller, you may require buyers and buyers' agents to present much of this information in this template REBNY Submit Offer form.
However, keep in mind that offers are generally emailed in New York City, and most listing agents will not require buyers or buyer's agents to fill out some sort of offer to purchase form.
In fact, it's important to note that there is no official, standardized submit offer or offer to purchase form widely used in NYC. As a result, most buyer's agents will simply email their client's offer to the listing agent, and attach any pertinent supporting documentation.
Assuming you are selling your NYC home via an assisted FSBO or flat fee MLS listing, your agent will forward you the offer email.  In case you've received it directly and your agent was not copied, please reply all and copy your agent to confirm receipt of the offer.  You should say something along the lines of "thank you for your offer, please let my broker and I review and come back to you."
It is important to copy your broker when you receive your offer, especially if the offer came from a buyer's agent because the buyer's agent will want to make sure the transaction isn't anything too out of the ordinary.
The main reason the buyer's agent will want to see your listing agent involved is to make sure there is no question as to the buyer's agent commission which is co-broked in the REBNY RLS.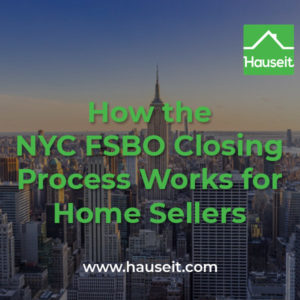 Running a best and final auction as a NYC FSBO home seller
Congratulations on pricing your property correctly if you've received multiple offers and now need to choose one.  It is common for sellers with multiple interested bidders to hold a best and final offer process where all interested parties are asked to submit their best bid on a pre-determined date.
The cleanest and fairest way to do this would be to provide no information to any parties except that there are multiple bidders involved who are all being shared the same information.
Some buyers may simply repeat their original bid and some buyers who really want the property and are afraid to lose out really will "put their best foot forward."  It is a great way to filter for the buyers who want it the most.
If you have a sales background or feel savvy enough to provide color (i.e. information) to buyers, you can certainly call them to give them a feel for the competitive process and also get a sense of how hungry each buyer is for the apartment.
Keep in mind, you will be dealing with professional real estate agents in many cases who are very experienced in these situations.
As with all things sales related, this aspect of the NYC FSBO closing process is more art than science.
If you would like an industry veteran to help you run the auction and guide you through the NYC FSBO closing process please sign up for professional broker consulting along with your flat fee RLS listing package.
A Full Service Listing for 1%
Sell your home with a traditional full service listing for just one percent commission.
What's next after accepting an offer as a NYC FSBO home seller?
In New York City, once real estate agents have matched a buyer and seller, they generally step out of the picture and let the real estate attorneys handle the closing process.  Real estate agents frequently do not even show up on closing day to collect their commission checks (they typically stop by a few days later to pick up their commission checks from the seller's attorney when it's convenient for them).
With that said, it's customary and highly advisable (though not legally required) to have a real estate attorney manage your NYC FSBO closing process because the purchase and sale contract in New York City is quite lengthy and also negotiable versus the standard purchase agreements used in other states.  In other states where purchase contracts are standard forms, the brokers typically prepare them without the involvement of an attorney at all.
Complete and send around a deal sheet
The next step after accepting an offer is to request the agents involved to circulate a "deal sheet" to all parties involved.  If you are selling via an agent managed FSBO (i.e. also commonly referred to as an agent assisted FSBO, assisted FSBO, flat fee MLS etc.) and the buyer is represented, simply ask the buyers' agent to fill out as much as he or she can and send it to you to fill out the rest.
If you have purchased professional broker consulting then you are also free to consult your listing agent on how to complete the deal sheet and perhaps to even send it on your behalf and send it to all parties involved in the transaction.
The deal sheet is a standard Excel file which contains the contact information of all parties involved in the transaction as well as an overview of the deal.
Date and address of the property being purchased

Seller & buyer

Seller's attorney and buyer's attorney

Building management firm

Seller's broker and buyer's broker

Miscellaneous information about the transaction
The miscellaneous information section contains ownership type (i.e. co-op or condo), corporation or condo name, shares / % common elements owned, inclusions and exclusions, storage, closing date, purchase price, maintenance / common charges, real estate tax, assessment (if any), flip tax, financing (contingent, non-contingent, cash), amount to be financed, days to obtain loan commitment, occupants of unit, pets and broker commission.
If you have sold via a Hauseit Assisted FSBO, please protect the reputation of our full-service affiliate brokers by not disclosing to the buyer's agent or other brokers how much you paid in seller broker commission.
In the broker commission section of the deal sheet it is only necessary to state the commission payable to the buyer's broker (i.e. 3% commission to Corcoran).
Have your attorney send a draft contract to the buyer's attorney
After the deal sheet has been circulated, your real estate attorney will begin drafting the purchase and sale contract.
The buyer will typically have deference to you on timing and it is usually the seller who demands a quick close.  This situation can be reversed if the seller is desperate with a property that has sat too long on the market and the buyer is an opportunistic all cash vulture investor who is willing to walk away.
Once your real estate attorney has sent the purchase contract to the buyer's attorney, your listing status is "contract out" but not "in-contract" yet as it hasn't been mutually signed.
Push the buyer to sign the contract quickly
Sellers will typically give the buyer a certain time limit to sign the contract so as to not waste time with an uncommitted buyer.
When markets are really strong, sellers have been known to send out contracts to multiple buyers to encourage even more competition.  However, this method may be deemed unprofessional in some circles, even in the most heated seller's market.
Of course, the reverse situation occurs when the real estate market is weak, in what is known as a buyer's market. In a buyer's market, there's lots of supply on the market and fewer buyers to pick through all that inventory. As a result, there will generally be fewer competing bidders, and you may have to be more patient and realistic in demanding a signed contract within a week.
Your real estate attorney will guide you the rest of the way through the NYC closing process, so make sure you ask plenty of questions as the contract is being drafted and negotiated.
Related Questions | People also ask:
Who holds onto the good faith deposit in a NYC FSBO closing process?
Also called an "earnest money" deposit, a good faith deposit is typically 10% of the contract sale price payable by the buyer and held by the seller's attorney in escrow.  The good faith deposit can be written in the form of a personal check and is meant to demonstrate the seriousness of the buyer and to encourage the seller to stop showing the property.  The good faith deposit is included with the purchase contract after it has been signed by the buyer.
When does the home inspection happen?
The buyer will typically request a standard home inspection of the property by a licensed home inspector after the deal sheet has gone out. The home inspector will want to also see the common areas (i.e. roof, boiler room, etc.) if it is a condo or co-op. A home inspection is critical when buying free-standing real property such as townhouses or multi-family buildings. They can also be important when purchasing new construction especially if the developer is less well known. Opinions among real estate professionals are divided on the usefulness of home inspections for co-op and condo buyers as they are only responsible for the interiors of their apartments.
When does the final buyer walk-through happen?
The buyer may request to see the property again after the offer has been accepted.  The buyer and/or the buyer's agent will also do a final walk-through typically the day before the closing to make sure nothing has changed in the apartment.
Who typically attends the closing?
The typical NYC closing will involve multiple parties representing the buyer, seller and bank if there is a mortgage involved.  It will typically take place at the seller attorney's office if it is a condo, and at the co-op building management's office if it is a co-op.  Expect to see the buyer, seller, buyer's attorney, seller's attorney, bank's attorney and the closing coordinator on that day.
How long does it take to close on your sale?
How long it takes to close on your sale depends on whether you are selling a co-op, condo or house. Here are the typical timelines:
The first edition of this article was originally published on 5/4/2016
Disclosure: Hauseit® and its affiliates do not provide tax, legal, financial or accounting advice. This material has been prepared for informational purposes only, and is not intended to provide, and should not be relied on for, tax, legal, financial or accounting advice. No representation, guarantee or warranty of any kind is made regarding the completeness or accuracy of information provided.