Co-op shares are units of ownership in a cooperative corporation that owns an apartment building, not unlike owning shares in a regular business corporation. The coop corporation's main asset will typically be the apartment building, and thus each shareholder will own a piece of it through their co op shares. Co op shares come with a proprietary lease that entitles the shareholder to occupy a specific apartment which they have de facto ownership of. Co-op shares can be bought and sold, and thus co-op apartments can be traded just like condos or townhomes.
A co op apartment is an apartment in a coop building that a co op shareholder has an essentially indefinite right to occupy, despite the apartment being actually owned by the coop corporation. The co-op corporation typically owns the entire apartment building, and does have real property rights to the building. However, the co-op corporation hands out proprietary leases along with stock certificates for specific apartments, and these proprietary leases essentially allow a shareholder to occupy that apartment indefinitely.
Our Discretion, Your Advantage
Our traditional partner brokers never openly discount which means less disruption and better execution for you.
Differences Between Co-ops and Condos
The major differences between co-ops and condos are the ability to rent out the apartment and purchasers needing board approval.
Unlike condos, co-ops generally have restrictions around subletting and shareholders may be restricted in the number of years they are allowed to sublet their apartment in a given period, if they are allowed to sublet at all. Furthermore, co-ops typically have more fees associated with subletting their apartments vs condos.
When it comes to selling, co-op boards have an enormous amount of power in that they can reject a prospective purchaser for virtually any reason without having to disclose the reason for rejection. Furthermore, prospective purchasers must fill out a length, onerous coop board package and then attend a coop board interview.
Lastly, co-op boards generally have more power vs condo boards, and are more empowered to fine, discipline and even foreclose on co-op apartments. Whereas a condo board may not be able to do much more than place a common charge lien on a delinquent owner, a co-op board can swiftly foreclose on a shareholder who is behind on maintenance charges.
Save 2% On Your Home Purchase
Our partner brokers are some of the most experienced and reputable in the industry.
Co-op apartments are not real property because the apartment along with the rest of the apartment building is owned by the coop corporation. As a result, co-op shareholders are technically tenants who have a proprietary lease that enables them to reside in "their" apartment essentially indefinitely.
Co op shares are similar to the deed for a house or condo, except you are given a stock certificate vs a deed at closing. The stock certificate will state the name of the corporation, your name, how many shares you own and other miscellaneous information.
A co op shares stock certificate won't look too different from an old school stock certificate for a publically traded corporation. We've included a sample coop stock certificate below along with language that you might see on a typical co op stock certificate.
This certifies that John Smith is the owner of five hundred shares fully paid and non-assessable shares of the above corporation transferrable only on the books of the corporation by the holder hereof in person or by duly authorized attorney upon surrender of this certificate properly endorsed. In witness whereof, the said corporation has caused this certificate to be signed by its duly authorized officers and to be sealed with the seal of the corporation.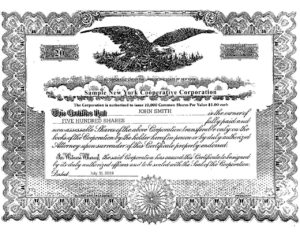 As you can see, the key thing to note is that co op shares stock certificates are super important to hold on to. As the language clearly states, you'll need to surrender this certificate in order to sell your shares, and you'll need to be physically present as well. So make sure you keep your coop shares stock certificate in a safe place, because your closing will definitely be delayed if you can't find it before closing!
Can You Borrow Against Co op Shares?
Yes, you can borrow against co op shares and get the equivalent of a home mortgage. Instead of a deed as collateral, the bank will take your coop shares stock certificate and proprietary lease as collateral for the loan.
Please note that while lending against co op shares is very common in the NYC real estate market, lenders from other parts of the country will generally be unfamiliar with this type of collateral. As a result, if you are based out of state and buying in NYC for the first time, it's imperative that you work with a locally based mortgage banker on your financing. Working with an out of state mortgage banker, even if he or she works at a major, nation-wide lender can cause significant delays in your purchase and closing process.
The Martin Act of 1921 ensures that co op shares are allocated fairly between different apartments in a co-op building based on reasonable metrics such as square footage and which floor the apartment is on.
Before the passage of the Martin Act, there were shockingly no rules around how co op shares could be allocated between shareholders with different apartment sizes and configurations in a building. This lack of regulation resulted in much abuse by developers who often retained large penthouse apartments for themselves, but paid much less in monthly maintenance fees vs ground floor studio apartment owners. The Martin Act fortunately put an end to these shenanigans.
As a result, you might see the penthouse unit in a co-op building allocated 500 shares vs only 100 shares for the 1 bedroom apartment on the ground floor. Remember that maintenance charges and any co-op special assessments are allocated proportionally based on the number of shares. So in this case, the penthouse apartment in our example would pay five times as much as the ground floor apartment.
A Full Service Listing for 1%
Sell your home with a traditional full service listing for just one percent commission.
Disclosure: Hauseit® and its affiliates do not provide tax, legal, financial or accounting advice. This material has been prepared for informational purposes only, and is not intended to provide, and should not be relied on for, tax, legal, financial or accounting advice. No representation, guarantee or warranty of any kind is made regarding the completeness or accuracy of information provided. Hauseit LLC is a Licensed Real Estate Broker, licensed to do business in New York under license number 10991232340. Principal Office: 148 Lafayette Street, New York, NY 10013.