A condo inventory loan is used by real estate developers to pay off maturing construction loans on a fully-built new development condo building. Initial construction loans used to finance new construction condo buildings in NYC are typically for three year terms with two, one-year extension options.
If a condo building hasn't fully sold out within 3-5 years of the original issuance of the construction loan, a developer typically refinances with a condo inventory loan.
Refinancing with a condo inventory loan pushes out the repayment date for a building's debt obligations, thereby providing a developer with more time and flexibility to complete the sell-out of the new development. Condo inventory loans typically have a term of 12 to 24 months. The loan is collateralized by the unsold apartments in the building.
In addition to providing a developer with a longer runway for the sale process, condo inventory loans usually have lower interest rates compared to construction loans. This is because construction loans are riskier for a lender.
If a developer were to default on a condo inventory loan, the lender would be able to take possession of a completed building with readily marketable apartments.
This is a much safer proposition compared to taking over a partially built structure which would take much more time and effort for a lender to monetize.
Condo inventory loans are typically capped around 70% of the building's sellout value. A lender typically establishes minimum price thresholds for sales of units in the building. This ensures that the total value of the collateral (unsold apartments) on a forward-looking basis based on recent sale comps remains above acceptable levels.
Recent examples of condo inventory loans in NYC include a $553.5 million loan to Extell's One Manhattan Square condo development in the Lower East Side as well as a $350 million loan to The Centrale, a condo high-rise at 138 East 50th Street in Midtown East developed by Ceruzzi Properties.
In the case of One Manhattan Square, the new debt included a $553.5 million senior inventory loan as well as a $138.2 million mezzanine loan, totaling $690 million. Both loans carried an interest rate of LIBOR + 4%.
Most of the proceeds of the new financing were used to pay down the original construction loan for the One Manhattan Square development.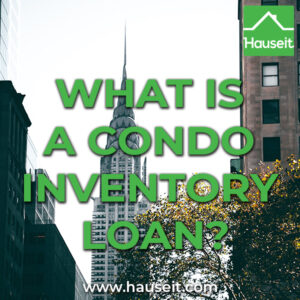 By repaying the original construction debt, the developer was able to unlock $180 million in sales proceeds which were then used to pay down some of a mezzanine loan held by Extell which covers several of their developments.
If you're thinking about buying into a new development condo building built a few years ago which is less than 50% sold, chances are that the developer will refinance with a condo inventory loan if they haven't already. Learn more about the special risks to buying a new construction apartment in NYC in this article.
Disclosure: Hauseit® and its affiliates do not provide tax, legal, financial or accounting advice. This material has been prepared for informational purposes only, and is not intended to provide, and should not be relied on for, tax, legal, financial or accounting advice. No representation, guarantee or warranty of any kind is made regarding the completeness or accuracy of information provided. Hauseit LLC is a Licensed Real Estate Broker, licensed to do business in New York under license number 10991232340. Principal Office: 148 Lafayette Street, New York, NY 10013.