The Manhattan Resident Parking Tax Exemption reduces the amount of sales tax a Manhattan resident pays on a parking spot in Manhattan from 18.375% to 10.385%. The 8% tax reduction works out to about $40/month or $480/year in savings for a typical Manhattan parking spot which runs around ~$500/month on average. These savings are a nice perk for those who are brave enough to own a car in NYC, and specifically in Manhattan.
Parking in NYC outside of Manhattan is subject to a 4% state tax, 6% NYC local tax and a ⅜% Metropolitan Commuter Transportation District (MCTD) tax for a combined tax rate of 10.375%.
Manhattan has an additional 8% local sales tax on parking on top of the standard 10.375%, for a total of 18.375%. So in essence, the Manhattan Resident Parking Tax Exemption reduces the total parking sales tax rate for qualifying applicants to what is charged in other boroughs such as Brooklyn and Queens.
In order to qualify for the Manhattan Resident Parking Tax Exemption, the vehicle must be:
Individually owned or leased for a term of one year or more by the applicant

Registered to the owner's primary residence in Manhattan

Parked in a long-term rented space for a month or more

Driven for personal use only (commercial, rental or company vehicles don't qualify)
A primary residence is defined in the Rules of the City of New York 19 (RCNY) §19-01 as follows:
The Manhattan Residence Parking Tax Exemption PDF Application is downloadable here. It's also possible to apply online. Successful applicants receive a Parking Tax Exemption Certificate which must be renewed every two years.
Recipients of the exemption are required to resubmit the application to report any of the following:
Change of Manhattan residence

Change of parking garage or lot

Change of parking facility's Consumer Affairs License Number

Change of vehicle and/or license plate number
According to the New York City Department of Finance, "Any person who improperly obtains or misuses a Parking Tax Exemption Certificate will be liable for penalties of not more than $100 in the case of negligence and not more than $500 in the case of fraud. A person filing a false application may also be prosecuted under the penal law. These shall be in addition to any penalties imposed under Section 1145 of Article 28 of the New York State Tax Law."
New York Assembly Bill A6077, which is currently in assembly committee discussions, would eliminate the Manhattan Resident Parking Tax exemption and increase the car registration fee for vehicles registered to residents of Manhattan.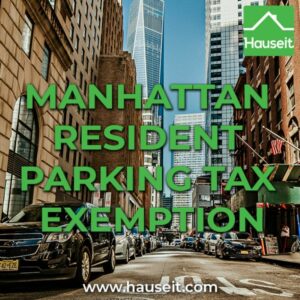 The legislation is sponsored by Assemblywoman Carmen E. Arroyo (Democrat, District 84) and Assembly member Anthony D'Urso (Democrat, District 16).
Disclosure: Hauseit® and its affiliates do not provide tax, legal, financial or accounting advice. This material has been prepared for informational purposes only, and is not intended to provide, and should not be relied on for, tax, legal, financial or accounting advice. No representation, guarantee or warranty of any kind is made regarding the completeness or accuracy of information provided. Hauseit LLC is a Licensed Real Estate Broker, licensed to do business in New York under license number 10991232340. Principal Office: 148 Lafayette Street, New York, NY 10013.