The best home price reduction strategy involves lowering the price just below key search thresholds and below neighborhood comps, re-listing with a different broker or unit number to reset the day count and re-listing with new professional photographs and a new listing description. We'll explore each of these options and more in detail in the following article.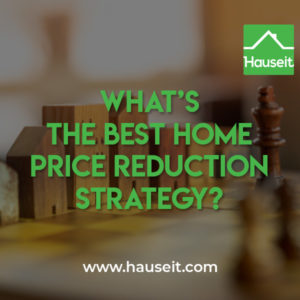 If you're going to reduce your price, make sure it counts by setting the new price just below key search thresholds. For example, if you're thinking of reducing your price from $1,050,000, why not reduce it to $999,999? Not only will this capture all the buyers searching for properties within a $1 million budget, but you'll also capture those buyers who are searching for properties under $1 million because they don't want to pay the

NYC Mansion Tax

.
This logic applies no matter what price range your property is in. It always makes sense to list just below the nearest search threshold. You'll be default attract more buyers and visitors, and remember that buyers typically will only make an offer if they've seen a property.
You never know, so why would you turn away potential buyers by listing above a key search threshold vs just below? Remember that the listing price doesn't determine that maximum that you'll be able to sell a property for. In fact, a more attractive and lower listing price might attract enough buyers to induce a bidding war which can cause your property to sell for more than its asking price!
A killer home price reduction strategy is to set your new listing price just below that of your neighbors' properties on the market. For example, is the apartment of the same line and layout as yours on the floor above being listed for $3,100,000? Then reduce your price to $2,999,999 to undercut them and hog all the attention from buyers looking in your building.
Don't have many comparable listings for sale in your building, or are you selling a standalone single or multi-family house? You can use the same home price reduction strategy by underpricing your listing just below that of similar houses for sale in your neighborhood.
If you're going to reduce your price, it's always better to do it earlier rather than later in the sale process. If you do it early on in your sale, people might just assume that you changed your mind or perhaps even made a mistake in your initial listing price.
However, if you reduce your price late in the game, people will assume that you priced way too high and aren't getting any traction. Furthermore, vulture investors will assume that you have no other offers and are desperate to sell and normal buyers might assume that there's something wrong with your apartment. After all, if it's a good deal why hasn't anyone else snagged it yet?
This is a particularly bold home price reduction strategy where the seller sets an initial listing price that they know is way too high, with the intention of reducing the price massively within a few days of listing it.
Often times, this can produce a frenzy of action as buyers will be drawn to the dramatic discount being offered, and the listing is fresh enough where buyers and their agents assume that the listing must still be available.
The reduced listing price should obviously be in the range of what you'd actually be comfortable selling for, otherwise you may end up with a number of leads that aren't qualified to pay the price you wish to sell for.
A great home price reduction strategy is to lower your price, but to do so with a different real estate broker. A huge benefit of this method is that your listing's day count will reset since it's being listed by a different broker, and it will generally appear as a new listing. So not only will you be able to lower your price, you will also enjoy the benefits of having your listing appear fresh with zero days on the market!
Remember that you can make up for the reduced listing price by saving on broker commission if you

relist your home in NYC

, the Hudson Valley or Long Island with one of our partner brokers.
A great home price reduction strategy is to lower the price in conjunction with re-listing your apartment with a slightly different variation of your unit number. For example, if you are selling unit #3 in your building, you can re-list your apartment as unit "APT3" which will cause it to reset as a fresh listing on many public search websites.
In a similar vein, if you've previously listed your apartment as 3E, try re-listing it as "E3" or "APT3E" to get it to reset as a new listing in your building. The truth is, many of these public search websites don't have the capability to detect what a unit number should and can be in a particular building. They really have no way of knowing what all the unit number variations in a building can be.
The best home price reduction strategy involves going all out and re-listing with a different broker or a different apartment number to reset the day count, plus getting new professional photographs taken and posting a new listing description.
This will make your apartment look completely new to the vast majority of buyers and agents, especially ones that have not paid much attention to your listing previously. Only buyers who have seen your apartment might have some inkling that it is perhaps the same listing. And even then, they may have to check their inbox or notes to make sure that it indeed was the same apartment they've seen before.
This is the best strategy if you want to comprehensively refresh your listing along with a more realistic, and lower listing price.
Disclosure: Hauseit and its affiliates do not provide tax, legal, financial or accounting advice. This material has been prepared for informational purposes only, and is not intended to provide, and should not be relied on for, tax, legal, financial or accounting advice. You should consult your own tax, legal, financial and accounting advisors before engaging in any transaction. The services marketed on Hauseit.com are provided by licensed real estate brokers and other third party professional service providers. Hauseit LLC is not a licensed real estate broker nor a member of any multiple listing service (MLS).