Selling FSBO gives you the certainty of saving a minimum of 3% in brokers fees and the opportunity to save up to 6% in agent commissions.
In order to save the full 6%, a FSBO seller must sell his or property to an unrepresented buyer.
Even if a FSBO seller finds a buyer through a buyers' agent, the seller will still save the 3% commission which would have been charged by the listing agent.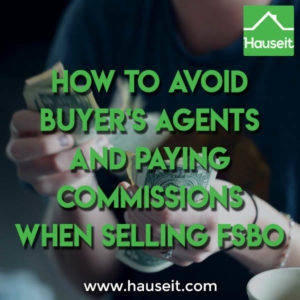 Unfortunately, many real estate websites reduce your chances of saving the full 6% commission and finding an unrepresented buyer when selling FSBO. In this article, we will explain why this is happening and what you can do to fight back and maximize your chances of saving 6%.
Why would I still need to pay a 3% commission when selling FSBO?
To understand why some property owners save 6% when selling FSBO and others save only 3%, it's important to understand how real estate commissions are shared between the agent who represents the seller (listing agent) and the agent who represents the buyer (buyer's agent).
In the event that the agent who finds the buyer is not the listing agent, the total 6% commission paid by the seller is split evenly between the listing agent (3%) and the buyer's agent (3%). If the listing agent happens to also find the buyer, than he or she earns the full 6% broker commission.
How do I save the full 6% commission when selling FSBO?
In order to save the full 6% agent commission when selling FSBO, you need to sell your property to an unrepresented buyer.
As a FSBO seller, you can expect to receive interest on your property from both unrepresented buyers as well as buyers' agents. Because buyers' agents represent roughly 80% of all home buyers, there is a slightly higher chance that you will eventually sell your home to a represented buyer and pay some form of a buyers' agent commission.
However, we regularly see Hauseit clients who are selling FSBO successfully find an unrepresented buyer and pay zero commission all around for selling entirely without an agent on either side of the transaction.
Why are real estate websites making it harder for FSBO sellers to find unrepresented buyers?
While selling your home to an unrepresented buyer is an achievable goal, many real estate websites reduce your chances of this happening by selling advertising space on your listing to buyer's agents. This confusing advertising confuses the unrepresented buyer and makes it hard to contact the real listing agent.
Take a look at the 'Contact Agent' box in the image below.
This is the standard contact form which appears on all listings (traditional full service listings as well as FSBO listings) on many major real estate websites such as Zillow, Realtor.com or Trulia.
As you can see, in addition to the listing agent there are three other agents listed on the property. It's very hard to tell which of the four agents listed is the actual listing agent of the property.
Because of this advertising, many unrepresented buyers who would have normally clicked directly on the contact information of your flat-fee listing agent may accidentally contact one of the buyer's agents who paid to advertise on your listing.
What happens next is very unfortunate. Instead of receiving the direct contact information of the unrepresented buyer, you will then receive an inquiry from a buyer's agent who has a 'client who is interested in viewing your property'.
As a result of this confusing advertising, you've effectively lost your unrepresented buyer and now face the prospect of having to pay a buyer's agent commission for the privilege of meeting this mysterious buyer.
How do I stop buyer's agents from hijacking my unrepresented buyer leads?
The only way to remove the confusing agent advertising on your listing when selling FSBO is to host as many general open houses as possible so direct buyers can simply walk-in without being intercepted by a buyer's agent.
An alternative used to be to make a custom property website and link to it from your listing description on Zillow, Trulia, etc. Unrepresented buyers would click on the link to your own custom property website which would prominently display your contact information.
Once the unrepresented buyer was on your property's personal website, there was little to no risk of that buyer going back to Zillow, Trulia, etc. and clicking on one of those buyer' agent advertisements.
Other major benefits of having your own custom property website when selling FSBO included the ability to include additional photos, videos and offer your buyers more comprehensive information about your property and neighborhood that you wouldn't be able to fit Zillow or Trulia listing.
Unfortunately, this is no longer allowed on most public portals like the ones we mentioned. Now most real estate search websites only allow textual information about the property in the listing description, and nothing else!
Upload a floorplan or video with your contact information
One method that still works in the new decade of the 2020's is to list the seller or listing broker's contact information and branding on the floorplan or video for the listing.
For now, these public search websites have not made a big scene about demanding logos and contact information on uploaded media to be removed, so that's one good way to make sure direct buyers know who the actual listing agent or seller is.
Complain to your legislators about deception and the lack of transparency
Send an email or call your local New York legislator and complain to Albany about the lack of transparency on these popular real estate search websites.
Rules and legislation can only be implemented with enough popular backing, and it's important for legislators to hear real life examples where buyers have been deceived or confused on who the seller's agent actually is.
The first edition of this article was originally published on 1/11/2016
Disclosure: Hauseit® and its affiliates do not provide tax, legal, financial or accounting advice. This material has been prepared for informational purposes only, and is not intended to provide, and should not be relied on for, tax, legal, financial or accounting advice. No representation, guarantee or warranty of any kind is made regarding the completeness or accuracy of information provided.