Learning how to negotiate a house price down involves learning how to be firm, patient, nonchalant and not emotionally invested during the offer negotiation process. Plus, it doesn't hurt to make offers on multiple properties, have fewer contingencies and threaten to back out to scare the seller into meeting your demands.
Table of Contents:
Home Price Negotiation Tactics
Be firm
The listing agent may try to get you to improve on yourself after you submit an offer, so please as firm as a rock on where you stand. Have your buyer's agent tell the listing agent that your offer is what it is, and that you have no intention of improving. Your buyer's agent can of course say that if the seller wishes to make a counter-offer, he or she will still obviously relay it to you. Obviously, this works best when navigating a buyer's market vs a seller's market.
Be patient
Patience is the key to success. The seller isn't obligated to make a counter-offer or even respond to you, especially if you've submitted a lowball offer. However, you're not obligated to wait around for the seller to respond either. If you've submitted a strong offer below the asking price, just wait.
If the seller doesn't have any other offers and their home has been on the market for a while, then more likely than not the seller will come crawling back to you.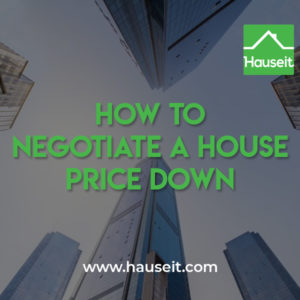 Be nonchalant
Tell your buyer's agent that you are not in a hurry, don't need to move anytime soon and make sure this gets relayed to the listing agent. Make sure the sellers know that you're happy to put off the search until another year if you don't find something that you really like at a price that works for you. Remember, actions speak louder than words, so make sure your buyer's agent is as nonchalant as you are. That means not bugging the listing agent after you've submitted an offer, and waiting for the listing agent to chase you.
Don't become emotionally invested
If you fall in love with a home, then you've lost before you've even begun. Make sure to submit all offers with complete emotional detachment. Know that nothing is final until you have a fully executed contract, so there's no logical reason to get worked up about something that could easily fall through. This will put you in a stronger negotiating position. Otherwise, we've seen far too many buyers chase a listing higher and higher in price. Remember, listing agents are excellent salespeople and will be able to sense if you've fallen in love with a place and must have it.
Express financial strength
Make sure the listing agent knows just how financially qualified you are. For example, are you capable of putting down more than 20%? Are you buying with an all cash offer or an otherwise non-contingent offer?
Make sure the listing agent knows just how real of a buyer you are. Then play it cool and wait for them to try to make a deal with you.
Have fewer contingencies
If you have more than enough in liquid assets to cover the purchase price plus closing costs, consider waiving the mortgage contingency to make your offer stronger. A non-contingent offer is much more attractive to a seller because it gives them greater assurance of execution. You never know, a seller just might be willing to take a haircut in price for a greater certainty of selling.
Make multiple offers
The best way to strengthen your negotiating position as a buyer is to make multiple offers on different listings. This way, you'll have the optionality to be able to pick and choose which ones you wish to move forward with. Remember, there's no prohibition against you negotiating and getting multiple accepted offers. You can even negotiate multiple contracts to satisfaction, and then choose one to sign.
Threaten to back out
One of the best ways to scare a listing agent is to have your buyer's agent sincerely mention that you honestly were thinking about backing out from offer negotiations. Perhaps because you had upcoming travel or were having second thoughts about moving or buying. This will very quickly reveal whether the listing agent was bluffing or not with their counter offer.
Look at hard data
You can always strengthen your case by showing the listing agent similar properties that you could purchase for less. Even better if there are comps in the building that have sold for less, or that have failed to sell. Cold, hard facts are hard to ignore and can cause a seller to cave to reality.
A Full Service Listing for 1%
Sell your home with a traditional full service listing for just one percent commission.
Items to Negotiate When Buying a House
The price
The easiest and most common thing to negotiate is the price. Even if you want certain things repaired and the seller actually agrees, you will often only get a concession on price vs the seller actually repairing something before closing. Remember, there's a price for everything!
Closing costs
This is more common when it comes to new developments where the sponsor customarily expects the buyer to pay the seller's transfer taxes and attorney's fees.
As a buyer, you can always negotiate these rather large closing costs and submit an offer with you not paying for any of the sponsor's closing costs.
Fixtures and furnishings
Typically whatever is firmly attached to the home, comes with the home. An illustrative example is if you imagine that the roof of the home has been sliced open, and a giant flips the house upside down. Whatever doesn't fall out, such as cabinets and ceiling fixtures, will come with the home when purchased.
Window shades and blinds
Are window blinds, shades, drapes or curtains typically included in a sale? This is a rather grey area as while they are technically attached to the home, they could also easily be removed. Make sure to specify whether these will be included with your purchase.
Furniture
It's tempting to ask for the seller's furniture, especially if they've had an interior designer really help shape the space. However, furniture is not ordinarily included with a home sale, and you'll need to negotiate for them if you want them.
Closing date
If you're flexible in when you need to move, you may present yourself as a more attractive bidder and the seller may even be willing to take a slight concession on price because of your flexibility. Especially relevant if the seller has already purchased a new home and has a specific timeline of how and when they'll move.
How Much Do Sellers Usually Come Down on a House?
There's really no limit on how much sellers might come down from their listing price. In a normal market, a good rule of thumb for a fairly valued property is that you should submit an offer no lower than 10% from the listing price. Anything lower might be viewed as offensive by the seller.
With that said, if a listing is overpriced in any market, the seller will have to come down however much it takes to get to a fair valuation, and possibly then some.
If you are negotiating with a desperate seller who for some personal reason must sell immediately, then you might be able to corner the seller into selling for more than 10% off the listing price, assuming that the listing price is a fair value for the property.
In short, the sky's the limit when it comes to the answer for this question. There is no black and white metric or answer, and how much a seller comes off from their original listing price will vary on a case by case basis.
Our Discretion, Your Advantage
Our traditional partner brokers never openly discount which means less disruption and better execution for you.
Disclosure: Hauseit and its affiliates do not provide tax, legal, financial or accounting advice. This material has been prepared for informational purposes only, and is not intended to provide, and should not be relied on for, tax, legal, financial or accounting advice. You should consult your own tax, legal, financial and accounting advisors before engaging in any transaction. The services marketed on Hauseit.com are provided by licensed real estate brokers and other third party professional service providers. Hauseit LLC is not a licensed real estate broker nor a member of any multiple listing service (MLS).