Owning a car in NYC may sound like part-fantasy and part-nightmare, but the truth is that having a car in the city can be cost-effective if you're the type of person who regularly likes to take leave the city for the weekend or take regular day trips.
Owning a car in NYC is also liberating, generally awesome and a major power move. If, on the other hand, you rarely feel the need to leave the city, owning a car in New York City is a complete waste of time, money and emotional energy.
NYC's proximity to the Hudson Valley, Long Island, the Hamptons, hiking/outdoor areas, farms and numerous beaches in New York and New Jersey provide for a plethora of day and weekend trips which are less than two hours from the city.
These types of trips are particularly appealing if you're tired of the repetitive drinking and eating scene in NYC.
For the more adventurous, there are several other great destinations a bit farther away, such as Lake George in Upstate New York which is approximately a 4 hour drive from NYC.
It's also possible to drive to other major cities such as Baltimore and Philadelphia which are three and two hours from NYC, respectively. A car can also be used in the winter for weekend ski trips.
Owning a car makes it considerably easier to go on spontaneous trips or book things last minute compared to renting a car, which is a major turn-off and source of stress for many New Yorkers who would otherwise love to leave the city from time to time.
Here is a running list of day trips you can make from NYC:
Wine tasting in The Hamptons

Hiking in Bear Mountain

Apple picking in Warwick, NY

Visit the Jersey Shore

Hamptons beach day
The cost of owning a car in Manhattan with garage parking is roughly $700/month ($500 parking + $200 insurance) plus your actual car or lease payment. Leasing an entry level BMW such as a 228xi for $400/month means your monthly cost would be $1,100, or $13,000/year, excluding gas, tolls, registration/inspections and maintenance. If you opt to lease a less expensive car, such as a Mazda CX-30 for $275/month, your total cost would be $975/month or $11,700/year.
Here is the sample cost of ownership of a BMW 228xi in Manhattan, excluding incidentals like gas, tolls plus vehicle registration and inspections:
Manhattan Parking: $500

Insurance: $150

Lease Payment on BMW 228xi: $400

AAA: $11

Total Monthly: $1,061/month

Total Annual: $12,732
Manhattan residents receive a discount on parking through the Manhattan Resident Parking Tax Exemption. You can save even more money by parking in a garage in Brooklyn. This makes a lot of sense if you live on the East Side of Lower Manhattan, as you can easily take the subway just a few stops across the river or hop on a Citibike, Ebike or electric scooter to cross the Williamsburg Bridge.
Here's the cost of the same setup if you park in a covered lot in Williamsburg:
Williamsburg Parking: $300

Insurance: $150

Lease Payment on BMW 228xi: $400

AAA: $11

Total Monthly: $861/month

Total Annual: $10,332
This may sound like a lot of money. However, if you rent a car to take weekend trips outside the city more than twice a month, the math of owning a car starts to make sense versus continuing to rent cars.
And of course, you can pay considerably less per month than in our examples above by purchasing a beater car and parking it on the street, meaning the only thing you're responsible for (aside from maintenance, registration/inspections and buying the car itself) is insurance. Skimping on garage parking is not for the faint of heart, and if you choose to, prepare yourself to spend hours each week moving your car around in the early mornings and fending off Traffic Enforcement officers.
The math of owning a car makes even more sense if you're part of a multiple earner household or if you already find yourself spending considerable amounts of money on transportation for weekend getaways and other tips outside the city.
We recommend leasing a car versus buying in NYC. The main reason why it's better to lease is because you'll have a newer car which in theory means less time handling repairs and maintenance versus owning a car and having to spend increasing amounts of time and money dealing with services and out-of-warranty repairs, particularly if you buy a used car.
Most mechanics are far out in Queens or Brooklyn, so it's a major logistical headache (think weekend killer) every time your car needs work.
An additional benefit of a lease is the fact that you won't have to deal with selling or otherwise disposing of your car later down the line. Once your lease expires, you simply drive it back to the dealership and hand over the keys.
Trying to sell a used car in NYC can be a huge drain on your time and energy, and the alternative is to use it as a trade-in at a dealer, but dealers will always offer less than a private party.
The other advantage of a lease is that you can upgrade your car every few years. Not to mention, lease payments are generally lower than financing payments.
Many New Yorkers often rationalize not having a car by thinking it's cheaper to rent one whenever there's a need to go on a trip outside the city. While this might be true if you rarely leave the city, renting a car is not a viable option if you see yourself leaving the city for a weekend more than once a month.
This is because renting a car in NYC is nothing short of a nightmare. Rental cars in the city itself, and Manhattan in particular, are a rare commodity, which means that prices are sky high. Figure at least $250 a day if you plan on picking-up a rental car in Manhattan, not including the cost of insurance. What's worse is that there aren't too many cars available in Manhattan anyway, so if you don't book that overpriced car rental at least a week in advance, you're completely out of luck, even if you're willing to pay big money.
While it's possible to pay less for the rental itself by picking up a car at JFK, Newark or LaGuardia, this means that you'll be on the hook for a costly Uber/Loft to and from the airport. This instantly reduces any cost savings versus simply renting a car in Manhattan in the first place. It also wastes time and creates additional logistical work.
Even if car rental rates in NYC were more reasonable, it wouldn't be worth it to go down this route if you did weekend or day trips outside NYC more than once a month. Here's why: renting a car in NYC is a miserable experience.
NYC isn't known for its friendly staff and good customer service, and airport rental car locations in particular represent the very worst of NYC: rude staff, lines, wait times plus the laborious check-in process and annoying upsells (insurance, E-ZPass, etc.) when you're most likely in a hurry to get your car.
Simply put: a weekend getaway to Lake George or a visit to Philadelphia isn't so relaxing if you have to start your journey by speaking with a miserable rental car attendant at an airport car rental venue.
In addition, most rental car companies charge obscene rates of up to $11 per gallon or more if you forget to fill your tank before returning the call. So in addition to being stressed and unhappy about coming back to NYC after your amazing getaway, you'll have the added stress of remembering to fill up the gas tank.
New York City's roads are hazardous, plain and simple. If you're driving in NYC, avoiding potholes is the single most important objective aside from not hitting pedestrians, cyclists or other vehicles. Some of the potholes on New York City streets are so deep and so dangerous that driving over them at full speed can result in serious damage to your car or an accident.
If you buy a car, we suggest avoiding coupes, sports cars or anything that has less ground clearance than a standard 4-door sedan.
An SUV is another option, however we don't recommend this because SUV parking is considerably more expensive, they have lower gas mileage, higher tolls and are considerably harder to parallel park.
In addition to potholes, NYC is surrounded by a myriad of toll roads. The most egregious tolls are for the Holland & Lincoln Tunnels, the George Washington, Bayonne and Goethals Bridges and the Outerbridge Crossing, all of which have a $16 cash toll (or $13.75 using E-ZPass during peak hours) when entering New York.
Although tolls are high when entering New York, they're generally pretty inexpensive on other roads. Moreover, you're still responsible for the tolls when renting a car, so the cost of tolls shouldn't be the primary decision making factor when thinking about whether or not to buy a car in NYC.
Auto insurance rates in New York City are considerably higher versus other parts of the country. Basic coverage for an average car will exceed $100 a month, and the cost can easily exceed $200/month if you buy a premium vehicle (Mercedes, BMW, etc.) or opt for higher coverage limits and/or a lower deductible.
Even if you have insurance, having a car in NYC is still a headache because of the high likelihood that someone or something will eventually ding, scuff or damage your car when you're parked.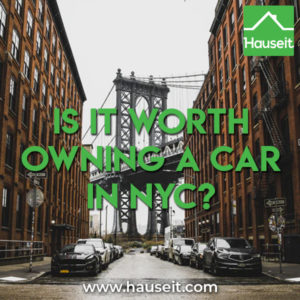 You'll inevitably have to pay your deductible to cover these repairs, or you can expect to pay out of pocket for any small repairs over the course of ownership.
If you lease a car and don't fix the damage, the cost of any such repairs will come out of your pocket when you return the vehicle.
In addition to the cost of insurance, you'll also need to pay for AAA or some other form of roadside assistance to cover you for tows in the event your car breaks down. As of this writing, AAA plans range from $4.50 to $11/month.
Garage parking in NYC ranges from $200 to 700 month. The cost of a covered lot in Manhattan closer to $500 to 700/month which is roughly the same monthly cost of leasing an entry range BMW, Audi or Mercedes. If you plan on parking in Manhattan, beware of long wait times during rush hour at busier/larger parking lots for the attendant to bring your car.
Garage parking prices are slightly less expensive in Brooklyn and Queens, at roughly $200 to $300/month. Outdoor (uncovered) lots can be had for less, and it's possible to find certain condo, co-op and rental buildings with discounted parking rates for residents (although many have long waitlists).
If you live in Brooklyn, Queens or the Bronx, it's also possible to negotiate parking with a homeowner in the neighborhood. There are many creative ways to save money on parking in the outer Boroughs.
Street parking in NYC is not for the faint of heart. It's hard enough to find a parking spot and navigate alternate side parking, let alone avoid being ticketed by any of the thousands of NYPD Parking Enforcement personnel who roam the city 24/7 looking for offenders.
With COVID-19 having decimated New York City's finances, we anticipate that the number of traffic violations and parking tickets will surge over the coming years as the city looks to raise additional revenue.
The main argument against owning a car in NYC is that you easily get around the city itself and travel to many nearby destinations outside of the five boroughs using a myriad of public transit options including the Subway, LIRR, Metro North and Citibike. This is a valid argument, and we fully agree that there is a very long list of places you can travel for day and weekend trips using public transit alone.
That being said, public transit schedules can be inconvenient, and there's also the constant threat of delays plus general unreliability and the fact that tickets for the LIRR and the Metro North aren't even that cheap. If you're trying to elevate your lifestyle and weekend game, constantly taking trains isn't going to make you feel like you've conquered NYC and become liberated in the same way owning a car will.
There are also car sharing platforms such as Zip car which might make sense for day trips, but don't necessarily make sense for routine overnight trips away from the city due to higher overnight rates.
Disclosure: Hauseit® and its affiliates do not provide tax, legal, financial or accounting advice. This material has been prepared for informational purposes only, and is not intended to provide, and should not be relied on for, tax, legal, financial or accounting advice. No representation, guarantee or warranty of any kind is made regarding the completeness or accuracy of information provided. Hauseit LLC is a Licensed Real Estate Broker, licensed to do business in New York under license number 10991232340. Principal Office: 148 Lafayette Street, New York, NY 10013.